Aeropex Vs Trekz Air – How do the Aftershokz Aeropex Bone Conduction Headphones Stack Up Against its Predecessor the Trekz Air?
AfterShokz have established themselves in the bone conduction headphones arena for good while now.
When thinking about the Aeropex vs Trekz Air – The Aeropex and the Trekz Air are two popular choices so it makes sense to see what the differences between the two are.
Situational awareness and the ability to hear whats going on around you is a very useful feature to have in a pair of sports headphones
The open-ear fit of their frames allows you to really run to the beat while remaining aware of your surroundings. 
Let's see how they stack up!
So what can we expect from the Aftershokz Aeropex headphones? This particular model comes with a long list of promises:
30% smaller and 13% lighter
30 tilted transducer to reduce vibrations and increase bass
8h battery life, 2h to full charge, and 15-minute quick charge
IP67 waterproof rating: they can withstand up to 30 minutes in 1 meter of water (don't try this at home though)
Sound leakage reduced by 50%
Bluetooth connectivity up to 10m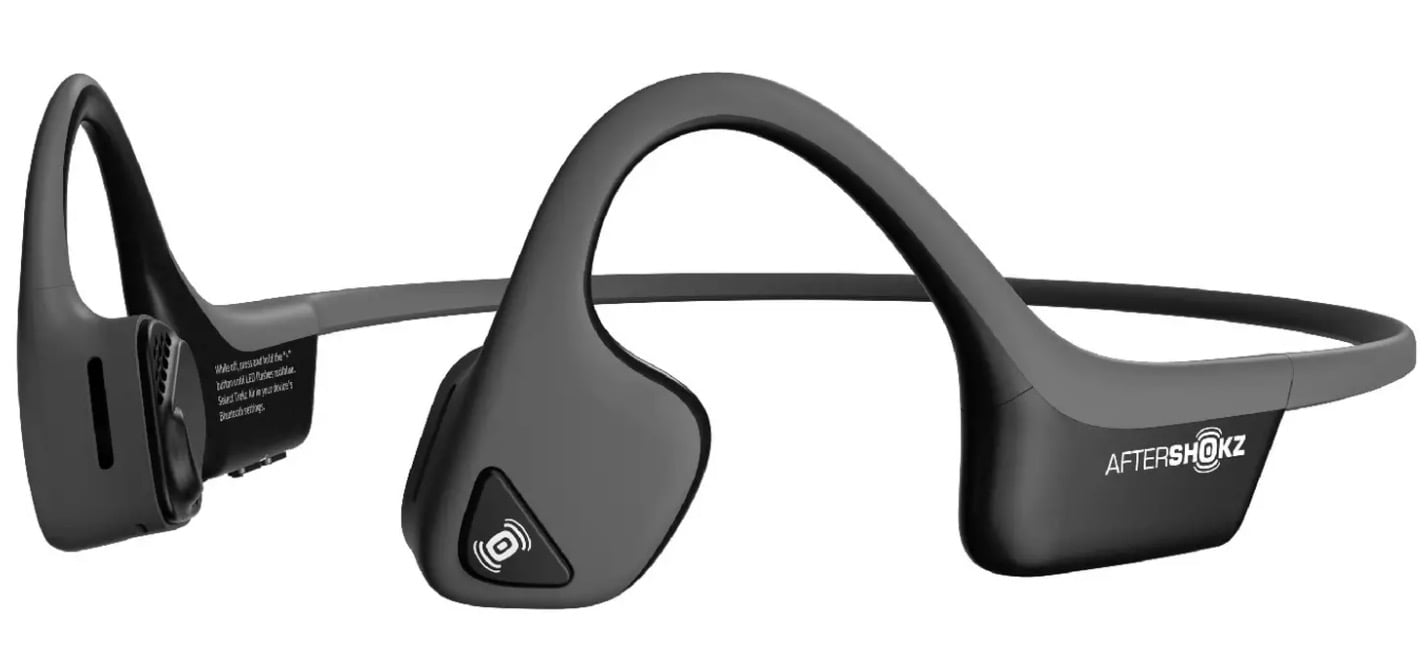 When compared to the Aeropex vs Trekz Air, the Aeropex headphones are much smaller and lighter, have 2 hours of extra battery life, are way more water-resistant, charge with a user-friendly magnetic port, and have a better sound quality (clearer sound, reduced vibrations, more bass).
They also cost a little more, so let's get into the nitty-gritty of whether or not they're worth it. 
When it comes to size and weight, while the Aftershokz Aeropex headphones are noticeably lighter, there isn't a massive difference in user experience. 
They are very comfortable and durable, with a similar skin-friendly silicone, U-shaped, rear-hanging, robust and flexible frame to the Trekz Air, and they fit snugly under a hat, helmet or glasses. 
Perhaps most importantly, the structure is very stable and will stay on comfortably through even the more dynamic sports that require a lot of head movement. 
The Aeropex have round transducers whereas the previous ones were cuboid, meaning the Aeropex headphones have a better fit and are more comfortable.
The controls on the transducers are similar to previous models and very easy to get to grips with. 
Aeropex Vs Trekz Air – More Juice…
 The extended battery life is a noticeable improvement. 
I personally steer clear of 8-hour runs, but it's great to get through a week's worth of training sessions without having to worry too much about charging them. 
The quick-charge feature is also very convenient: if I forget to charge them fully, it's nice to be able to get one run out of them after just 15 minutes of charging. 
On this topic, the magnetic charging port is much more user-friendly than the Trekz Air charging port, and the magnet is strong so it doesn't disconnect accidentally. 
[amazon box="B07RQLRTR4,B076FCWFPH" grid="2″]
Will They Withstand The Wet..?
 The Aeropex headphones have shown resistance to extreme downpours, excessive sweating (this is the reason I exercise alone), and submergence in a pool. 
I've heard that some people wear them for swimming, so this IP67 rating must be quite something.
No matter how many times I wear them in the rain, and it rains quite a bit in London, the sound remains clear, and there are no charging issues. 
Aftershokz Aeropex – Sound Quality
 Speaking of sound, this is clearly the crux of the matter. 
Was AfterShokz able to solve the vibration and bass issues and deliver on their promise of improving sound clarity? 
While audio quality is not the key selling point of bone-conducting tech (safety first!), the Aeropex seems to have delivered the best of both worlds. 
The improvement in the sound quality is clearly noticeable, and I wouldn't be mad if these were my daily headphones rather than merely my exercise headphones:
The mid-to-high frequency ranges are very smooth,
The call quality is excellent. 
There is barely any sound leakage with the volume at less than 80%, but anything above this becomes a little antisocial for those around me. 
As for the bass, it's definitely more palpable, and I can unquestionably run to the beat more than I could with the Trekz Air, but it remains less all-consuming than with traditional headphones. 
Bad 'Vibes' Removed
The issue of vibrating is where the upgrades really shine through when looking at the Aeropex vs Trekz.
There is no buzzing at all, and even at the maximum volume, there is nothing more than a little tingle. 
Meaning the Aeropex headphones are less distracting to wear, and much more comfortable. 
Are you ready to drop an extra GBP 50 on these headphones? 
While most of the improvements are not instantly apparent, they make themselves known over time and use, making using them a more pleasant experience. 
Aeropex vs Trekz Air – Which Headphones are Best For You?
 The Aftershokz Aeropex headphones are clearly a little bit better in every way, and if you're an athlete and audiophile, or you plan on using them daily for long periods (or for swimming), they are definitely worth it. 
If you're more of a casual user and music listener, to be honest, the Trekz Air would be more than enough.