Whether you're a serious athlete, a casual jogger, or a devoted sneakerhead, you've undoubtedly heard of Adidas UltraBoosts. You may be wondering 'are the Adidas UltraBoosts worth it?'
These shoes are revered among runners for their comfort and performance, and they're admired by the lifestyle crowd for their unique silhouette and great looking colorways.
It's not easy to be a top shoe in both categories, but the UltraBoosts seem to have done it.
The UltraBoosts have been heralded for their extreme comfort, but when you consider the sheer amount of engineering in this sneaker, it's no surprise. 
These are the premium running shoes that every runner wants to get their hands on (or feet in, rather). 
They've been called a game-changer in the world of athletic shoes, and they've also helped Adidas grab more of the athletic shoe market share from corporate giants like Nike and rival company Puma in Germany.
Adidas UltraBoost Advantages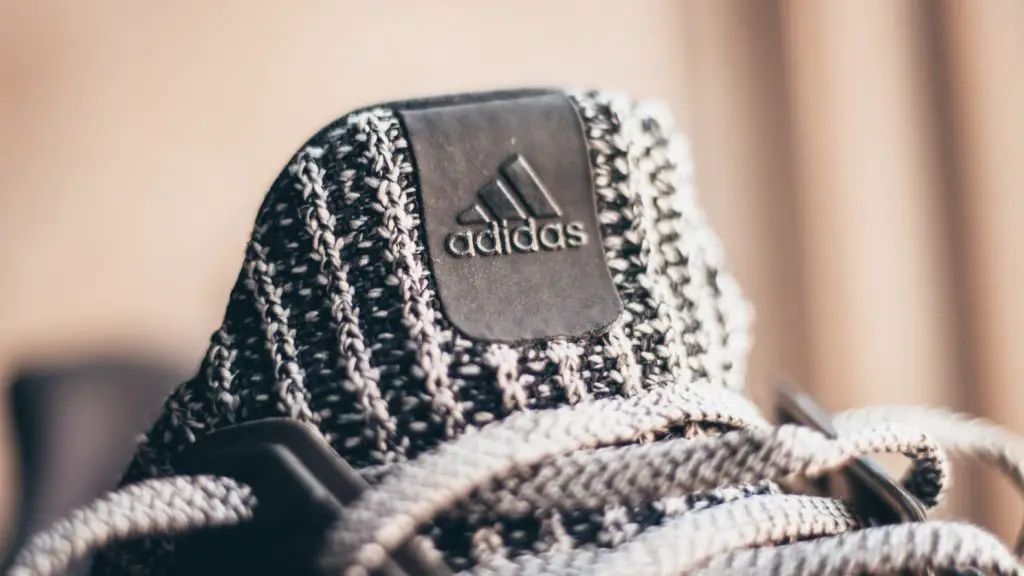 Serious runners know that all running shoes are not created equal, and the UltraBoosts boast a lineup of features that you just can't get in other shoes. 
Starting from the top, there's a knit upper — Adidas's own Primeknit, to be exact. 
This isn't a leather sneaker like you'd wear for basketball, but that's a good thing, as the UltraBoosts are more breathable and flexible as a result. 
The Primeknit has lots of give, and there's ventilation built in.
The insole is light and squishy, for lack of a better word, which provides excellent cushioning and comfort every time your foot strikes the ground. 
The midfoot panels, when laced, offer good stabilization, and this can help to prevent injury from an awkward turn. 
There's also padded neoprene on the back to keep your foot stabilized and seated properly in the shoe.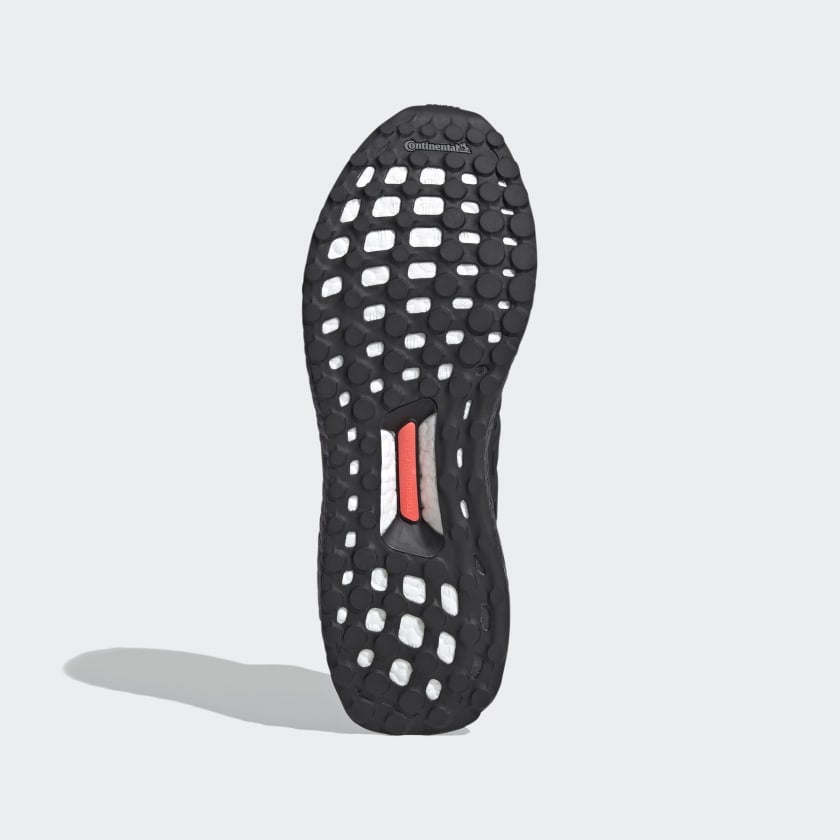 The webbed rubber outsole is durable and provides traction, and the torsion support bar on the bottom of the shoe prevents excessive twisting of the foot, which can also help to prevent injury.
Design-wise, these are not chunky dad shoes. 
The UltraBoosts have more of a slim, sock-style look than more traditional sneaker profiles, but with more running shoes heading toward that aesthetic and material direction, these don't look entirely out of the ordinary. 
It's also important to point out that because the upper is Primeknit and not leather, they don't crease, which means they look newer longer — a big plus for the lifestyle appeal.
The UltraBoost collabs, with the likes of Stella McCartney, KITCH, and of course Kanye West (surely you've heard of the coveted Yeezy Boosts), have also proven quite popular, perhaps not with runners but certainly with sneakerheads. 
Adidas gained a lot of street cred by attaching these names to this line of shoes, making certain UltraBoosts in-demand and highly collectible.
What Exactly Is Boost?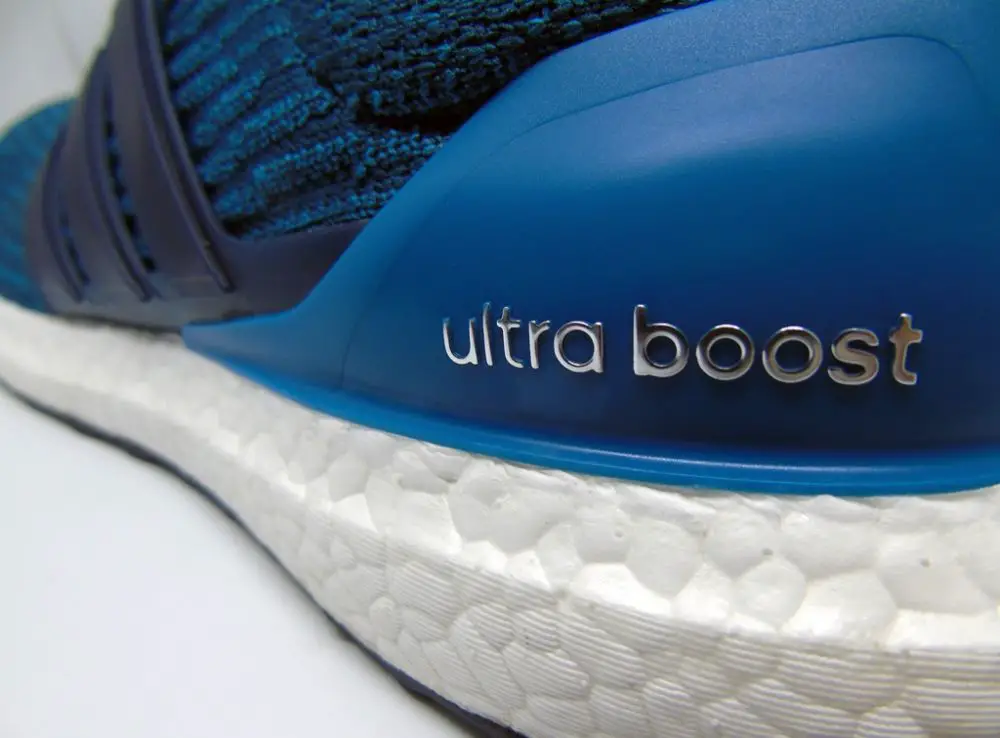 The UltraBoosts are a premium running shoe, but they're also somewhat of a mad science experiment come to life. 
The "boost" material, which makes up the majority of the sole, is made of tiny beads of thermoplastic polyurethane that have been fused and molded to shape. 
It's an innovation created by fellow German company BASF, and Adidas has an exclusive deal with the company to use it for the soles of its shoes. 
So, while other shoes may be comfortable in their own ways, only those with the Adidas name on them can have this boost technology.
The advantage of boost is that it's incredibly flexible. 
As you run, the material compresses and bounces right back, making you feel light on your feet and giving you outstanding energy return as you run. 
This means you can run farther or faster with roughly the same amount of effort that you exert in your regular running shoes. 
It's also a ridiculously comfortable layer between your body and the ground.
Boost was first used by Adidas in 2013 in lines like Energy Boost and Pure Boost. 
In 2015, the company released the first version of the UltraBoosts, and they've released an upgrade every year since.
Do UltraBoost Run Big or Small?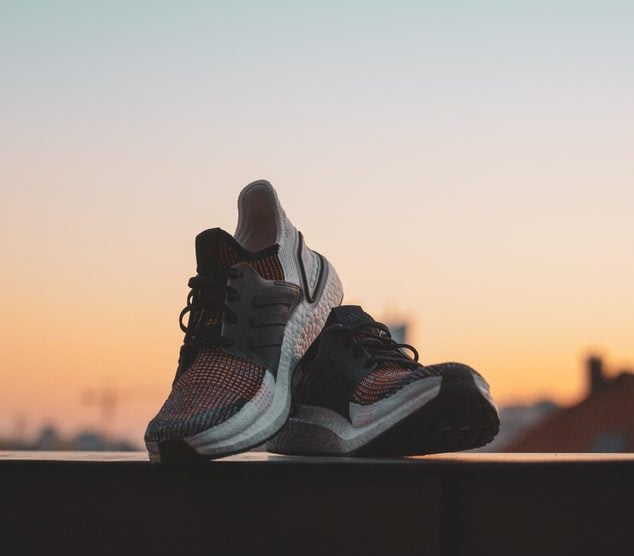 Generally, the UltraBoosts fit true to size. 
However, shoe fit is always a highly personal sensation. 
Some wearers prefer a bit more room, whether they're long-distance runners who want to accommodate for slight foot swelling, or whether they're everyday UltraBoost wearers who may not be used to the fit of the Primeknit against their feet. 
In these situations, it may be worth going up half a size.
In some cases, runners who are switching to UltraBoosts from another brand may find that the amount of give in the Primeknit upper is too much, and they want to go down half a size. 
As with any shoe, it's a good idea to try them on and take a few steps in them before you hand over your credit card, just to make sure you know what you're getting.
Are Adidas UltraBoost Washable?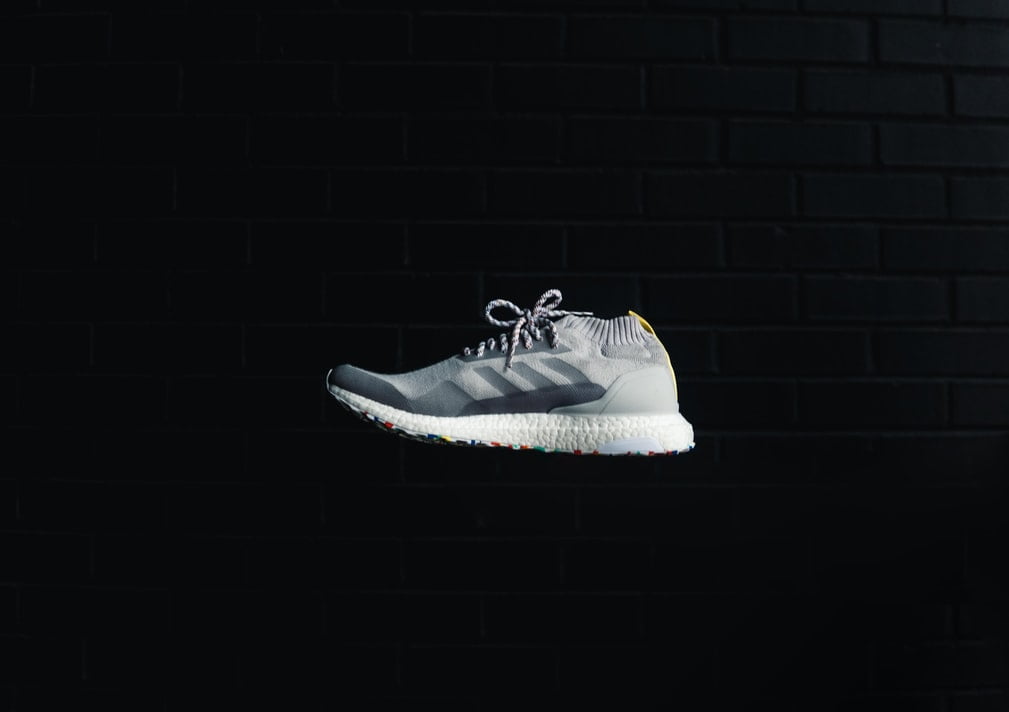 It's a fact of life – sneakers get dirty. If you're just using your UltraBoosts for running, it may not be a huge deal for your kicks to look a bit dingy. 
Sooner or later, though, you're bound to hit a mud puddle, and you'll want to clean them up. 
And if you bought the UltraBoosts for looks, then keeping them fresh is probably a big priority.
There are lots of products out there that will help you get your sneakers clean, but Adidas boasts that yes, you can actually wash your UltraBoosts in a washing machine. 
And why not? The Primeknit material can certainly get wet, and the soles are waterproof. 
Washing them in the washing machine is a lot easier than using those cleaners that require serious elbow grease. However, you don't just want to toss them in.
How To Wash Adidas UltraBoosts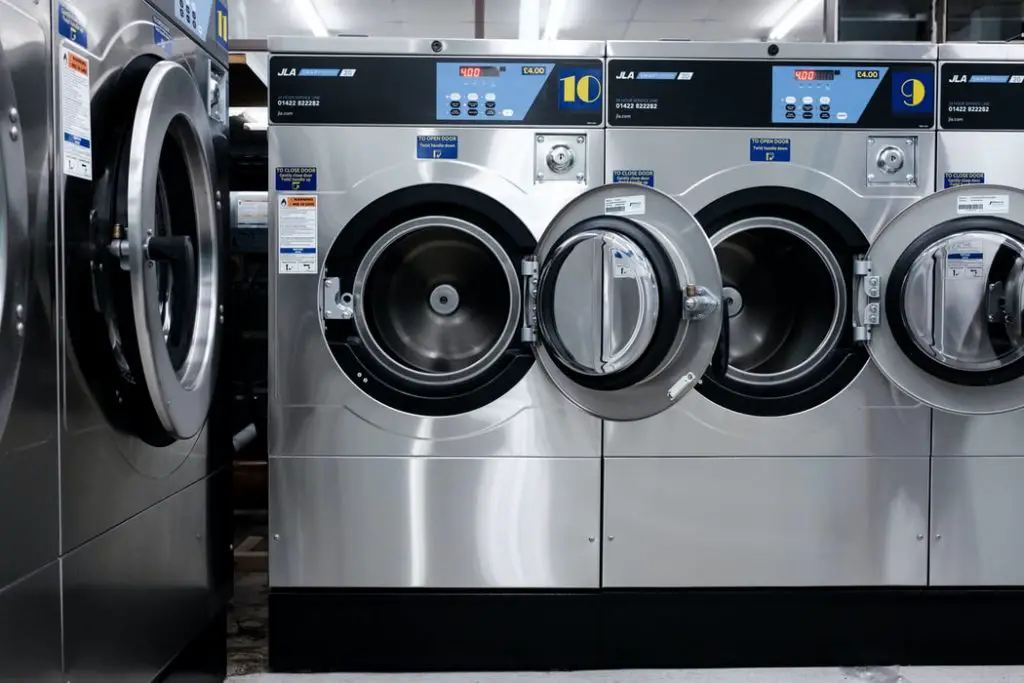 There are a few steps involved in washing your UltraBoosts in a washing machine. 
First, remove the laces, then bang the shoes together to remove as much excess dirt as you can. (Do this outside, unless you really trust your vacuum.) 
If the insoles are really dirty, carefully remove those as well, but if they're not too bad, you can leave them in place. 
Put the shoes in your washing machine along with a few old towels to help balance out the load. 
If you have a mesh bag, toss the laces (and the insoles, if you've removed them) in it, and put that in the machine too. 
If you don't, put them in a pillowcase, or wash the laces alone in a sink full of warm soapy water.
Using just a little liquid laundry detergent, run your washer on its delicate cycle using cold water. 
If your UltraBoosts are all white, can add a small amount of bleach. Set your washer for an extra rinse cycle to make sure all the detergent is washed out of your shoes.
UltraBoosts may be washing machine safe, but they're definitely not dryer safe, as the heat from the dryer will ruin the soles. 
Instead, air dry your shoes, and if you can, place a small, dry hand towel inside each shoe for the first few hours to absorb more water and help them dry faster. 
Unless your UltraBoosts are white, don't dry them in direct sunlight, as that can cause the colors to fade.        
Are Adidas UltraBoost Good For Plantar Fasciitis?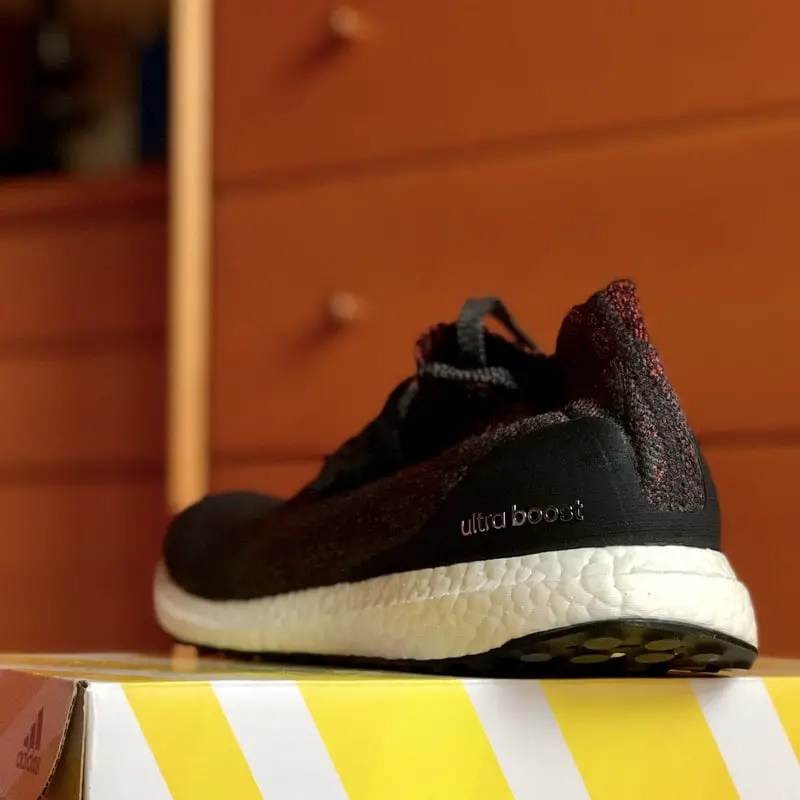 Plantar fasciitis causes pain on the bottom of the foot, often near the heel, and one of the recommended ways to treat this kind of pain is to wear high quality shoes with good cushioning. 
The UltraBoosts certainly have that, thanks to the boost material that absorbs shock and protects the heel. 
If you suffer from minor plantar fasciitis pain, UltraBoosts are a great shoe, and there's plenty of anecdotal evidence on sneaker review sites to support that.
However, if your plantar fasciitis is more severe, you may find that you'll get more support from shoes specifically designed for people with this condition. 
It's often a good idea to speak with your physician or podiatrist about your condition and what might be the right shoe for you.
Does Adidas UltraBoost Have Arch Support?
The UltraBoosts do offer some arch support, and again, they provide outstanding cushioning, stability, and impact absorption. 
They're ideal shoes, for running or for everyday wear, for anyone with minor foot issues. 
However, the arch support in Adidas UltraBoosts isn't as good as it may be in some other models of shoes that are designed specifically for those with high arches. 
Again, it's wise to check with a medical professional if you have exceptionally high arches and are looking for shoes to alleviate that specific type of discomfort.
Are Adidas UltraBoost Comfortable?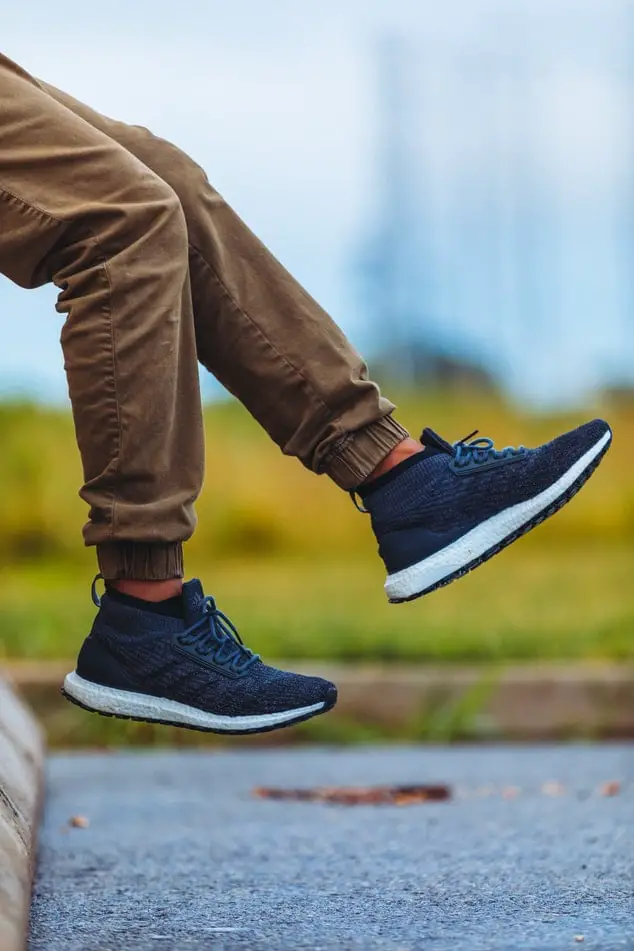 UltraBoosts are engineered for comfort, and you'd be hard-pressed to find negative comments of any real substance about the fit of these shoes. 
In 2017, Business Insider called Adidas's Boost shoes "the most comfortable sneakers ever," and there are dozens of respected reviewers who have written similar high praise.  
While all athletic shoes are intended to be comfortable, Adidas has really gone the extra mile with the UltraBoosts in terms of precision and detail.
Are The Adidas UltraBoosts Worth it?
With UltraBoosts, Adidas has really seemed to hit on the perfect combination of style and performance, but there is one potential downside: the price. 
UltraBoosts retail for $180 — definitely a premium for footwear! 
While sneakerheads might not balk at the price, especially given the going retail and resale prices of many Nike models, $180 is a lot for a running shoe.
It's not unheard of, though. The Nike Vaporflys retail for $250, and high-end running shoes from brands like Brooks, Mizuno, and Hoka retail for well over $100. 
Serious runners know that you do need to spend a little money to get a good product, and the UltraBoosts are a fantastic product.
Could you get a pair of Adidas Samba Classics or Stan Smiths for a lot less than a pair of UltraBoosts? Most definitely. Will they be as comfortable, offer the same level of performance, or look as good as the UltraBoosts? No, no, and it depends on who you ask, but almost definitely not. 
If you're a serious runner or if you're serious about sneakers that look great, the UltraBoosts are well worth it.