How Do I Stop My Boobs Bouncing When I Run?
Whilst runner's nipple is almost exclusively a male problem, the question of how do I stop my boobs bouncing when I run is one that women ask every time they put on their running shoes.
Finding the right bra with good support can seem almost impossible, and it is not a problem exclusive to those with bigger breasts either. 
Sports bras do not have the best of reputations in terms of fit and comfort, and many women struggle to find a running companion as faithful as their best shoes.
However, technology is changing all the time, and sports bras are changing with it. 
Don't forget to check out our selection of ten of the best sports bras available today at the end of this article, a great starting point if you are considering upgrading your workout wardrobe.
Why Do My Breasts Bounce? 
In short, breasts weigh a lot. An average breast can weigh four to five pounds, so if you are larger in the boob department, you could be carrying as much as an extra stone around on your chest. That is a lot of weight, as any woman with neck or shoulder problems will tell you. 
Your breasts are the body part most affected by gravity, and if you don't wear a bra, they can move – in all directions, and indeed each with its own movement pattern – up to 9 centimeters with each step when you walk, and up to 15 centimeters when you run.
In other words, an average boob will go on its own run of around 0.12 kilometers for each kilometer you run.
This gets worse as you get older, as the supporting muscle and tissue structures are not as strong.
In other words, it is important to wear a good sports bra in the right cup size for you. 
How To Choose A Sports Bra
The good news is a decent sports bra will reduce that movement when you are running and reduce bounce.
The type of sports bra you choose will depend entirely on the size of your boobs, and the type of comfort the different types of sports bra will give.
It can feel like you are overloaded with information, but the rules are basic and simple:
If you are small-chested – a compression, shelf style will work very well for you. A racerback style that pulls over the head will also feel comfortable. 
If you are large-chested – a sports bra with an individual cup for each breast will be more comfortable. Make sure straps are wide and adjustable, and that there is a back clasp that will let you tighten the band to give you extra support. 
How Should A Sports Bra Fit? 
As with your daywear bras, the support will come from three places – the cup, the straps, and band (including the side panels).
Your daywear bra might usually have an underwire too, but this is less common in a sports bra.
Bras should always be tried on – do not just buy 'your size', and test them out in the dressing room.
Make sure the straps are fully adjustable, and that there is minimum give in the cups to give you maximum control.
Like your normal bras, there should be no spillage, as quadro-boobs are never a good look. You may need to go up a cup size in a sports bra.
Lastly, place a finger under the band, between your breasts. If you can pull it more than an inch away from your body, it is not going to give you enough support.
You may have to go down a band size in a sports bra. Another good check on the band is to raise your arms over your head and see if the bra creeps up. Again, if it does, it is too big. Size down. 
Will Running Make My Breasts Sag? 
The truth is that everything will start to head south as you age, and there will be a certain amount of sag as you get older no matter how well you look after yourself. 
However, astonishingly, there is some evidence to show that running can help your breasts not to sag and that the bouncing movements are not as bad for your boobs as you might think. 
Running will help you stay fit and toned, and this in turn will give your breasts more support, not less, and lead to less sag. 
Looking after the health of your boobs – big or small – is essential and wearing a good fitting bra at all times will help to give you the support that you need.
If you need information on how to get the best fit, then find a reputable fitter who will make sure you get a much better result than if you try to find the right bra yourself. 
The recommended few…
A great starting point if you are considering upgrading your sports bra choice.
We researched and recommended ten of the highest-rated sports bras available today.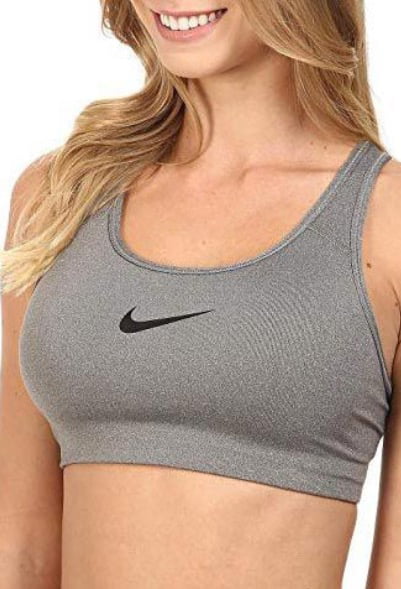 Nike Pro Swish Sports Bra
If you're looking for comfort and versatility in a medium-impact sports bra, this model was rated the best for comfort, and it performs well in any kind of workout.
The compressive fit provides plenty of support, and the racerback makes sure you won't get short-changed when it comes to your range of motion.
The lab test results for durability and moisture were beyond superb, and the reviews on Amazon reflected this level of excellence across the board.
Fittin Sports Bras Pack of 4
Cost can be an important factor in choosing the right sports bra, but if price is at or near the top of your list, you may want to turn to this one for help.
The four-pack of their XYZ sports bra offers medium support and a racerback, but it also includes removable pads.
The price you'll pay once you buy it is that you'll have to hand wash it, which won't eliminate sweat as well as the wash cycle on your machine.
Despite this drawback, the product still got good feedback from women whose sizes range from A-DD cup.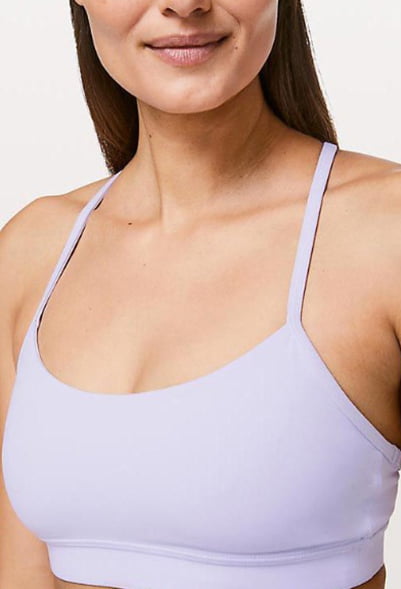 Lululemon Flow Y Bra
If you're doing low-impact exercise where you don't need much support (e.g., yoga), this particular sports bra offers smooth fabric that stretches, along with thin straps and a Y-back, which is even more minimal than a racerback.
That means comfortable movement with no wires, hence less restrictions, and it includes removable cups for extra shaping.
It is designed for B or C cups, but that didn't stop a full range of reviewers from liking it, although some did recommend moving up a size to get the necessary level of comfort.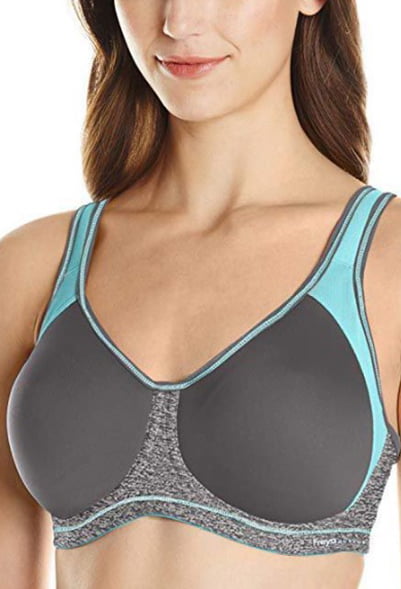 Freya Active Underwire Molded Sports Bra
Large busts and hard workouts don't always mix, but this bra tackles the problem head on with thick, adjustable straps for support, an underwire and molded cups for encapsulation, and breathable fabric that wicks moisture for comfort.
It also features a hook in the straps that lets you convert it to a racerback.
The combination made this a favorite among testers, especially those with cup sizes D through H, who especially like the separation from the bra offered and the fact that it was so easy to put on.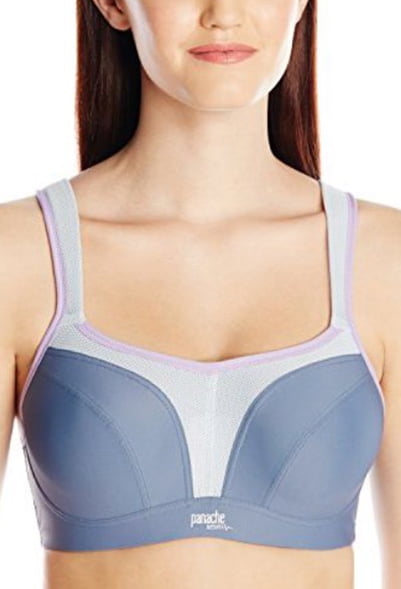 Panache Wired Sports Bra
This product was also rated especially well by testers with larger busts, but it comes in a wide range of sizes, too.
In addition to solid separation, the bra provides excellent compression, and the fact that it was breathable made it perfect for vigorous, high-impact, sweaty workouts.
One G-cup tester commented that it had "great support and separation!" adding that she never thought she'd find a bra that would fit her.
Other testers offered similar comments, citing fit, support and adjustability, and it can also be converted to racerback for those who prefer that style.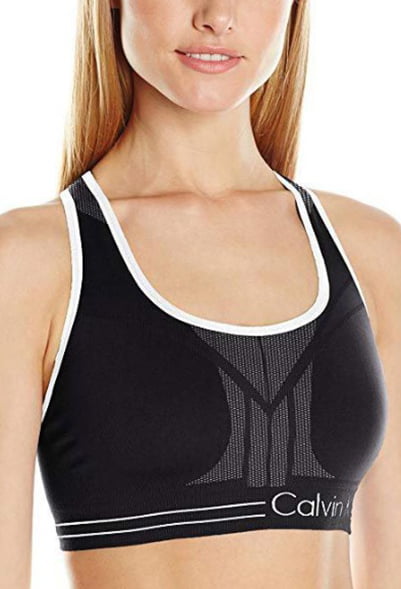 Calvin Klein Performance Reversible Sports Bra
Many smaller bras aren't designed to provide the kind of support their larger cousins so, but this particular racerback still offers medium support, with a smooth, seamless fabric.
The combination was lauded by several testers, especially B-cup testers who offered comments like "it gave me the support that I need without feeling tight," and "it didn't feel like was even wearing anything when [I was] working out, [it was] like a second skin."
The added bonus is reversibility, which means you get two different looks for the price of one.
Fruit of the Loom Built-Up Sports Bra 3 Pack
Most sports bras these days feature synthetic fibers that wick sweat during workouts, but if you prefer the natural feel of cotton this is the bra for you.
It has spandex for stretch, and while its not exactly ideal for hard, intense workouts, some testers found it so soft and comfortable they indicated they'd even be willing to use it for casual wear at home.
Its designed for full-figured ladies with band sizes up to 50, and the fact that it's sold in sets of three lowers the cost to make it a genuine bargain.
Under Armour Eclipse Sports Bra
Zippered sports bras tend to inspire mixed reactions – they're easier to put on and remove, but the style isn't for everyone.
This product is designed for high-impact workouts and provides support with compression and padded cups (no wires), along with a crisscross back that makes movement easier and more comfortable.
The thick, adjustable straps make it easier to get a good fit, and the fabric is soft and breathable with good solid moisture-wicking, so it's appropriate for hard workouts as well.
Brooks Fiona Bra
This bra line from Brooks used to be called Moving Comfort, so its not surprising that the Velcro straps make it easy to get a perfect fit.
The product scored points for overall comfort, durability, and ease of use during testing, and it also includes a hook-eye closure in the back that keeps the straps solidly secure on your shoulders.
The Fiona bras for cup sizes ranging from B-DD, but there's also a sister style called the Maia that offers even more support for those whose sizes range from C-E.
Knix Catalyst Sports Bra
This high-impact bra is ideal if you're looking to minimize bounce, even if you're a runner, have a large bust, etc.
The price you pay for this feature is cost—it is pricey, and you'll need to be okay with the fact that it provides extra coverage.
The feature set justifies the price, though; it includes molded cups that separate and encapsulate, seamless, breathable fabric to prevent chafing, and thick, adjustable straps.
It's designed for sizes 32A through 42G, but it's important to check the sizing chart since it's a little different than most bra lines.