Is Being Skinny With Cellulite Normal?
Recently I was asked by a client, "I'm skinny with cellulite, is this normal?  I thought it was only something bigger girls got."
A number of factors can influence the presence and visibility of cellulite in women such as the thickness of skin, body fat percentage, distribution of body fat, hereditary factors, and you don't actually need to have a lot of body fat for cellulite to start developing.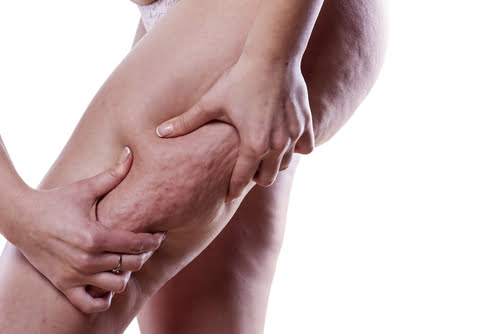 Cellulite is more common in women, but it can and does actually affect men also.
The female pattern of fat distribution is to store more weight in the thigh and buttock area, which is why it is seen more commonly as a problem for women.
It doesn't actually matter if the person is larger or slimmer in appearance, people of every shape and gender can get cellulite.
The Make-Up of Cellulite
There is a layer under the skin, it is almost like a mesh which holds body fat in its position on the thighs, imagine it if you will like a hairnet, now cellulite happens when fat bursts through and bulges out of the net which results in the famed bumpy 'orange peel' look we associate with cellulite.
Check out the cross-section image below:
Every woman's body make-up is different, some women have larger spaces in their net for the fat to poke through and some women have smaller spaces.
It doesn't matter on the size of the woman really, just if she has enough muscle tissue in that area to keep the skin taut.
Being Skinny With Cellulite – Getting Rid of Cellulite
As cellulite is fat that is being stored on the thighs and buttocks, your focus should be to get rid of the fat cells.
The best way to get rid of cellulite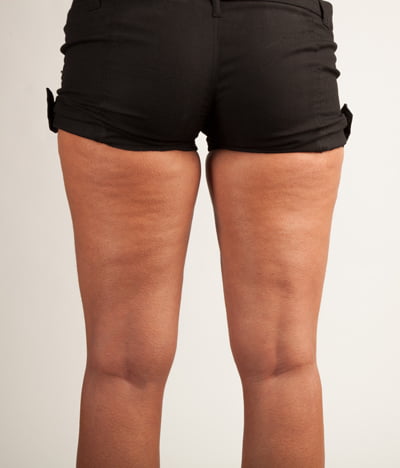 isn't through intense cardio as many think of as the first thing to do.
Focusing on losing the fat is the right solution but what you need to focus on is:
1. Weight training
A workout routine that targets the whole leg and buttocks area.
2. A cardio routine
To raise the heart rate and speed up your metabolism.
3. Diet changes
Monitoring your calorie intake vs the amount of physical activity you do daily and making sure you have a caloric deficit is important.
Cardio alone is not enough
The goal is to make the skin tighter by building a bit of muscle and keeping the legs toned.
Building muscle tissue especially in the thigh and buttock area will definitely transform the appearance of cellulite for the better and don't worry ladies, it will not make your legs looks manly.
The most effective exercises to get rid of cellulite and tone the leg and buttocks area whether you're skinny with cellulite or not, in my opinion, are squats and lunges, see images below:

A great thing about squats and lunges is that they can be done without equipment as part of a calisthenic focused workout.
If you would like a full workout that involves cardio and weight training and requires no equipment, see our Tabata X workout. 
The most important thing with any workout you go for is that you use the correct technique and form when performing the exercises otherwise your results won't be as good.
Summary
You can be skinny with cellulite, it doesn't matter what shape you are. But with a good workout routine consisting of weight training and cardio and of course the right diet changes, you can get rid of cellulite.