Ad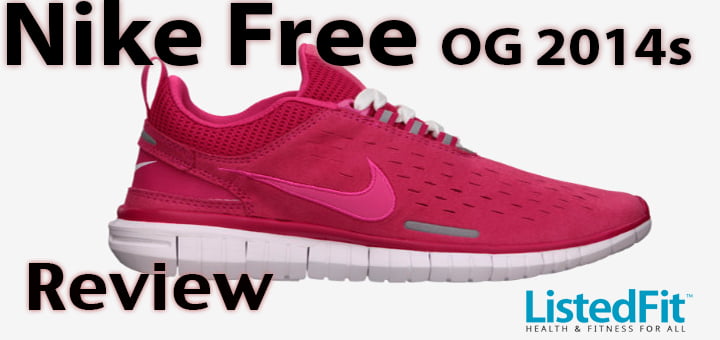 Nike Free OG 2014s Review
Are They Really The Best Running Shoes for Women?
I'm always on the lookout for a great new running shoe, and the Nike Free OG 2014 is one of the best I've used lately. While I'm not a marathoner by any means, I do run about 10-15 miles per week at about nine minutes per mile, mostly to stay in shape and keep my endurance up. That adds up to a lot of time on the road or the treadmill. When my shoes aren't good, my whole body feels it. However, I've been using the Nike Free OG 2014s for a few weeks now, and I feel fantastic, both during my longest runs and on my rest days.
Why I Love Em'?
There are several reasons why I feel like the Nike Free OG 2014s may be among the best running shoes that I have tried of recent times.
1. They're comfortable. When I put my brand new Nike Free OG 2014s on for the first time, it felt like I was putting on a second skin. The material conformed to my foot, and when I started running, I realized that there would be no breaking-in period. There's none of the tightness around the toe or heel that you get from other running shoes, and the upper material is soft but offers a lot of give. Plus, the cushioning on the tongue helps it to stay put for the entire duration of my run, which means less abrasion and irritation on my foot. These are by far the most comfortable pair of running shoes I've ever owned. Even after using them for a few weeks, they still feel great every time I slip them on to go running.
2. They're lightweight. I have been disappointed with other running shoes in the past because of how heavy they are. A heavy running shoe can make your ankles ache and give you shin splints, but there's none of that with the Nike Free OG 2014 shoes. Between the ultra lightweight material and the deep grooves in the sole, they weigh next to nothing, making even my most grueling runs that much easier. Lightweight shoes mean that I'm lighter on my feet, which translates to shaving seconds off my time.
3. They feel like barefoot running shoes. I tried to join the craze and hop on the barefoot running bandwagon a year or two ago. The idea made sense to me, and my knees felt better, but I didn't love running with nothing on my feet. I tried some of the other brands of running shoes that promise a barefoot feel, but I always felt clumsy in them — not a good sensation when out on the road.
The Nike Free OG 2014 offers all of the protective benefits of a traditional running shoe but with the feel and perks of barefoot running. They help me be more conscious of how hard I plant my foot, which is easier on my knees and, ultimately, my whole body.
4. They look great. I know exercising isn't about fashion, but let's face it: we all want to look good no matter what we're doing. And, a lot of running shoes on the market are high on function but very low on style. The Nike Free OG 2014s, on the other hand, are sleek and cool looking. Plus, they're bright pink (my favourite colour) with subtle grey and white accents, which means that they coordinate perfectly with my pink and black running gear. I like not having to choose between looking good and feeling good; these shoes let me have both.
Round Up
Clearly, if you want a stylish pair of running shoes, it's hard to go wrong with the Nike Free OG 2014s. The one downside? They do cost a bit more than a lot of other running shoes for women, though they are certainly far from the most expensive pair on the market. While some may balk at handing over £90 for their exercise footwear, I think these are worth it. You really can't put a price on comfort during and after a good run, and we all know how much our feet hurt after a 5k in some hard cheap trainers. Plus, Nike products are well-known for their durability. I am confident that these shoes will last me a long time, so I know I'm getting my money's worth. If you are in the market for a comfortable, lightweight, pair of shoes that give you a barefoot running sensation, you'd be hard pressed to find a better one than the Nike Free OG 2014.
Are they the best running shoes for women?
Well they're pretty hard to beat!
My rating for these…


Nike Free OG's are available from nike.com RRP £90
Sarah Jane Ashton.
We only recommend products we would use ourselves and all opinions expressed on this site are our own. This post may contain affiliate links that at no additional cost to you, the site may earn a small commission.