The Nike Fuelband – A Great Measurement Tool
(Click here for your chance to win a Nike Fuelband)
After numerous people telling me about this new fangled gadget from Nike, I had to try it out.
The emphasis today is on working out and maintaining a regular exercise regimen. You would also want to assess the progress you are making periodically to ensure you are on the right track to fitness.
Trust a brand like Nike to come out with precisely something that many of us have been wanting for a long time. The Nike Fuelband is the latest in a long line of illustrious gadgets that you will love to sport when you are out on your daily run or at the gym.
The Nike Fuelband is truly a gadget that is a must for somebody working out seriously and wanting to track his or her activities.
[one_half]So I went out and bought one to try it out, the idea was a good one. [/one_half]
What exactly is the Nike Fuelband?
It is just a very lightweight cuff you wear on the wrist. With this you would be able to easily measure the activities you do in a day. The number of pushups, the distance you have covered in your run or brisk walk, the laps or meters that you have covered in the swimming pool, the weights you have been able to successfully lift and so on. Sounds great.
The gadget is very easy to make use of and once you set it, you would be able to get the most accurate information about the measureable activities during the day. All you need to do is fix your daily targets and configure the gadget for it to do its job effectively.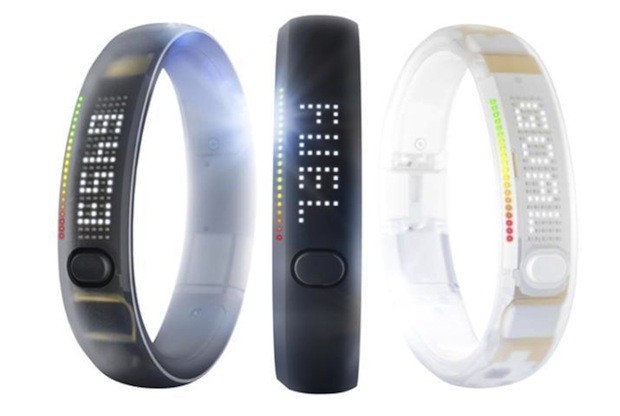 The device comes in 3 colours, Black, black ice and white ice. I went with black The band has only one button so you will not get flustered trying to learn about using a gadget with many buttons and features. Just press that button and you will be able to see all the stats like the calories you have been able to burn and so on. It is the best gadget you can have to know the Nike Fuel that you have been able to gain out of the day's activities.
Yes, Nike Fuel, that is the term the Nike Fuelband uses to translate the activity points or measurements into a number that can be easily understood and recognized for any improvements down the line. It is also a good method that helps you focus on the fuel points you have gained rather than keeping on focusing on the calories you have been able to lose.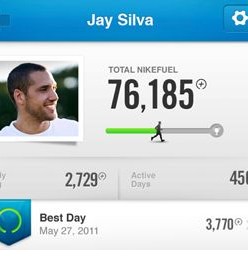 The tool syncs easily to the Nike application through Bluetooth to the iPhone and also to Nike website through the USB. The style of the gadget and its sleekness around the wrist makes it virtually undetectable even when it is switched on and that unobtrusiveness is just fantastic.
The Nike Fuelband device actually doesn't weight much on your arm (I went for medium size, but attachment can be removed to tighten the band/reduce the diameter), but it does so much. It provides really useful details and measures all of your movements; even a trip to the toilet is logged. Provides useful details on how active you are, or aren't.
Coupled to the iPhone app, the detail lets you see where you need to be more active and provides goals to work towards. This alone helps you become more focused and active, which in turn, assists in losing weight, or toning up. Obviously, eating properly and exercising is key, but if you're not aware how active you actually are, or how much effort you're putting into your workouts, this band reveals all.
The display is nice and bright, battery life is impressive, and takes very little time to recharge using a USB port (cable included to connect to your PC).
Conclusion
In conclusion, I think the Nike Fuelband is well worth it for those who need to shift a few pounds, less useful however for those who already go to the gym regularly, and are in good shape.
The only drawback I can see is the price, coming in at £129.00($206) for the cheapest one, many of us will find it hard to justify a bracelet without a rock on it.
We only recommend products we would use ourselves and all opinions expressed on this site are our own. This post may contain affiliate links that at no additional cost to you, the site may earn a small commission.