ListedFit is reader-supported. When you buy through links on our site, we may earn a small commission.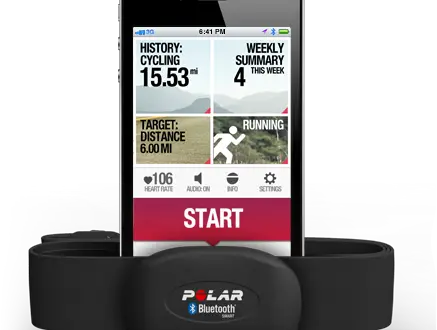 There is now a helpful Bluetooth heart rate sensor app for the iPhone 4S or iPhone 5. It is the Polar Beat and is free for download. To use the app, one must purchase a Polar H7 heart rate sensor strap which connects to the iPhone 4/4S via Bluetooth. We took one for a spin to see what it can do.
 Polar H7 Review
The whole idea is simple to begin with. The free app links directly to a video from YouTube, which shows the user how to set up the heart rate monitor. Most times, the sensor will pair nicely with the app on the first attempt. It may be necessary to try it a few times before it is ready to go.
We found the interval training session to be one of the best parts of the Polar app. It lets a person use the app features that audibly tell when a certain time or distance has been reached. In a one minute setting, this can be very helpful and improve workouts immensely. Perhaps in the future, there will be more advanced settings to notify at different times during the one minute. Hearing the notification is very convenient and not as distracting as having to look at the iPhone screen while exercising.
Real Time Data Recording
During the workout, data is being recorded. After a workout session, a person can view the information that has been kept. The History section of the app combines a summary of the workout, a map, and small analysis of the statistics. PB data is also kept in this app. This analysis is extremely helpful and thorough. It allows a person to get the most from every training session. A person can also share a session with social networks like Twitter or Facebook. This is nice for groups of people who are working out together.
Even though many people will use the heart rate sensor and app to help while running, it is not solely dedicated to this type of exercise. This app allows a person to choose from quite a wide variety of sports, we were surprised at the vast selection available. For example, it can be used during skiing, squash, or cross country.
Conclusion
In conclusion, this app is quite straightforward and simple to navigate. Most people carry a phone everywhere. This app provides data for easy view at anytime of day. This app is much more affordable than the more expensive GPS watches on the market. The H7 heart rate sensor with Polar Beat is a nice delve in technology since it works with a device that most people already own. For a very small price, it may be worth trying.
 5 Stars
Best Price
The best price for the Polar H7 at the time of this article going live was found on Amazon for £44.99
Please note: The items featured in this review were provided on loan by Polar. 
Polar H7 Review – Live and Direct HRM