ListedFit is reader-supported. When you buy through links on our site, we may earn a small commission.
Samsung's new flagship Galaxy S5 Android smartphone aims to ditch gimmicky features for a fingerprint sensor and heart rate and fitness tracking.
The slightly larger and more powerful smartphone has a fingerprint reader directly under the home button, which will unlock the smartphone and authenticate PayPal payments, taking the fingerprint-reading battle to Apple, its chief rival in the smartphone market.
"People don't want a load of complex features, they just features have an impact during everyday life, like a personal fitness tracker and a super fast camera, so we've made the new device based on those principles," said James White, head of strategy and product marketing for Samsung UK talking to the Guardian.
'Everyone wants to be healthier'
The integrated heart rate sensor, which sits beside the flash just below the camera, works with the smartphone's other sensors to track fitness and health using Samsung's new S Health 3, which works as a pedometer while in the pocket.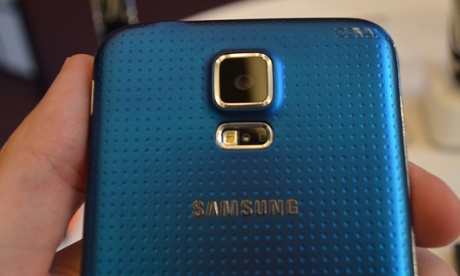 Health and fitness are one of Samsung's new focuses, with the recent introduction of the Gear 2 smartwatches also capable of measuring activity and heart rate.
"Everyone wants to be healthier, but must don't have enough time for it, so the S5 can now do it for you," said Kyle Brown, head of technical product management at Samsung UK talking to the Guardian.
Samsung also announced a fitness-focused version of the Gear 2 smartwatch, the Gear Fit, which has a curved AMOLED screen and measures activity and heart rate, as well as displaying notifications from a Samsung smartphone.
Unlock with a swipe of the finger
Samsung has also fitted its latest high-end Android smartphone with a fingerprint reader, that unlike Apple's TouchID works more like a traditional fingerprint scanner requiring the user to swipe their finger across it. It is positioned directly under the home button, and in limited testing seemed to work well as long as the finger was swiped in the same way as it was configured during the fingerprint learning process.
Positioned under the home button it makes unlocking the smartphone easy with one hand, unlike the fingerprint scanner on the back of the HTC One Max phablet. Samsung has partnered with PayPal to allow buyers to authenticate PayPal payments using the fingerprint sensor, and Samsung says further applications are coming.
Plastic fantastic
The Galaxy S5 has a 5.1in full HD AMOLED screen, making it slightly larger than the screen of its 5in predecessor, and a new, more powerful 2.5GHz quad-core processor. Samsung has fitted a sightly larger battery, as has created an Ultra Power Saver Mode to extend the battery life by days if needed.
Despite expectations to the contrary, Samsung has stuck with a plastic design for the Galaxy S5 making the device look almost identical to the Galaxy S4 before it but bringing the leather-like backs from the recent Galaxy Note 3. It is also water and dust resistant, although not submergible like Sony's waterproof smartphones.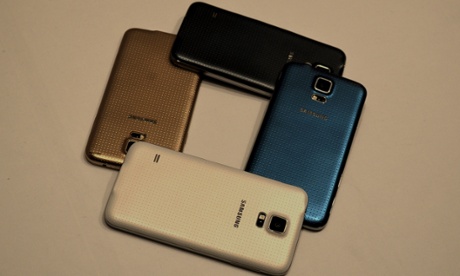 The flagship smartphone is both light and slim, but at 145g and 8.1mm thick it is slightly heavier and thicker than last year's 130g and 7.9mm thick S4. It is more solidly built, however, exhibiting very little flex in the body despite its plastic construction.
Quick snap
Samsung has also made sure that the camera on the Galaxy S5 – now boosted to 16-megapixels over the S4's 13MP – can capture photos quickly with a 0.3 second autofocus time, making sure that users do not miss the action.
The S5's camera is also capable of shooting live high-dynamic range pictures and video allowing greater details in photos and video with complex lighting and letting the photographer see the results on the screen in real time before taking the shot.
Like the Galaxy Note 3, the Galaxy S5 can capture 4K UHD video, which is four times the resolution of full HD, although its screen cannot natively display it at full resolution.
Replacing 'gimmicky' S4
Samsung hopes the focus on fitness and camera speed for Galaxy S5 will replace the gimmicky features of the S4, which garnered mixed reviews on its release in April last year. Critics focused on Samsung's bloated, gimmicky software and plastic construction, which detracted from an overall solid high-end Android smartphone.
Samsung admitted that its mobile software, including that found on the Galaxy S line of phones, was poor in November, and pledged to work "very hard" to produce improved software. The electronics company dedicated half of its research and development workforce to the software issue, with software engineers numbering around 40,000 of its 326,000 employees worldwide.
"Even though we're doing the software business, we're not as good as we are in hardware," said Kwon Oh-hyun, vice chairman and chief executive of Samsung Electronics.
These additional features such as "air gesture" (to move pages without touching the screen), "air view" (to enlarge previews without touching the screen) and "smart scroll" (to scroll through pages using eye movement) have been dismissed as gimmicks critics, who don't see them bringing any value to users.
The S5 has some of the features, but has a much simplified menu system, making it easier to change settings than previous Galaxy models. Samsung's apps have also a cleaner, flatter design, although the overall look of Samsung's "TouchWiz" modifications to the standard Android experience resembles that of the S4 and Note 3.
Sales stagnation
Samsung has brought forward the launch of the Galaxy S5 as sales of its predecessor have failed to live up to expectations. The Galaxy S4 only managed to keep pace in terms of sales in 2013 year-on-year compared with the Galaxy S3 from 2012 – hitting 10m shipments in four weeks, 20m by early July 2013, and 40m by late October. The smartphone market as a whole expanded by around 50% over the same period, while Apple's iPhone sales grew by 16% to 102m in the first nine months of 2013.
While Samsung makes a large range of smartphones and tablets, including budget offerings like the Galaxy Ace line, a lot is riding on the success of the Galaxy S5. The larger Galaxy Note 3 with a 5.7in screen, although plagued with similar software issues to the Galaxy S4, has been outselling the smaller device recently, despite the phablet being considered a niche product by many.
Samsung's dominance of the Chinese market, one of Korean company's biggest sources of sales, has been threatened by indigenous handset makers such as Huawei, ZTE and Lenovo, which now owns the American Motorola. Samsung has been pushing hard to build share in the US of the past couple of years. The US is the world's richest smartphone market, where data from ComScore suggests that by the end of December 2013 Samsung smartphones were used by 26% of all smartphone owners, equivalent to 37.9m users.
The Galaxy S5 is expected to be available around April for a similar cost as the £550 Galaxy S4.
Guardian.co.uk