The Best Protein Shaker Bottle – My Top 3
If you go to the gym or workout regularly, then it's very likely that you use a protein shaker bottle. Maybe you're new to working out and you want to know the best one out there, or like me, you have many different shaker bottles accumulated over the years and they are starting to smell funny or don't look as good as they used to.
Here is my Top 3 take on The Best Protein Shaker Bottle
The most important things that came up for me when thinking of the best protein shaker were:
Spill-ability – Can it be shaken with water and powder inside without spilling/leaking?
Stink-ability – Does it stink and carry that musky smell even after you've washed it multiple times?
Practical-ability – Does it have things you need or didn't realize you needed in a protein shaker? Such as a read out on the side telling you how much liquid you've got in there.
All of the shakers in my top three have already passed the spillability, stinkability and practical-ability requirements according to their online specs. I then bought each one and used it for at least a week to see if they were as good as they claimed.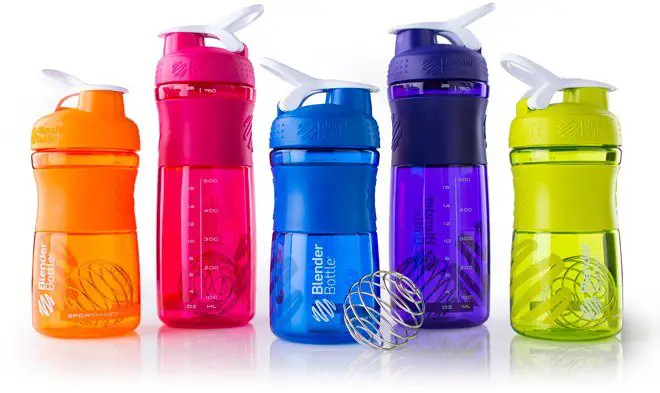 BlenderBottle SportMixer 280z
I've used this one for 3 weeks now. I really like it. These are like normal cheap blender bottles with the kinks taken out so to speak. The main things I love about these and why I felt they deserved to be among my best protein shaker bottle list are:
The slightly curvaceous bottle sits in your hand more comfortably rather than feeling like you are holding a brick with some of the more generic protein shaker bottles.

The bottle has a very grippy rubber midsection which enables you to grip the bottle a lot better and shake it even if it's wet without any risk of the shaker slipping out of your hand.

The top is screwed on and once screwed fully is very secure, also, the mouth you drink out of makes a strong reassuring click when you close it, so you can be confident it wont spill or seep anything.
The bottle is odor free – the problem I had with other shaker bottles is they stank even after cleaning them thoroughly I hate that lingering smell of musky chocolate or banana in there all the time. These BlenderBottles are made from a higher quality of plastic, so the leftover remnants of whatever powder you have put in there is cleaned out easier and results in a cup that is more pleasant to use day to day. The last thing I really liked is the huge combination of colors available, clear white plastic does get kind of boring.
BlenderBottle.com | buy from Amazon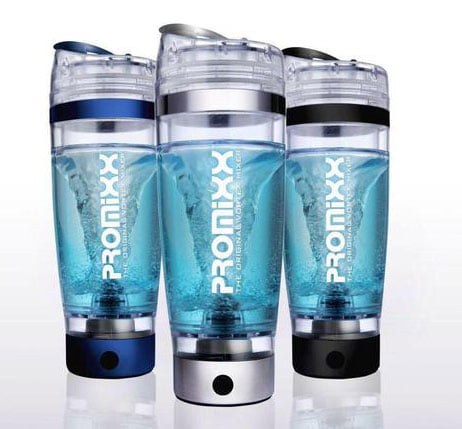 Promixx Vortex Mixer
CHECK OUT MY VIDEO REVIEW OF THE PROMIXX HERE
This one's interesting. You put your powder into the bottom, put in your water and then you press a little button and it swirls the mix around for you. So technically it's not a shaker, it's more like a little blender only without any blades. Quite an innovative idea, as long as you don't overload it with too much powder and you use the right amount of water.
You have a detachable motor which goes on the bottom, this whizzes everything around. It's quite powerful too. Fits in car cup holder snugly. Doesn't spill or vibrate itself off the table which I was concerned about it doing to start with when I first turned the motor on. More importantly for me, it doesn't stink after continued use and is easy to clean, this one is odor-free like the BlenderBottle. More practical than I originally thought it would be. Note, this requires 2xAAA batteries.
www.promixx.com | buy from Amazon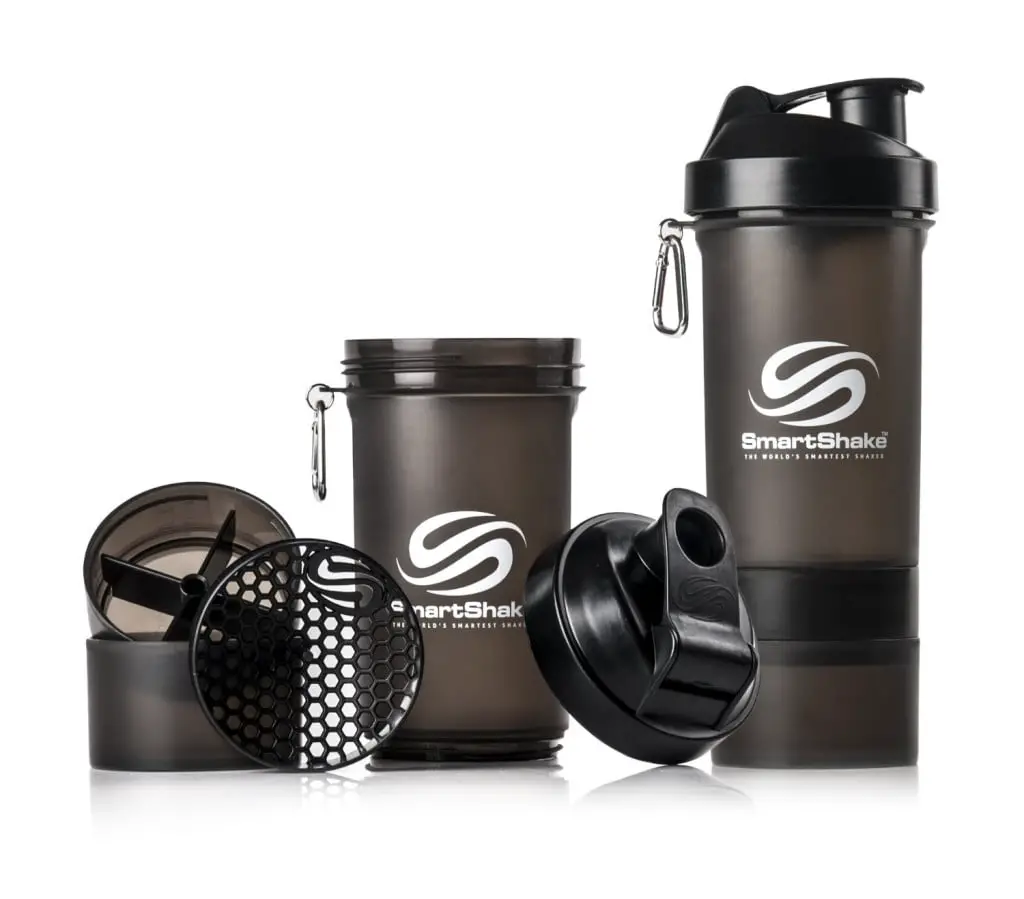 SmartShake 600ml
If you're a fan of the more classic look and feel, then the SmartShake is a really good option. Think of it as a step up from the basic protein shaker bottles out there, but with added functionality. Added onto the bottom is a detachable compartment that allows you to carry power/tablets in. This shaker just does what it does and does it very well. No ergonomic considerations as say the BlenderBottle, but it is all round very solidly built and well thought out.
The cap once closed securely doesn't leak or spill and it uses a strainer as opposed to a wire ball, which some say is better at giving you a smoother lump-free protein shake. The compartment on the bottom does mean that you have less space for liquids but come to think of it with a normal 28oz size blender it's hardly ever full, it's always between 1/3 and 1/2 half full so that isn't a problem for me.
www.SmartShake.com | buy from Amazon
So those were my top 3 protein shaker bottles on the market today. Each one did its job very well, ultimately it all depends on what's important to you, whether you want to try something completely different (Promixx Vortex), whether you want an ergonomic improvement on the normal form-factor (BlenderBottle SportMixer), or maybe you like the classic shape and feel (SmartShake).
Do you use any of these shakers? Or maybe I've left one out – Let me know in the comments.
Summary
Article Name
The Best Protein Shaker Bottle - My Top 3
Description
Top 3 - Best Protein Shaker Bottle, one for every type of person. If you go to the gym or train a lot then it's likely you use a protein shaker bottle