Wireless Bone conduction headphones are the new frontier when it comes to listening to music while working out. Whether you're working out in the gym, running, cycling, or even at the office working, they're great because they allow you to hear your music and still be aware and attentive to sounds going on around you.
What exactly is wireless bone conduction technology?
Initially designed so that soldiers could communicate with each other while maintaining situational awareness, it's been adapted to help people with hearing disabilities and to offer a safer, more comfortable experience for those who like to exercise out of doors.
It relies on our brain's ability to interpret vibration as sound. The pads, positioned just in front of the ears, broadcast sound as vibrations. These are transmitted from the outer, middle, and inner ear to the cochlea, before being processed by the brain.
Here's our selection of some of the best bone conduction headphones currently on the market.
Note: This post does contain affiliate links, if you do decide to buy any of these products it would help us greatly if you were to use the links we provide. The affiliate links you click helps to keep us going.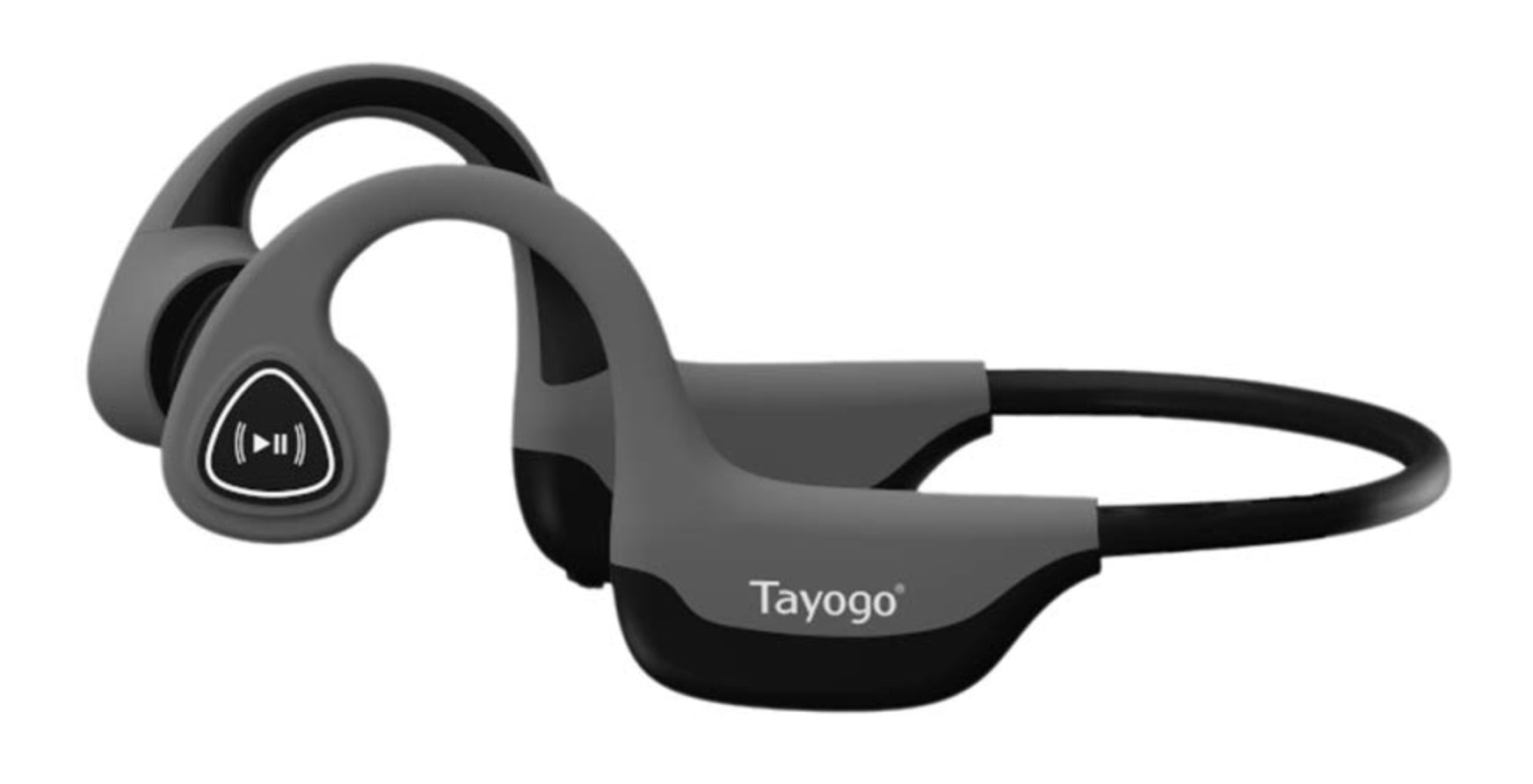 These wireless bone conduction headphones are designed with a lightweight frame for maximum comfort, all the while being extremely form-fitting to avoid any slipping or sliding as you eat up the miles. They also fit very comfortably under a helmet or glasses.
You can pair them with two Bluetooth compatible devices at once, allowing for a prime hands-free experience. The built-in microphone means you can comfortably take a call, any time, any place, making these headphones your ideal companion for both working, and working out. They also have six hours of battery life and their IP56 sweat-proof rating ensures they'll survive moisture exposure.
The controls are intuitive and easy to use. On the left temple pad, you'll find a handy Multi-Function Button, which you can use to play or pause songs and answer calls. Double-tap it to redial. On the right pad are your track and volume controls. From back to front, you've got Volume Up/Next Track, Volume Down/Previous Track, followed by the Power button. Short press for volume, long press for tracks.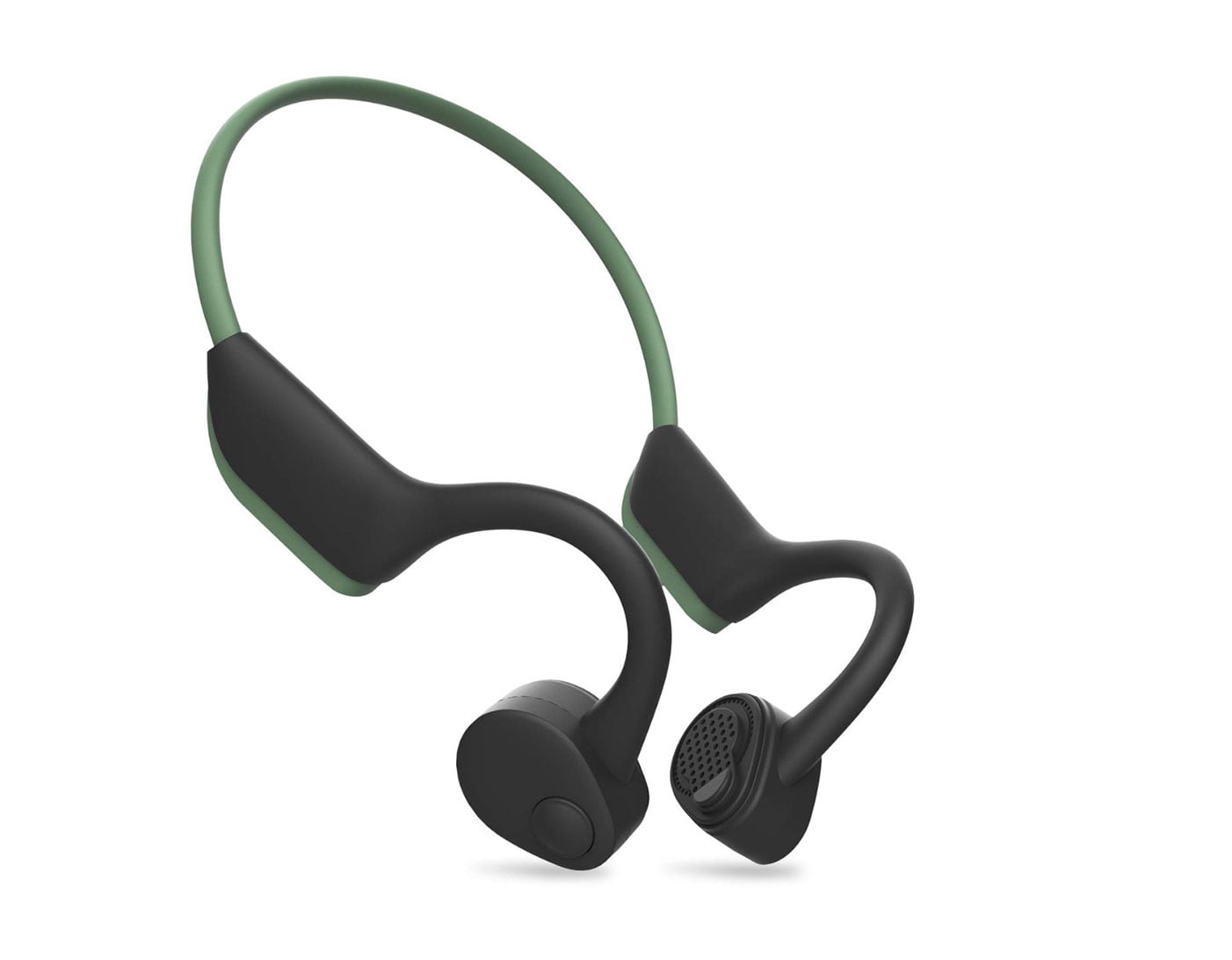 These lightweight, anti-drop titanium headphones offer an extremely comfortable and durable experience thanks to their 360-degree bendable frame. With their ability to fit snuggly under a helmet or glasses, they can be worn over extended periods – say six hours of continuous playback time. The 13m wireless connection, which can support two devices at once, means you have complete freedom of movement as you go about your gym routine or wander around the office looking productive. The IP56 sweat-proof rating enables them to take on the miles and the weather at your side, all for a remarkably reasonable price!
The controls are pure simplicity, with one Multi-Function Button to obey your every command. Answer calls or play and pause songs with one click, activate voice dialing or your AI assistant with a long press, double click to skip forward a track, or triple-click to skip backward one. The sound and call quality are on point for bone-conducting technology, making these headphones your new best friends as you go about your active lifestyle.
Where to buy: Amazon US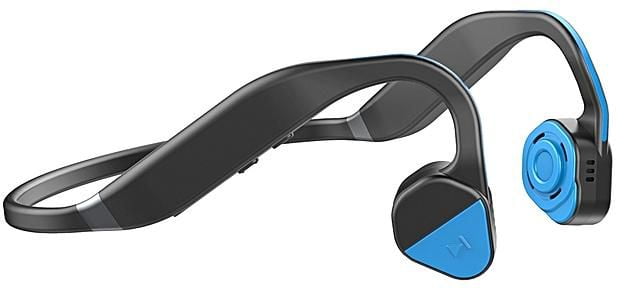 Vidonn's F1 model brings with it an ergonomic, lightweight, and ultra-flexible titanium frame which fits nicely under your glasses or helmet, produced with an anti-drop design for maximum comfort and security. The CVC noise-canceling microphones and 10m of lucid Bluetooth connectivity make this headset the perfect companion for your essential calls, retaining a pitch-perfect call quality even in the busiest environments. With six-hour battery life and an IP55 sweatproof rating, these headphones can stay with you in your most intense indoor and outdoor routines, no matter the sweat, no matter the weather.
The controls are conveniently positioned in a line on one pad. Click the MFB once to answer calls and play or pause tracks, or click it twice to reject a call or skip forward one track. The Volume Up button increases the volume if pressed once, but give it a long press to turn your headset on and off or enter Pairing Mode. The Volume Down button does exactly what it says on the label when pressed once. The intuitive and straightforward design make these headphones easy to use when you're on the go.
AfterShokz has been at the head of the wireless bone conduction headphones race for a long time now, and they just keep upping their game. I recently reviewed their Aeropex headphones so do check that out. This lightweight and flexible titanium frame provide long-wearing comfort and stability, staying in place throughout your day until you forget you're wearing them. The six-hour playback and IP55 sweatproof rating mean you'll get the most out of these headphones whether you're driving, working, running, cycling or pumping weights, or doing them all! The multi-point Bluetooth connectivity and noise-canceling mics ensure crystal clear calls, while the PremiumPitch and LeakSlayer technologies reduce natural sound leakage and provide a dynamic range and rich bass, for your musical enjoyment.
AfterShokz always have your safety in mind, so these headphones come with high-tech reflective strips that blend in during the day but are visible at over 150m during the night.
The controls are similar to other AfterShokz products. Press the MFB once to play or pause songs, answer or hang-up calls, or switch between callers (putting one on hold). Double-click to skip to the next song or redial the last number. If you press and hold, you can reject a call, voice dial, or answer an incoming call and hang up on the current caller. Oh, the power.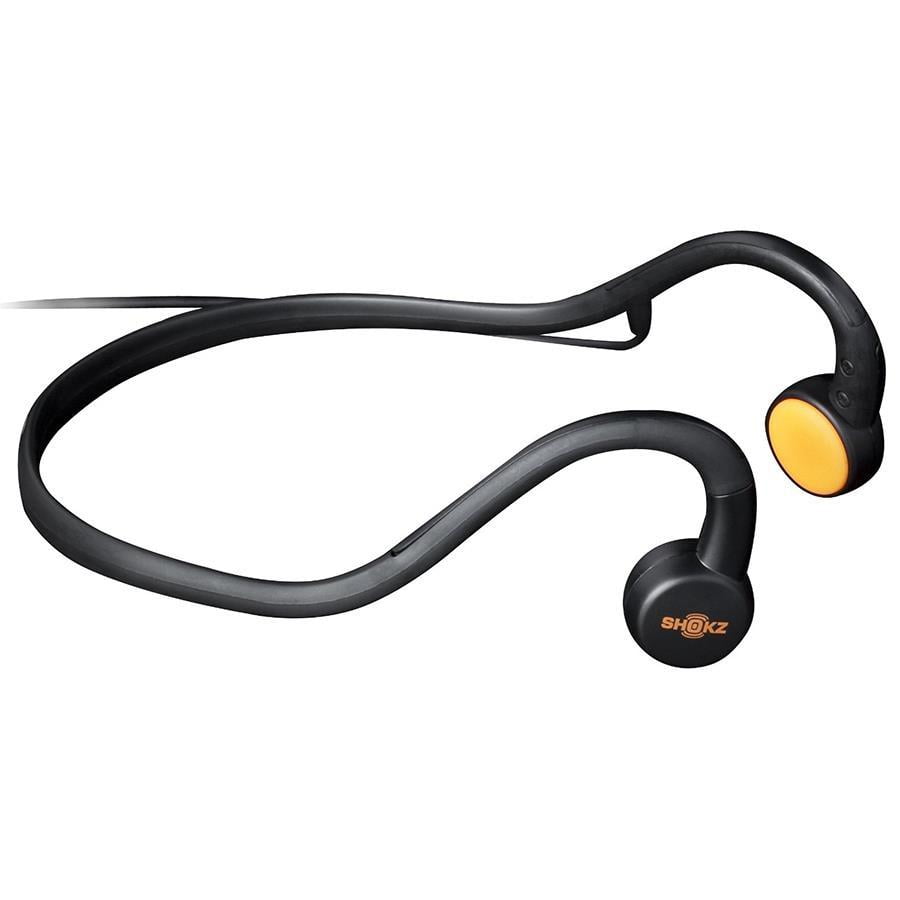 Another Aftershokz model, these are similar to the previous AfterShokz Titanium, with one significant difference: they have a 1.2m cord. This means they have over twelve hours of battery life. Along with their flexible, lightweight, and comfortable titanium frame, IP55 rating, and resistance to sweat, moisture, and dust, and ability to hide beneath a helmet or glasses, you can take these bad boys anywhere. Add to this their 'Premium Pitch' and 'LeakSlayer' technology not to mention a noise-canceling microphone, and you've got yourself a pitch-perfect musical and calling experience.