ListedFit is reader-supported. When you buy through links on our site, we may earn a small commission.
Yoga is a great way to relax and stay fit, but contrary to what you might think, it requires more than just you and a towel. There are some great yoga accessories on the market to help enhance your experience. Here are 5 great yoga accessories you didn't know you needed.
1. Yoga-Mad Half ToeSox
These socks are ideal for helping you maintain your balance while practicing even the most intricate yoga moves thanks to strategically placed grips on the bottom. The grips prevent you from slipping and sliding, which is essential in yoga since you need to hold still for most of the positions.
They are a half sock with a fitted heel, so your toes are not covered and can move freely, yet your ankle and arch are fully supported for improved posture. They are made from 100% organic cotton, so they are comfortable and easy to care for: just throw them in the wash and they're clean.
The cotton material also allows your feet to breathe, which is healthier for you and more hygienic. They encase your feet without restricting them, so you can move easily and confidently on even the smoothest of surfaces. They can also contribute to improved circulation, as these socks improve flexibility and improve muscle tone in your feet with extended use.
These socks are great for keeping your feet protected, while helping to improve your form.
2. Hi-Density Yoga Brick
This is the new, improved version of the traditional wooden yoga block and it is better and easier to incorporate into your routine for a variety of reasons.
Yoga blocks are necessary for a multitude of moves for toning and strengthening, but the wooden style ones can be awkward, heavy and unstable. The most important way this brick can help you is through it's versatility. It is lighter and easier to use with any of your standing or sitting moves.
Despite it's light weight it is extremely durable and will not buckle under heavy pressure. This is very important because you need a brick that will not move or give out from under you while you're using it and this one will not. You also never have to worry about it slipping from your grip and falling on your foot or the floor because it will not hurt either way.
It is a great accessory for increasing the types of moves you do and aids in doing them efficiently.
3. Midas Stretch Resistance Bands with a Couple of Detachable Strap Handles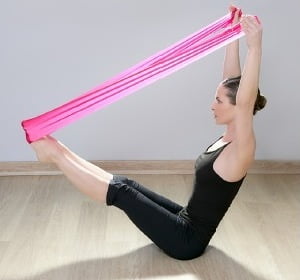 A resistance band is a great way to improve the toning and strengthening aspects of your yoga routine.
The bands use your own bodyweight as resistance when performing moves, so you have less of a chance of pulling a muscle or overexerting yourself. You can use the handles or you can take them off and grip the band itself: whichever way makes you feel more comfortable and gives you a more secure grip. You can use it with just about any pose and it will intensify the difficulty and take your yoga routine to the next level.
The band is flexible and durable, so you can get extended use out of it without it wearing down or tearing. It's great for all body parts, but really helps with moves that work on the calf and thigh muscles, as well as upper arm areas, which are 3 problematic spots for most people.
4. ToeSox Grip Glove
Yoga is all about balance and comfort, which is why these grip gloves are a great addition. This is a half glove, leaving your fingers exposed so there is no loss of tactile grip, which can improve balance. They have grips all along the palm surface, so you never have to worry about sliding along a wall or floor while doing a move, they also benefit your overall stability and can prevent possible injury with moves you have not yet mastered.
The glove is fitted, but not skin tight, so you barely notice you are wearing them. One of the great things about them is that they have adjustable wrist band, so you can wear them as tight or loose as you like. There is also terry cloth in the thumb, to cut down on perspiration and keep your hands free from excess sweat.
They keep your hands nice and warm without getting in the way of your natural movements. They are great for allowing a firmer grip while still maintaining comfort.
5. Yoga Mad Warrior Plus Yoga Mat
To do yoga properly you need a durable, skid-resistant mat that increases your stability and makes performing your moves easier. This mat does all that, providing you with a safe, reliable surface to do your routine on. This mat has a firm solid grip, so it won't move or slide out from under you. This is really important because if your mat moves you will not be able to hold your poses for as long as you like and can be a distraction, you will be afraid of falling and not be concentrating on your form.
This mat has extra cushioning, to keep you comfortable and warm on any surface, which is especially great during the winter months or for those with wooden floors. The added cushioning also alleviates pressure on your feet and hands when doing certain positions, so you can hold poses longer and with less strain.
The mat is machine washable too, so you don't have to worry about it becoming dingy or grimy. Plus, it's 6 feet long, making it great for just about anyone to use.
Yoga Essentials – 5 Cheap and Cheerful Accessories for Yoga