ListedFit is reader-supported. When you buy through links on our site, we may earn a small commission.
When it comes to shopping for athletic shoes, you may have wondered if Nike shoes run big or small. This question is quite pertinent, as finding the perfect size is crucial not only for comfort but also for your overall performance.
Throughout this article, you'll gain a deeper understanding of Nike's sizing trends, I hope to help you make an informed decision the next time you shop for a pair of Nikes.
In Summary…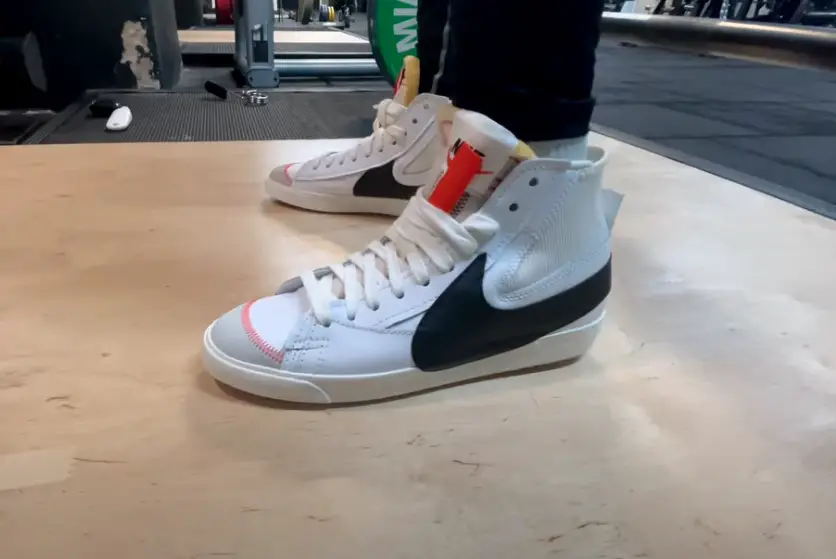 In general, Nike running shoes tend to run small. This is because their shoe last is relatively narrow, particularly in the toe box area.
So, if you have wider feet or prefer a more spacious fit, it is essential to take this aspect into consideration when choosing a Nike shoe. Some customers might find that going half a size up or even a full size up works best for them.
Nevertheless, there are exceptions, and some Nike models run true to size. To ensure you get the correct fit, it's recommended that you measure your feet and refer to Nike's official size chart.
Remember, the fit of Nike shoes can vary depending on the specific style of the shoe and the shape of your feet. So, it's crucial to try on different models to find the one that suits your preferences and needs best.
Table of Contents
Do Nikes Run Big or Small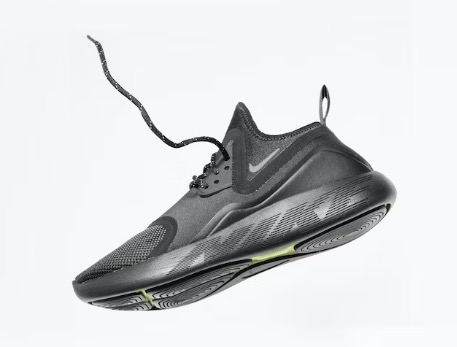 Nike Shoes General Fit
When it comes to Nike shoes, there are some general considerations to keep in mind regarding their fit. First and foremost, it's important to note that Nike running shoes typically run small.
This is partly due to the shoe last being more narrow than some competitors, particularly in the toe box area. As a result, the shape of the shoe overall is fairly narrow and tends to be ideal for runners with narrow feet.
Since many people find that Nike shoes run small, you might consider buying a size bigger than your normal shoe size. If you have wide feet, getting a pair that is 1½ size bigger may be a better option.
Keep in mind that there are also Nike models that tend to run true to size, but it's rare to find models that run big.
As you try on different Nike shoes, be aware that sizes can vary between models and updates. To ensure a proper fit, it's recommended to try on the specific Nike shoes you're interested in wearing. Here are some tips to consider when trying to find the right fit for your Nike shoes:
Use the official Nike size chart as a reference, but remember that sizing may still vary between models.
Take into account the materials used in the shoes' construction, as this can affect the overall fit.
Consider the type of activity you'll be engaging in, as this will impact the ideal fit for your needs.
Finding the right fit for your Nike shoes is crucial for comfort and performance, so don't hesitate to explore various models and sizes to find the perfect match for your needs.
Nike Sizing Factors
Toe Box and Width
Nike running shoes tend to have a narrow fit, particularly through the toe box area. This is ideal for runners with narrow feet, but it can mean that those with wider feet find their shoes running small. To ensure a comfortable fit, you may consider going up a size or looking for a wider width in Nike shoes.
Materials and Cushioning
Different Nike models use various materials, which can impact the fit and feel of the shoe. For instance, Nike Flyknit technology gives you a snug, sock-like fit, whereas the classic Nike Air Force 1 features a leather upper, providing a more structured fit.
When considering shoe sizing, keep in mind the materials used and how they affect the overall fit.
Nike also offers several cushioning technologies, such as the Air Max, React and Air Zoom, which have unique midsole designs and feel different to wear.
The height and thickness of the cushioning can influence the feeling of size when wearing your shoes. Always check the size chart when trying new Nike styles and consider how the cushioning may impact the fit.
| Material | Fit | Model Examples |
| --- | --- | --- |
| Flyknit | Snug and stretchy, sock-like fit | Nike Free Flyknit, Nike Air Max Flyknit, Nike React. |
| Leather | Structured, solid fit | Nike Air Force 1, Air Max 1, Blazers. |
Differences in Shoe Models
Some models may run true to size or feel slightly different in size due to design elements.
Before purchasing a new pair of Nikes, it's best to check the specific sizing and reviews for the model you're interested in. Pay attention to any consistency in feedback regarding sizing from other customers who might have similar feet to yours. Ultimately, your goal is to find the most comfortable fit for your feet while still enjoying your favorite Nike styles.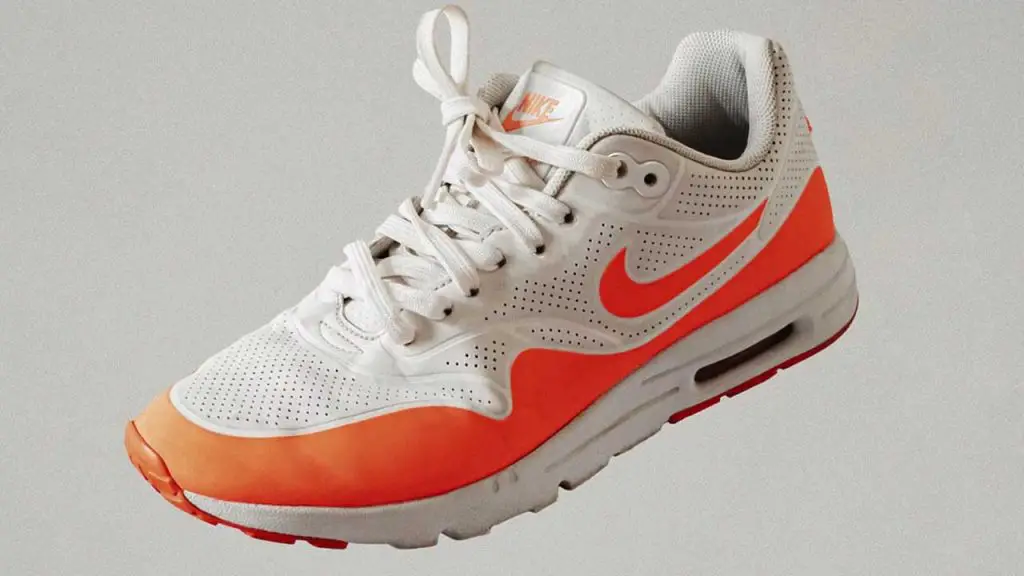 Sizing Tips and Recommendations
It's important to know the right size for a comfortable and proper fit. Follow these tips and recommendations to ensure the best performance from your Nike footwear.
First, measure your foot length on a piece of paper that is larger than your foot. Place your foot flat on the paper, make sure you stand or ask someone to trace around it. If you're measuring the foot yourself, ensure you're in a seated position with your foot well-set on the paper.
Along with using this helpful video, it could also help you to download the Nike Fit app, which uses augmented reality to map the contours of your feet and provides personalized sizing recommendations. Keep in mind that if you find yourself between sizes, choosing the larger size is always a good option to avoid discomfort or an overly snug fit.
When comparing Nike's sizing to other brands, it's important to note that some people may need to change their size by a half or full size depending on the brand.
Nike's sizing may differ slightly from other brands, but it generally remains close to the average sizing.
Here are some additional tips to help you with your Nike shoe sizing:
Look for reviews about the specific shoe model you're considering, as other customers might share their insights about whether the shoe runs true to size, small, or large.
Try on the shoes in-store if possible, using various sizes or models to get the best idea of how the shoes will fit.
Pay attention to the width of the shoe as well, especially if you have wide feet or require extra support.
Remember that your feet may swell during prolonged physical activity, such as running or hiking. Ensure that your chosen shoe size accommodates this natural expansion.
By following these tips and recommendations, you can confidently choose the right size of Nike shoes for your feet, guaranteeing a comfortable and supportive fit throughout your various activities.
Popular Nike Models and Their Fit
Running Shoes
When it comes to Nike running shoes, many models are known to run small, running shoes generally do.
But it is often advised to buy a half or full size up. For example, the Nike Zoom Fly, Nike Structure 24, and Nike Air Zoom Pegasus 35 have quite a snug fit, so you should consider getting a bigger size if you have wider feet or if you feel they squeeze too much.
On the other hand, models like the Nike Epic React and Nike Flyknit have a narrow fit through the toe box area, which is ideal for runners with narrow feet.
Nike 'Free' models typically offer a more flexible and lightweight feel while still providing adequate support for various types of runs.
Basketball Shoes
Basketball shoes from Nike usually provide excellent support and a comfortable fit. Stability is a key feature in models like the Air Force One, which cater to the needs of basketball players seeking excellent cushioning and durability.
However, some basketball shoes might have a slightly narrow fit in the midfoot region, so if you have wider feet, you may need to look for models that offer a wider fit.
Lifestyle Shoes
Nike offers a wide range of lifestyle shoes that cater to different tastes and preferences. The Nike Air Huarache are well known for their comfortable insoles and lightweight construction which are perfect for everyday wear.
These models can also have a snug fit, especially if you have wider feet.
Some other popular Nike lifestyle shoes include the Nike Blazer, Nike Internationalist, and Nike Vapormax. The Nike Blazer is known for its classic design, while the Nike Internationalist offers a vintage-inspired look with a narrower fit. The Nike Vapormax is a little more crazy looking, but is designed with advanced cushioning technology for a good level of comfort.
To sum up, Nike offers various models catering to running, basketball, and lifestyle needs. Understanding the fit and characteristics of each model will help you make an informed decision when selecting the perfect pair for your needs.
Conclusion
When it comes to Nike shoes and their sizing, it's essential to keep in mind that the fit may vary based on the specific model and the shape of your feet. Nike shoes typically run true to size, but some customers find them to run a half size larger or smaller.
One of the factors contributing to the perception that Nike shoes run small is that their lasts are often more narrow, especially in the toe box area. This makes them suitable for individuals with narrower feet. However, if you have wider feet, consider going up one size or even 1½ sizes for a more comfortable fit.
To ensure you get the perfect size for your feet, it is advised to:
Measure your feet accurately
Refer to the Nike size chart
Read customer reviews and recommendations for specific models
Remember, choosing the correct size in Nike shoes will significantly contribute to your overall comfort and performance. Consequently, it's important to take your time to determine the best fit for you.
Do Nikes Run Big or Small? Decoding the Perfect Fit