ListedFit is reader-supported. When you buy through links on our site, we may earn a small commission.
Let's face it. Nike is one of the biggest names in shoes for all lifestyles. 
Since the first release of Romaleos in 2009, Nike has proven they are committed to making some of the best shoes for weightlifting. 
In April of 2021, Nike shocked the weightlifting world with a new addition to their lineup, in the form of Savaleos. 
With two contenders, which Nike weightlifting shoe will reign supreme?
Weightlifting requires having the right equipment and gear, including shoes.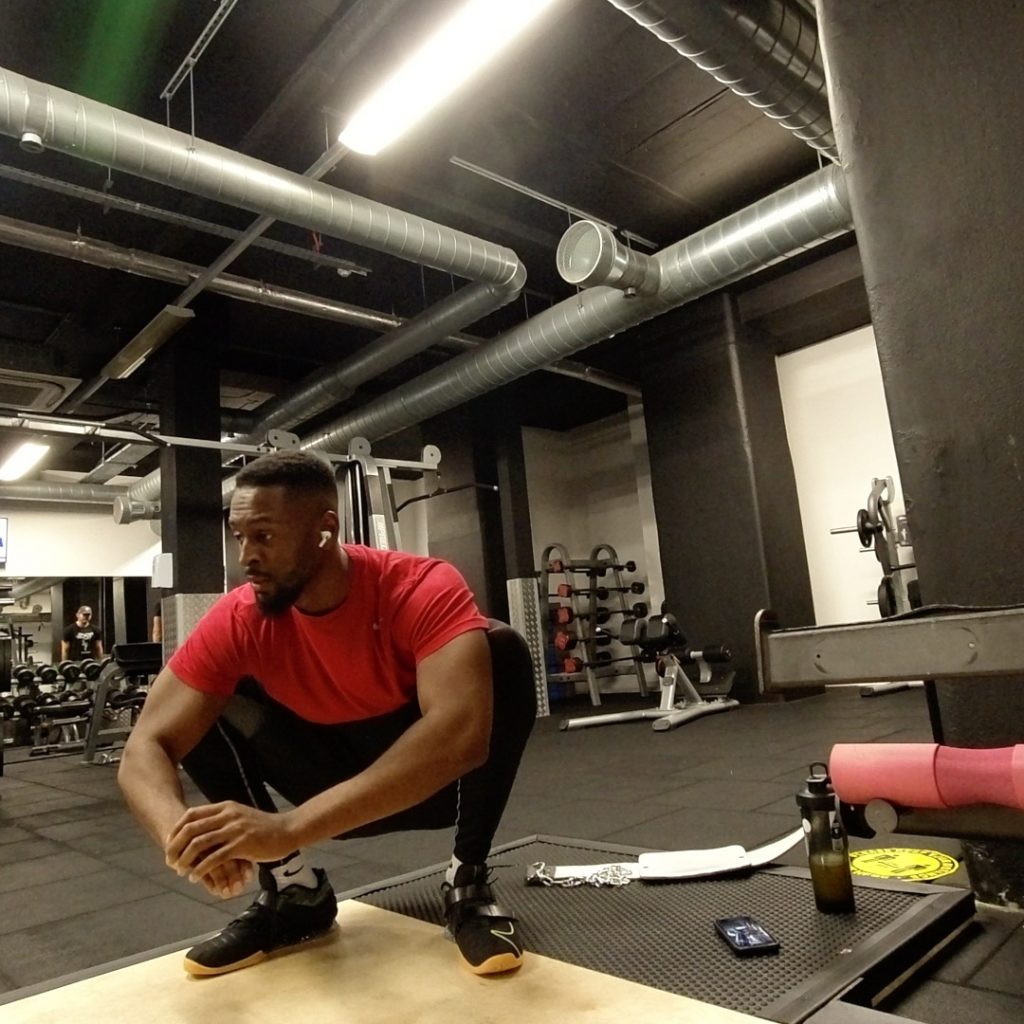 There are a few things a good weightlifting shoe must-have, whether you choose the Savaleos or Romaleos. 
The shoes should have an ample strap that helps secure the ankle. 
They should also have a heel wedge that helps to secure the ankle and put you in a good position to lift. 
The shoe needs a very flat and stable platform that will not compress. 
Weightlifting shoes should have perforation holes to allow for air circulation.
In my time I have worn a lot of weightlifting shoes that make many promises. 
For this review, I put both the Savaleos and Romaleos to the test. I put them through a lot of abuse to see how well they held up. So if you're wondering whether to go for the Nike Savaleos or Romaleos, keep reading to see what my experience was like.
Nike Romaleos Vs Savaleos – My Verdict
For me, the Romaleos remain my favorite, but I did find the Savaleos to offer some improvements in comfort and a more adaptable feel for performing many CrossFit workouts.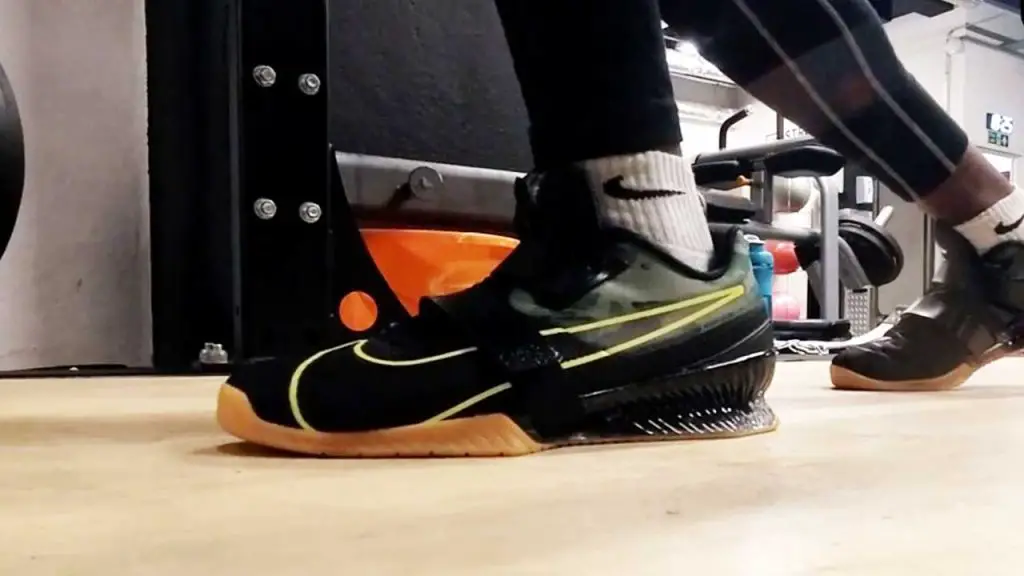 Table of Contents
Nike Savaleos vs Romaleos – What Are They Each Best At?
Let's do a quick comparison…
<
| Feature | Nike Savaleos | Nike Romaleos |
| --- | --- | --- |
| Heel Height | 15 mm | 19-20 mm |
| Heel Construction | Lighter heel | Denser, heavier construction with better attention to major stress-bearing areas |
| Straps | Single strap | Two straps that provide better bracing |
| Upper Materials | Synthetic leather and mesh | Synthetic leather and mesh |
| Sole Materials | TPU heel and rubber forefoot | TPU heel and rubber forefoot |
| Weight | 15.2 oz (men's size 9) | 15.8 oz (men's size 9) |
| Toe Box | Wider toe box | Narrower toe box |
| Sole Rigidity | Less rigid sole | More rigid sole |
| Intended Use | Weightlifting, powerlifting/Cross Training | Olympic weightlifting/powerlifting |
A lot of people are understandably comparing the Nike Savaleos to the Romaleos, ever since the newer shoe made its entrance.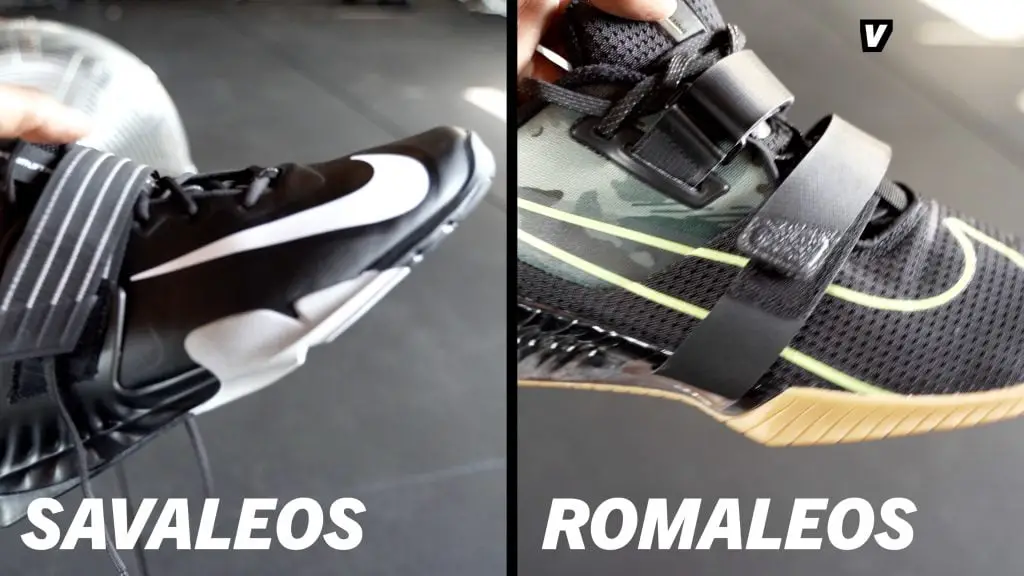 When the Savaleos first came out, I had to grab a pair myself because I wanted to see if they would be better than my Romaleos which I had been using for a while.
>>>Check out my recent Metcon vs Romaleos video HERE <<<
Both shoes have a wide, stable platform. 

Both shoes offer a supportive strap, and both are widely known for the strength and stability they offer. 
The Savaleos are much easier to walk in than the Romaleos. The heel on the Savaleo is made of lighter materials. Whereas the Romaleos are made of a harder and much heavier plastic which is a big reason why I don't wear them when I am on my way to the gym, theyre just too hard to walk around in, but the Savaleos, you can walk in them as they're a lot softer.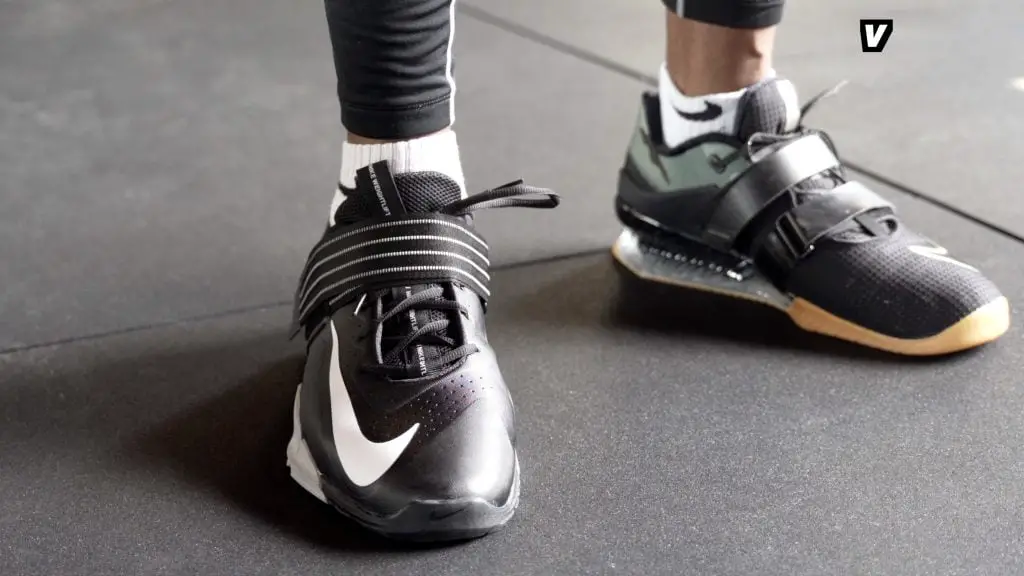 The Savaleos are much easier to walk in than the Romaleos. The heel on the Savaleo is made of lighter materials. Whereas the Romaleos are made of a harder and much heavier plastic which is a big reason why I don't wear them when I am on my way to the gym, theyre just too hard to walk around in, but the Savaleos, you can walk in them as they're a lot softer. 
I like the fact that Nike made the Savaleos have less of a heel drop, which, in my opinion, equates to a higher level of comfort when walking. 
The reason Nike made the Savaleos much lighter in weight and more comfortable, is because they are intended to be used as a cross-training shoe as well, instead of only being a shoe for weightlifting. 
On the other hand, the Romaleos seem much stronger and more supportive. 
They are the gold standard for lifting and are considered a must for anyone who is serious about weightlifting. 
The Romaleos shine have two straps, which is a win in my eyes. The dual straps allow me to get a more secure fit. No chance of slippage at all.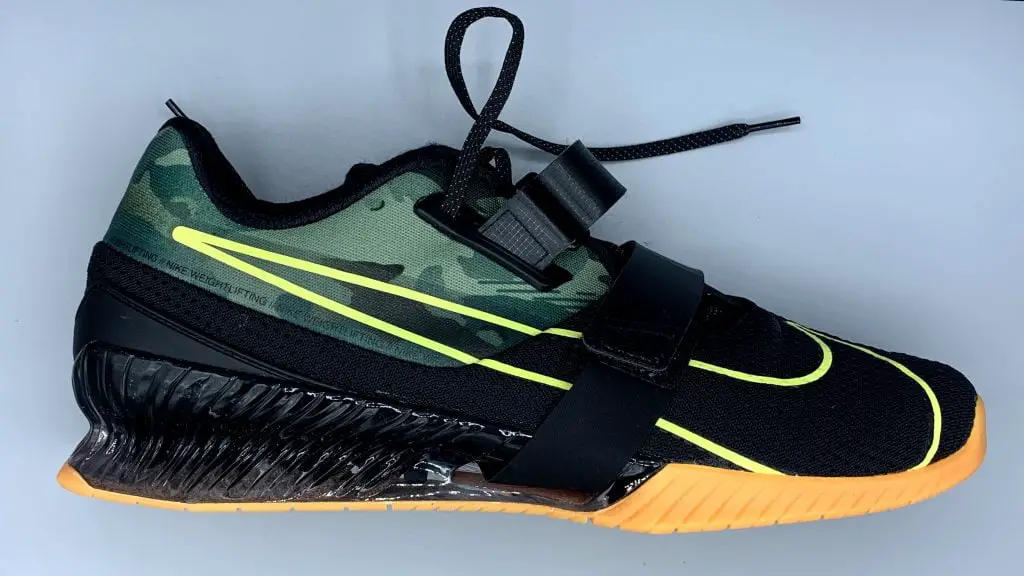 The Savaleos have a single strap, which is perfectly fine for weightlifting, but if you are accustomed to the dual strap of the Romaleos, you may find you cannot get the precise fit you prefer. 
When it comes to materials, I will have to say my Romaleos are the clear winner. The uppers feel much more robust than the Savaleos. Neither of the two offers much breathability, but I had no issues with either. 
Finally, we will get down to the price tag. People are going to naturally like the Savaleos because (at the time of doing this review) they are $80 cheaper than the Romaleos. 
Do Nike Savaleos Run Small?
If you are anything like me, you worry about shoe size. Wouldn't it be nice if every shoe fit to size correctly? Unfortunately, it seems almost every shoemaker has their own sizing algorithms that make purchasing the right size for your foot a little tedious. 
I wear a size 12, so I picked up a pair of Nike Savaleos in the same size. . 
The fit was as I expected it to be. I would say they are true to size, also, I did not experience any heel slippage in the Savaleos or the Romaleos, something that many are concerned about.
If you have wide feet, you may want to go up a whole size. They feel great if you can get the size down perfectly, but if they are making your feet feel cramped, you are not going to be on your game in the gym. 
Are Savaleos Good for CrossFit?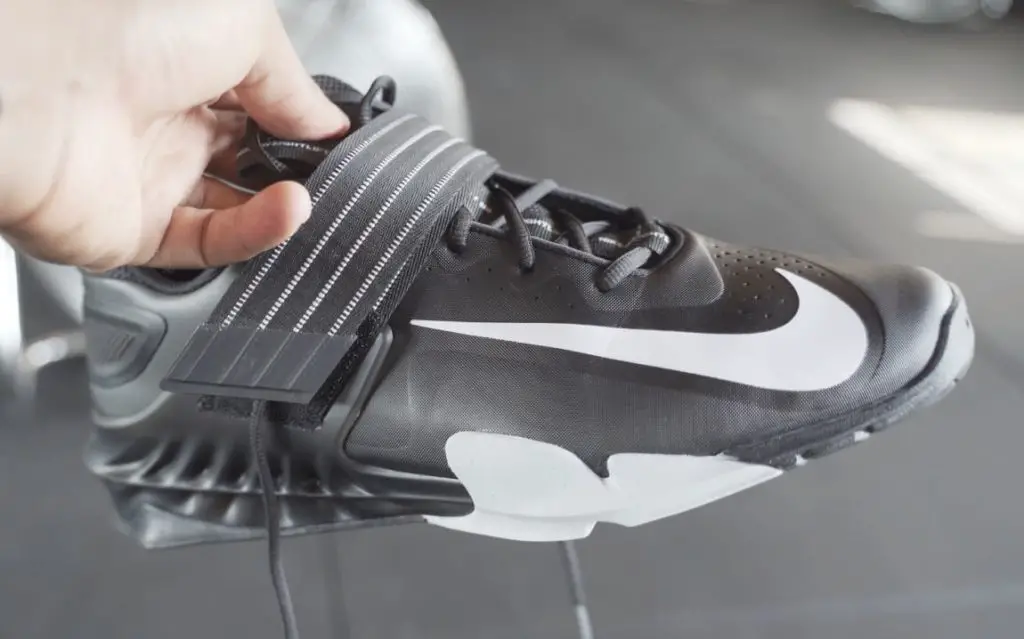 Nike Savaleos are not only for weightlifting. As I mentioned briefly above, they also allow you to participate in CrossFit. 
I wanted to try the Savaleos while doing box jumps, and I found they held up well and allowed my foot to flex just enough to make the jumps easier. 
The Savaleos, while marketed to be a good CrossFit shoe, may not work well on all aspects of CrossFit training.
Although they performed great for box jumps, they fell flat while rope climbing. There just was not enough outsole grip to make me feel secure while climbing. 
Of course, the Savaleos performed well when I was doing my kettlebell AMRAPs. These shoes are perfect when you need to plant your feet and stay stable. 
I would not exactly label these as a solid CrossFit shoe, but if you do both weightlifting and CrossFit, and want a shoe that will hold up well for both, you are likely going to like the Nike Savaleos. 
Romaleos vs Savaleos
Double Straps

Double gives more secure fit.

Heel Height
0.75 inches
0.59 inches
Extra points
* A firm midsole that provides more rigidity.
* A significant increase in the height of the heel.
* A wide heel giving stability during lifts.
* A rubber tread that provides long-lasting traction.
* Heel with cushioned mesh padding.
* Firm midsole construction.
* Tongue and collar with added padding.
Latest Price

(Subject to change)

$180
$100
Where to purchase
Nike Romaleos 4
Nike Savaleos
Which Should I Buy Nike Savaleos or Romaleos?
Comparing one weightlifting shoe to another, especially from the same company, is not always easy. While both shoes have some similarities, I believe they are different enough to make a choice, depending on your fitness focus. 
If you are a focused lifter, the Savaleos are likely not going to perform as well for you as the Romaleos. The Savaleos are not as sturdy and do not allow your feet to plant as well. They are much lighter in weight and flexibility, which is not a good thing when lifting. 
On the other hand, if you are just getting into weightlifting and lean more on the side of CrossFit, the Nike Savaleos may be perfect for you. I feel they would be ideal for beginning weightlifters because of their comfort and price tag. 
As a person who focuses more on lifting than anything else, I prefer the Romaleos. I have nothing against the Savaleos and was actually impressed with how they feel, but I just do not think they offer that bulky bedrock platform for lifting that my Romaleos offer. 
Does Nike Make the Best Weightlifting Shoes?
While I do like my Romaleos, it is difficult to say whether Nike they make the "best" weightlifting shoes, as different brands and models may be better suited for different individuals based on their specific needs and preferences.
Many weightlifters prefer Nike weightlifting shoes for their design, comfort, and performance features, but other known brands such as Adidas, Reebok, and lesser known names like Inov-8, TYR and NoBull all offer options in the lifting shoe space.
It ultimately comes down to personal preference and what works best for each individual's body type, lifting style, and goals.
When selecting weightlifting shoes, it is important to consider factors such as fit, stability, heel height, and overall support. Additionally, it is essential to choose shoes that are specifically designed for weightlifting, as these will have features that can enhance your performance and reduce the risk of injury.
Nike does offer some high-quality weightlifting shoes, but it is important to consider a variety of brands and models.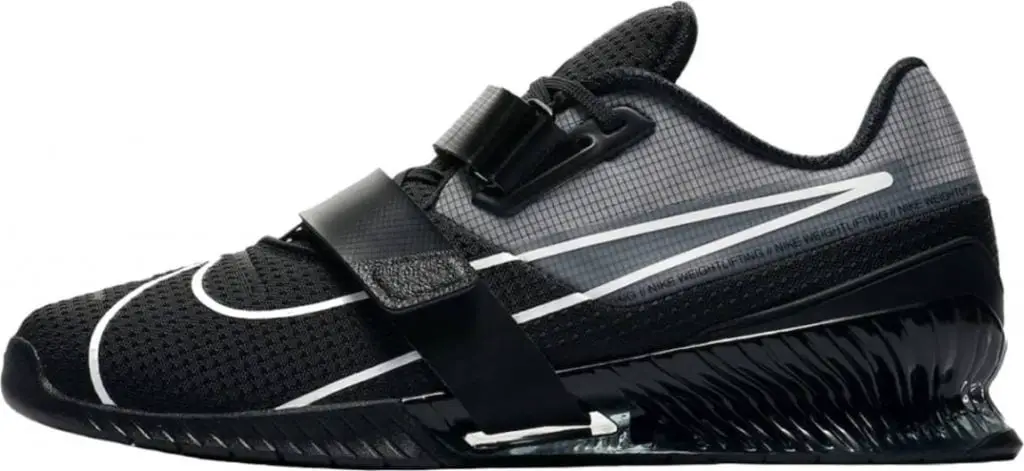 Of course, there are many opinions on this subject. If you ask most weightlifters, they are going to at least acknowledge that Nikes are high on their list of favorites. 
I personally take it on a shoe-by-shoe basis, I like the way the Nike Romaleos feel, how they look, and how they fit. If you are looking for a solid pair of weightlifting shoes, that offers the right balance and performance, you cannot go wrong with the Romaleos. So far, they have been one of my favorites, and I think I will have them in rotation for a long time. 
Do not get me wrong. The new Nike Savaleos are great shoes. They are perfect for casual lifters who also enjoy CrossFit. While they are lacking in some areas, but they will likely perform well for those who are not looking for a shoe with a bit more versatility. 
Conclusion – Nike Savaleos vs Romaleos
I hope my review has given you a lot of information to ponder.
For me, the Romaleos remain my favorite, but I did find the Savaleos to offer some improvements in comfort and a more adaptable feel for performing many CrossFit workouts. 
I would advise you, if you can, to try both on and see which one works better for you.
Nike Romaleos vs Savaleos – FAQs
Do Nike Romaleos Run Small?
In my experience, they don't.
Many people ask whether they should size up or size down when buying the Nike Romaleos and also the Savaleos for that matter. In my experience, they both run true to size. Order your regular size in these. If you are not sure of your regular size, use the Nike size chart for clarification.
Some people think that because they are lifting shoes, they should order a size smaller to avoid any chance of heel slippage, I did not experience any heel slippage with the Nike Romaleos or the Savaleos for that matter.
I would always say, if you can, try on more than one pair to get the best size possible. If you're somebody who always buys differing sizes, then I would suggest you measure your feet to get the most accurate size.
Why Are Nike Romaleos Sold Out?
The Romaleos are probably the most popular lifters on the market. They sell out fast due to a combination of high demand for a shoe that is well built and also Nike being a bit slow on the restock so colorways sell out fast because nike don't always announce when they will come back in stock, like the special edition crimson/pink blast colourway.
The colorway I bought I have not seen them in stock anywhere else since I bought them, so I think Nike is a little slow responding to the demand of this shoe, which of course is very frustrating for customers.
FWIW, The Savaleos (I know they're not the same shoe) do tend to stay on the site longer as they are a little less popular.
What is the Benefit Of Squat Shoes?
Squat shoes, also known as weightlifting shoes, are specially designed footwear that can provide several benefits to weightlifters performing squats or other compound exercises. One of the primary benefits and one of the main reasons I bought myself a pair is that they can improve your form and technique quite substantially.
Squat shoes typically have a raised heel, which allows you to maintain a more upright posture while performing the exercise. This can reduce the risk of injury and help you to target your quads, glutes, and hamstrings more effectively. Additionally, the flat sole of squat shoes provides a stable base that allows you to generate more force from the ground, which can improve your overall strength and power.
Another benefit of squat shoes is that they can help to increase your range of motion. The raised heel of the shoe allows you to achieve a deeper squat position, which can help to activate more muscle fibers and increase your overall flexibility. This increased range of motion can also help to improve your overall mobility and reduce the risk of injury.
These are some of the reasons why I decided to buy a pair of squat shoes for myself and I would encourage anyone that squats a lot to try squatting in a pair to see if they feel any difference.
Nike Romaleos Vs Savaleos: Which One is Worth Your Money?