ListedFit is reader-supported. When you buy through links on our site, we may earn a small commission.
Finally, an answer to the question 'What are The Best CrossFit Shoes for Wide Feet?'
Everyone on my dad's side of the family has wide feet, and guess who inherited them? Wide feet are not necessarily a problem until you try to find a pair of shoes that will fit precisely and comfortably. Finding any type of comfortable shoes is difficult, but you will find it even more problematic when you need workout shoes. 
I got involved in CrossFit recently. I've had a gym membership for a long time at a local gym down the street from where I live. When a new gym opened up downtown, I found out they specialized in CrossFit, and I wanted to give it a try. I was hooked right away!
Anyway, you know many CrossFit exercises put a lot of pressure on your feet. My trainer told me right away that I needed a high-quality pair of shoes or my feet were going to suffer. I got some advice from him and a few friends and started on a journey towards finding the best CrossFit shoes for wide feet. You will likely be surprised at my results!
Table of Contents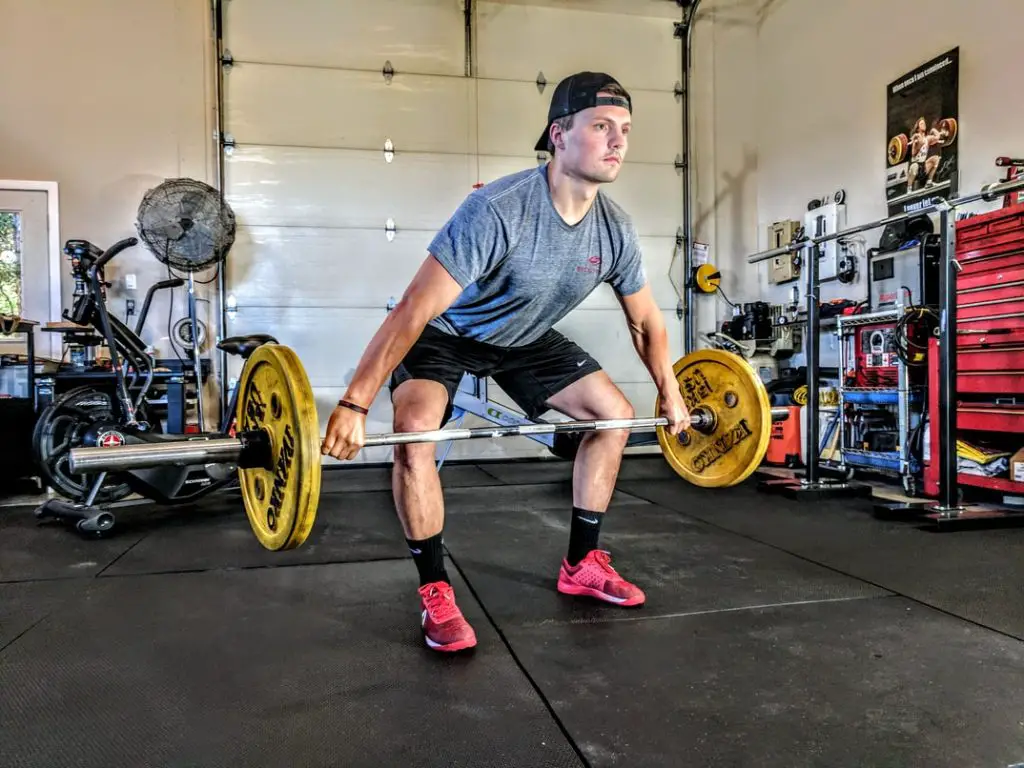 Why Do You Need Special Shoes for CrossFit?
Before I got into CrossFit, I honestly thought it was just a special hardcore workout. Turns out, it is more a way of life. CrossFit involves so many varied exercises, with some pushing you to the extreme. I found out really quickly that my trainer knew what he was talking about when he advised me to get a good pair of shoes. 
CrossFit requires you to wear a shoe with a highly stable base for the weightlifting portions of the training. Because you will also be running, roping, and doing many other exercises, you also need a flexible shoe. 
These are tough to find when you couple them with the need for a shoe that is a wide width. Below you will find my top five picks for the best CrossFit shoes for wide feet. I've tried each one, and am here to report the details. 
Top 5 Best CrossFit Shoes for Wide Feet
Each of the shoes below offers its own benefits to people with wide feet. I chose these top five because they are extremely comfortable and supportive.
Check out each of the shoes below, and choose which one offers your feet the most comfort. 
The new kid on the block…
Inov-8 Men's F-Lite G 300
Inov-8 is a shoe company that launched its line in 2003. They create shoes specifically made for various workouts. These cross-trainer shoes are made specifically for people with wide feet. You will appreciate the wide toe box and plenty of room in the arch area.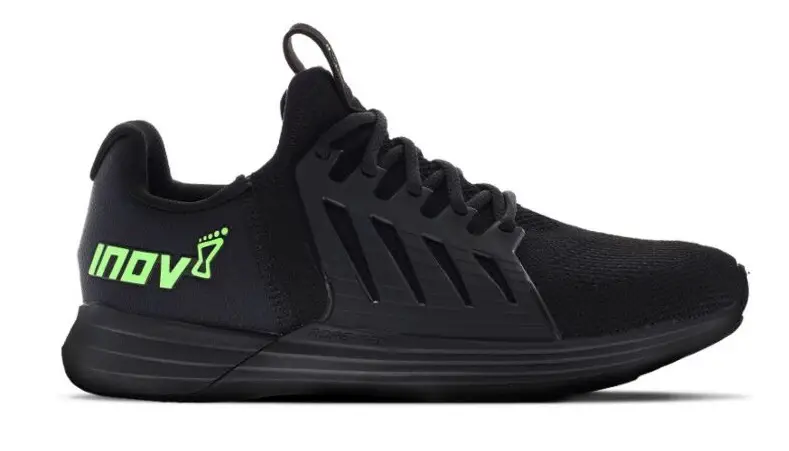 These shoes are made of leather and mesh. They feature a Graphene-infused Internal Lifting Stabilizer that truly supports your foot and keeps it secure. 
The 360В° ROPE-TEC protection allows you to grip the rope without causing damage to your trainers. The fully engineered upper is highly durable and tear-resistant. 
I can honestly say these shoes are some of the most comfortable I have ever worn. They can handle any type of workout you do and keep you on your toes.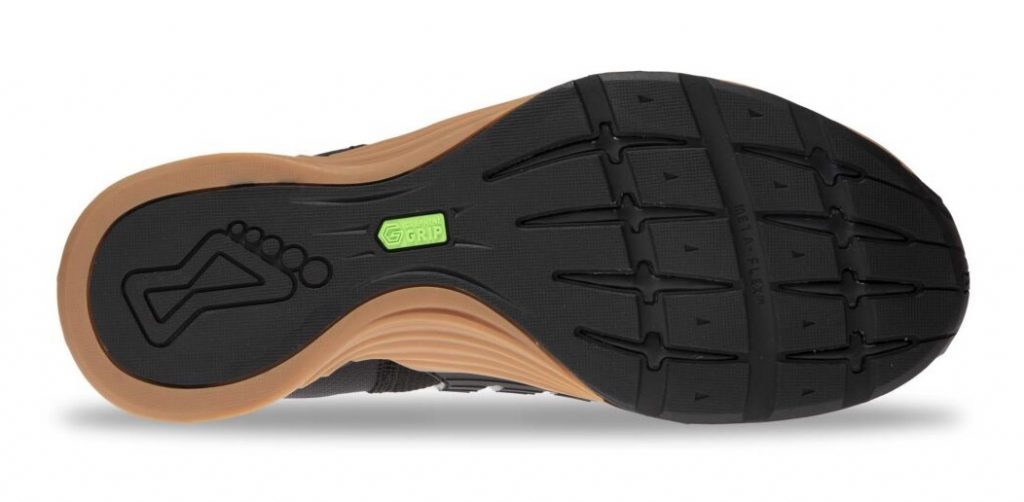 Pros:
This shoe offers 5 grades to help you get the perfect fit. If you have wide feet, choose Grade 5. 
The laces of these sneakers keep your foot secure and will not come loose during a workout, making them safe for CrossFit.
These are the best rope climbing shoes I have ever tried! The grip is phenomenal. 
This shoe offers plenty of room, yet feels secure at the same time. 
Cons:
I put these trainers through a lot in my CrossFit sessions and they held up well. The only problem I discovered with these shoes is the backs are a little high. You cannot wear no-show socks with these trainers or the high back will rub your Achille's tendon too much. 
For the hardcore experienced…
ALTRA AL0A4PE7 Solstice XT Cross-Training Shoe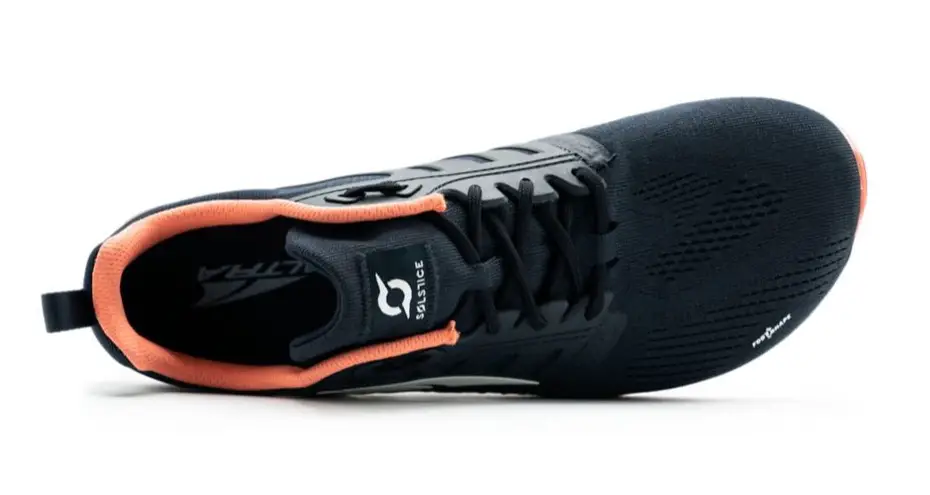 These Altras are a solid choice for those with wide feet. Altra is a brand that is often a favorite among hardcore CrossFit enthusiasts. 
The upper is made from 3D printed materials and is made to be tough and durable. The rubber sole is meant to grip the gym floor and keep you in perfect traction.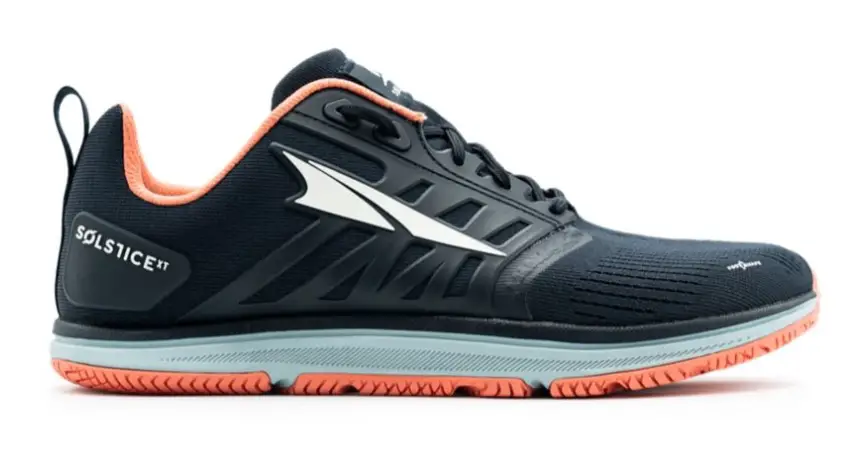 These sneakers have the perfect width for the toe box, giving you plenty of room. The midsole is made of a high-abrasion EVA material. This updated version has a durable caged upper.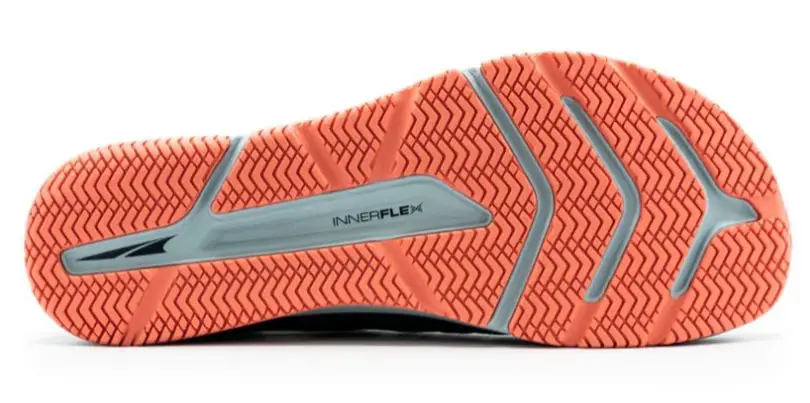 I put these shoes through some mega CrossFit workouts and they held up great. The cushion is low, which is perfect for CrossFit training. 
Pros:
These shoes are perfect for people with wide feet because they have an ample toe box that gives you plenty of room. 
The caged upper has been improved over the last model, allowing for greater toughness and durability. 
The supportive mesh in the midfoot adds to the security and stability of your foot. 
The grooves in the midsole help to give you a better grip, better speed, and better performance. 
Cons:
I like to reveal the good and the bad about any shoes I recommend. I could not find anything to really complain about, but one of my friends mentioned a problem he had, and I wanted to share. He said the internal band made these shoes feel uncomfortable for him. I did not find it to be a problem but keep this in mind when trying these shoes. 
The Well-Known Reliables:
Reebok Nanos
I have been a fan of Reebok since I was a kid, so I was thrilled to try the Nano X training shoes to see how they would perform in CrossFit. When I slipped them on, I immediately knew they were going to be extremely comfortable on my wide feet because of the extra roomy toe box. 
We recently tested this shoe against the Metcon, see how it did.
The uppers of these shoes are made of Flexweave textile. The TPU heel clip keeps these shoes secure and makes your heel stay in place without discomfort. 
The toe section allows you to splay your toes outward as you squat during lifting. This shoe is a celebration of ten years of Nano. Reebok talked to CrossFit enthusiasts and got a lot of feedback to create what they consider the perfect shoe. 
These felt great during my workouts. They even performed well on the ropes. With the stable base, my foot planted firmly during the toughest of workouts. 
Pros:
The roomy toe box is perfect for CrossFit trainers with a wide foot. The box is so wide you can easily splay your toes. 
The tough Flexweave textile upper is breathable and tough. You will find it difficult to discover a shoe with a tougher upper. 
The TPU heel clip is a perfect addition for lifting stability. 
These shoes offer the perfect level of comfort, support, and flexibility. 
Cons:
The main problem I had with these Reebok CrossFit Nano X shoes was they are not good for running. They were perfect for just about everything but running. If you are looking for a wide-width shoe that is ideal for CrossFit and running, this may not be what you are looking for. 
The most popular:
Nike Metcon 4
Not all Nike Metcons shoes have an ample toe box, but this particular pair do. Like the best CrossFit training shoes, these allow you to spread out your toes and get a really good grip when lifting. 
I was really impressed with the Flywire technology because it locked my foot down and made it feel way more secure than other trainers I have tried. The thin and breathable mesh upper and heel make these shoes perfect for running. 
The upper is made of a haptic print, which makes these trainers really durable. I can tell you, I put them through a lot, hoping they would not tear, and they did not. 
When lifting, you will appreciate the heel clip that helps to keep your feet locked in position, without sliding. This is the shoe you need for stability and comfort. 
Pros:
If you have wide feet like me, these shoes are going to make your toes feel right at home. 
These shoes feature a drop in the midsole that gives you a much more stable feeling while CrossFit training.
I like the breathable mesh upper and heel because they give a lightweight feel, allowing for running. 
The stabilizing heel clip keeps your foot in position while lifting. 
Cons:
I had one minor problem with these shoes. The sole was kind of stiff at first when I started wearing them. I know most shoes need to be broken in to be comfortable, but these were stiffer than other shoes I've tried. After a couple of days of wear in the gym, they softened up perfectly, but are still stiffer than some of the other trainers I've owned.
Not pretty, but great all rounder.
New Balance 857 V2 Cross Trainer
OK, these aren't the most trendy-looking shoes I know, but these are known for being great for support and comfort for crossfitters.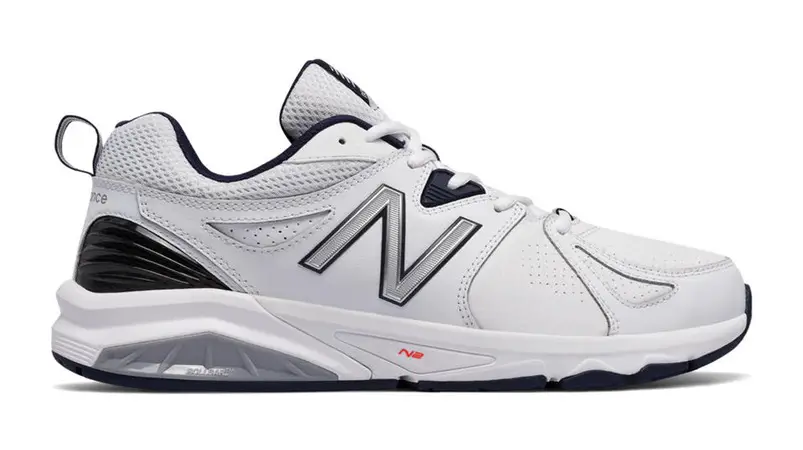 One thing that immediately made me want to try these Cross Trainers is they come in both wide and extra wide widths. If you have stocky, wide feet, these offer the perfect level of toe box room to keep you comfortable. 
I really like the REVlite Midsole because it makes my feet feel very stable during lifts. I also like the uppers on these trainers. They are the perfect mix of durability and strength. The mesh makes them feel very breathable and lightweight. 
Another detail I love about these shoes is the rubber eyelets. If you have ever had your laces come undone during a workout, you will truly appreciate this feature that keeps them laced and in place. 
The uppers on these shoes are made from 100% leather. I was afraid the leather would make them feel too heavy. I was pleasantly surprised that they felt perfect. Yes, they are heavier than others on this list, but they are also highly durable for the same reason. 
Pros:
The toe box offers extra room, and these shoes are even available in extra wide widths.
The rubber sole gives a perfect grip on the gym floor. It is super grippy. 
You will love the rubber-enforced eyelets because you will not have to worry about your laces coming undone in the middle of a training session. 
The drop is 4mm, making these shoes good for running. 
Cons:
Like some of the other shoes on the list, you may find these trainers are a little stiff at first. I highly recommend you wear them for a couple of days just walking around and get them broken in before you take them to the gym. You will find they soften up to the ideal level of flexibility. 
That's a Wrap!
Okay guys, there you have it. This review is complete. I enjoyed testing several CrossFit trainers and found the five above to be the best for my overly wide feet. I even talked my uncle into getting a pair of the ALTRAs because his feet were killing him in his pinched gym shoes. No matter which pair you choose, you are sure to find they work great with your CrossFit training.