ListedFit is reader-supported. When you buy through links on our site, we may earn a small commission.
For a shoe company such as NOBULL that many people may not be familiar with, the question of 'Do NOBULL shoes run true to size?' is very common.
Today, we have many choices with cross-training/CrossFit shoes that promise to do everything and anything.
Fitness enthusiasts know the importance of having a high-performance shoe that will protect their feet and keep them balanced during many activities in the gym.
I first learned of NOBULL shoes' popularity when I noticed somebody in the gym wearing them and I started seeing more and more people on Instagram wearing them in their videos.
Since its launch in 2015, NOBULL has gained a massive following. Mainly people who like a more minimalist shoe and maybe are tired of the overly hyper promotional buzz that usually comes with workout footwear.
NOBULL offers a full line of sportswear for both men and women. Their line of shoes includes trainers, runners, lifters, cyclers, and slides. 
This company is working to empower people to get out and move. They offer a no-nonsense approach to shoe production, and their minimalist perspective is certainly catching on with the sports world. 
Table of Contents
NOBULL Sizing – Do NOBULL Shoes Run True to Size?
When it comes to NOBULL sizing, NOBULL label their shoe sizing as 'standard sizing' and shoes fit true to size.
However, some users have told a different story with some saying they can fit a little snugly in the mid-foot area.
I found the fit slightly smaller than true to size, but not enough to disrupt me or make me want to send them back.
Tips When Ordering NOBULL Trainers:
1. Check If the Shoe Colour You Want Has Half Incremental Sizes in Stock.
You don't want to be disappointed. Depending on what colour you want, they can sell out pretty fast.
2. Order Two Pairs If You Can.
Order one in your regular 'standard' size and one pair in a half size up. This is the only way you'll be sure. I kind of wish I did this myself, but the half-size wasn't available to me.
Note: It goes without saying, if you order two pairs, just try them on at home with clean feet and clean socks in order to get the right fit, don't go and workout in them as this will very likely stretch the shoe and you might not get your money back because of this.
The problem I find often is that many manufacturers boldly claim their shoes are of 'standard sizing', and for many, this is true, but when the product arrives, it's a whole different story. 
3. Hear Me Out, Measure Your Feet.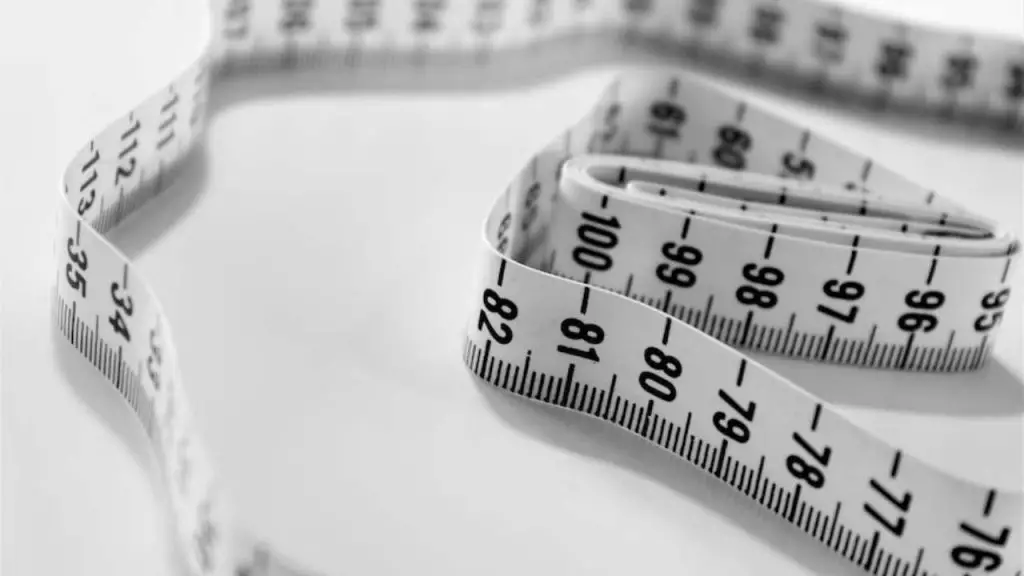 The NOBULL trainers do run narrower than the Reebok Nano X3 and other trainers of the same category.
It is important to remember that NOBULL shoes are unisex in size, so you should be able to move up or down a size, depending on the fit you are looking for. 
But it may be an idea to measure your feet, even though you may think you know your size and have been ordering the same size for years, some people get a surprise when they actually measure their feet in the correct way.
Unfortunately, at the time of writing this, NOBULL does not have wide sizing options.
Do NOBULL Shoes Have Good Arch Support?
NOBULL shoes, as the company name suggests, have a more minimalist design and construction.
Because of their minimalistic approach, these shoes do not offer arch support. 
Arch support is important for allowing your foot to spring when you run, jump, or even walk. But it's also good to train without arch support so that the muscles of the feet get stronger.
Other shoes I've tried and reviewed here, such as the Metcon and the Savaleos offer much better support for the foot. 
As a word of caution, if you have flat feet, NOBULL shoes may not be right for you. Consider using a good pair of orthotics to support your arches.
The lack of arch support is not a deal-breaker, though it would be nice to see NOBULL offer a more upscale version of their trainers, with a little more support.
I wouldn't even mind if they threw in the option of an arch support insole for an extra fee. 
Are NOBULL Shoes Good for Wide Feet?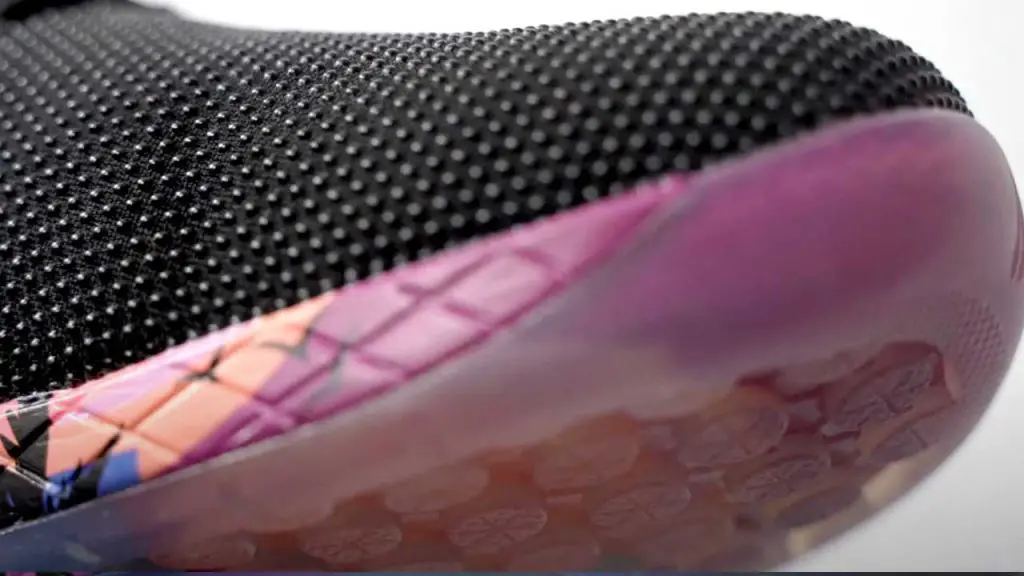 Some people do not have slender narrow feet, whether they are male or female.
If you have a more narrow foot, you'll be OK with NOBULL trainers.
If your foot is on the wide side, you may find NOBULL trainers to be too confining and tight.
Forcing your feet into shoes that are too narrow is only going to cause problems like hammertoe, bunions, corns, and calluses. 
Unfortunately, NOBULL does not offer wide-width options. You may get enough room by purchasing one half to one size larger, but this could lead to your foot slipping up and down in the shoe if the size is too much bigger. 
If you try them on and they do not fit, return them right away for a refund, they aren't available in stores so you have to buy and return them if they don't fit, which is a bit of a pain with a shoe brand that you have never bought before. Always check the returns policy.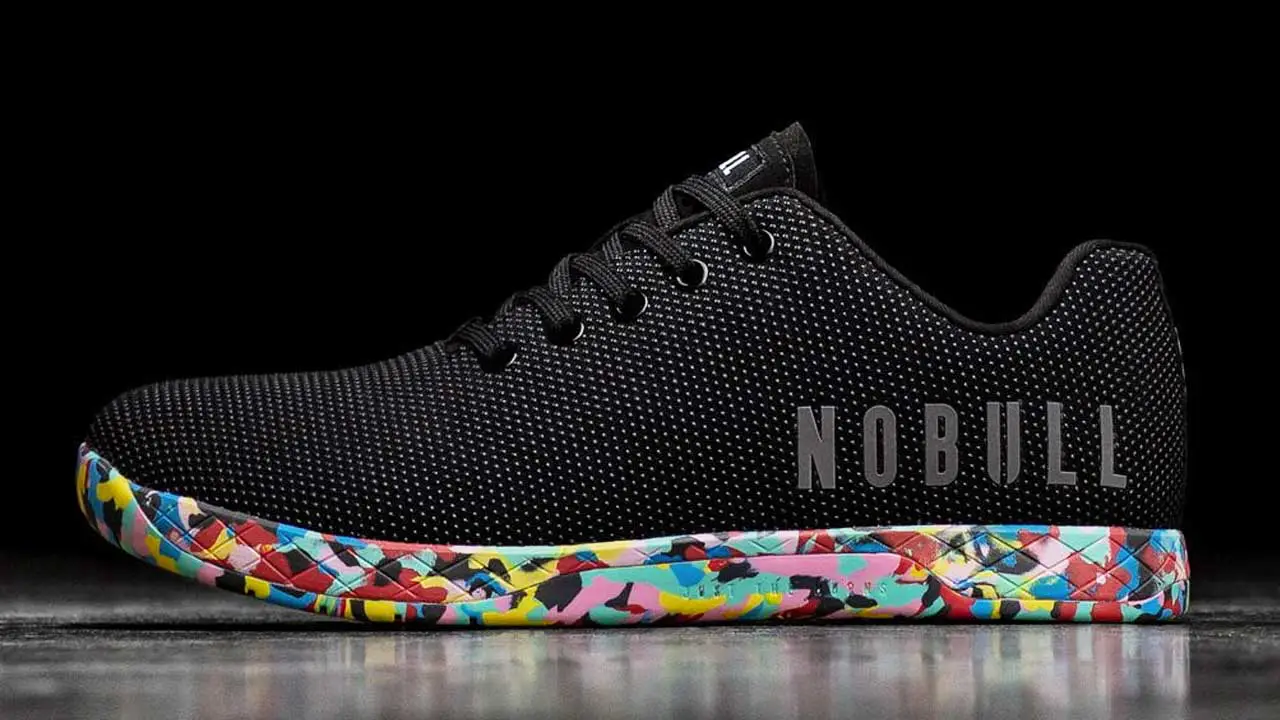 NOBULL's built ultra-durable SuperFabric®
_____________________________________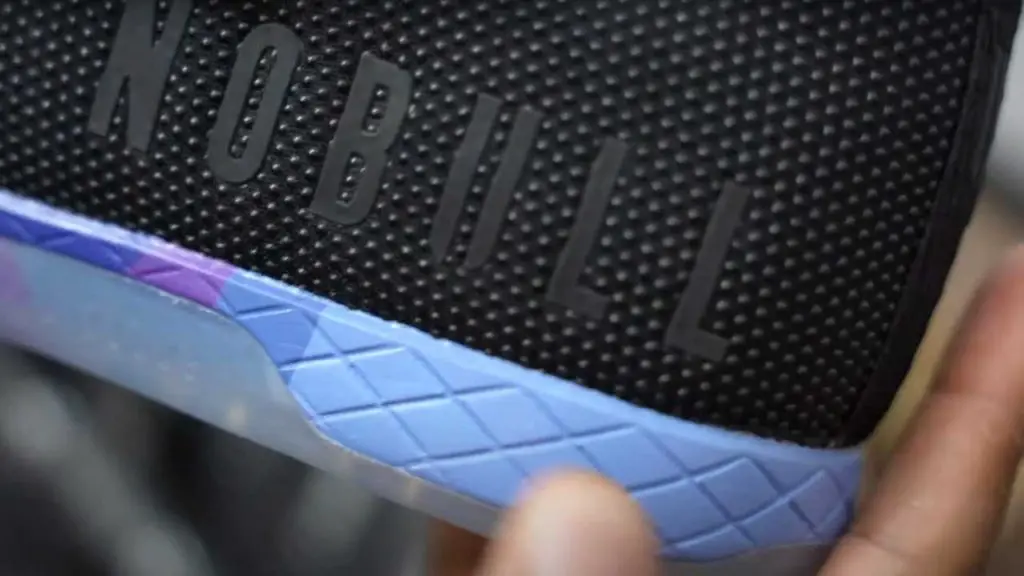 ---
NOBULL Trainer High Tops Vs. Low Tops.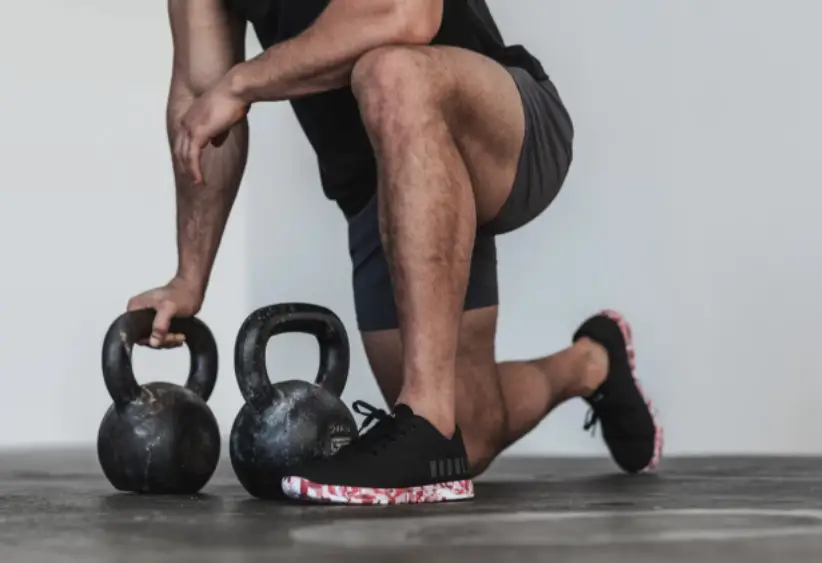 When comparing NOBULL trainers' high-tops and low-tops, it is important to focus on the facts.
The main difference between the low-tops and high-tops of any maker is the ankle support.
High tops naturally have a higher ankle collar, offering more support and stability to prevent ankle rollover in certain moves.
If you like the look of Chucks, but find the support to be lacking, then the NOBULL high-top may be to your liking as the upper material is a lot more rigid than the canvas upper found on Converse Chuck Taylors. It is a perfect everyday shoe, and it can be worn for lifting and some types of workouts. 
Most people are going to find the low top and high top have the same basic setup when it comes to every area but the ankle.
The toe box is about the same in both the high and low-top, and they both offer the same fabric cover. 
How Does the NOBULL Trainer Compare to the Current Star of the Show?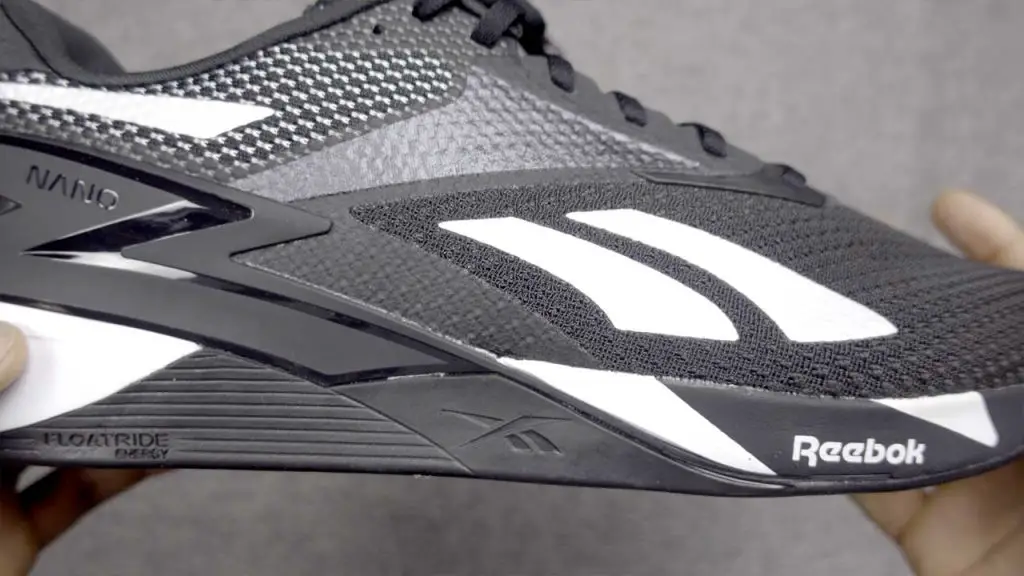 NOBULL Shoes Vs. Reebok Nano X3
Out of all of the workout shoes on the market today, I think it's fair to compare the NOBULL trainers to the latest iteration of Reebok's very popular fitness shoe, the Nano X3. 
In my opinion, the Reebok Nano is the fitness shoe to beat right now.
I recently did a review of the Reebok Nano X3 on the ListedFit YouTube channel, and I will say that the Nano X3s did very well. They're the first shoe I have ever given top marks.
The main differences between the NOBULL trainer and the Reebok Nano X3 however are quite noticeable. Let's go through them.
Main Differences – Reebok Nano X3 Vs NOBULL Trainer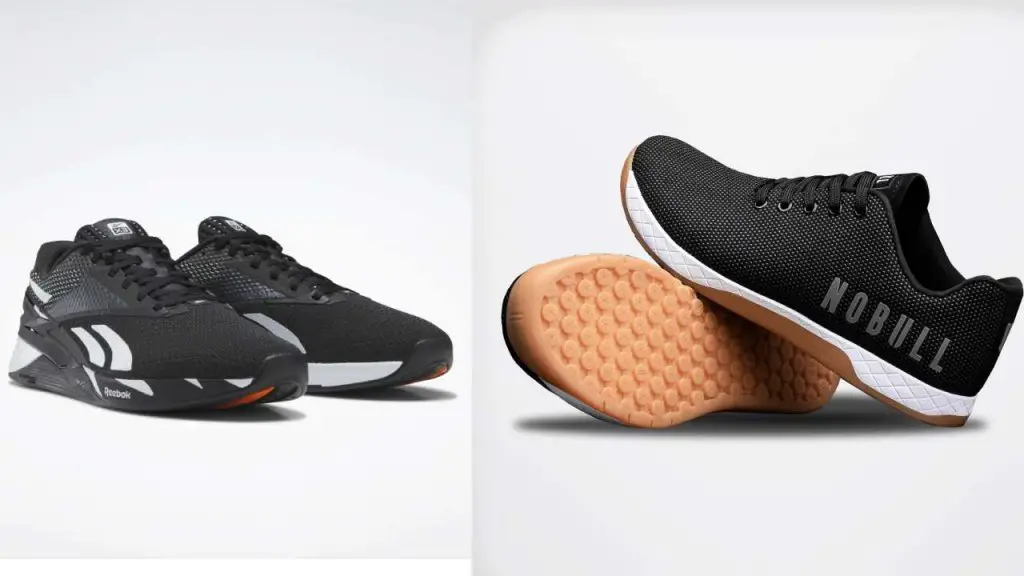 1. The upper/design is very different
The uppers are different. With the NOBULL trainer you are getting a shoe that looks very minimalist in its design, they don't look like traditional training shoes. I consider them quite smart-looking in the sense that many customers wear them with chinos as part of their office wear before they head to the gym in the evening after work. 
This versatility is a deal breaker for many because not having to carry an extra pair of gym shoes is a big bonus for a lot of people.
The Reebok Nano X3s on the other hand make no effort to disguise themselves as a shoe that could be seen anywhere other than a gym or in an active/sports scenario.
You get a durable textile upper on both, but the Reebok Nano X3's Flexweave material is more breathable than the material found on the NOBULLs. 
2. The Lift and Run Chassis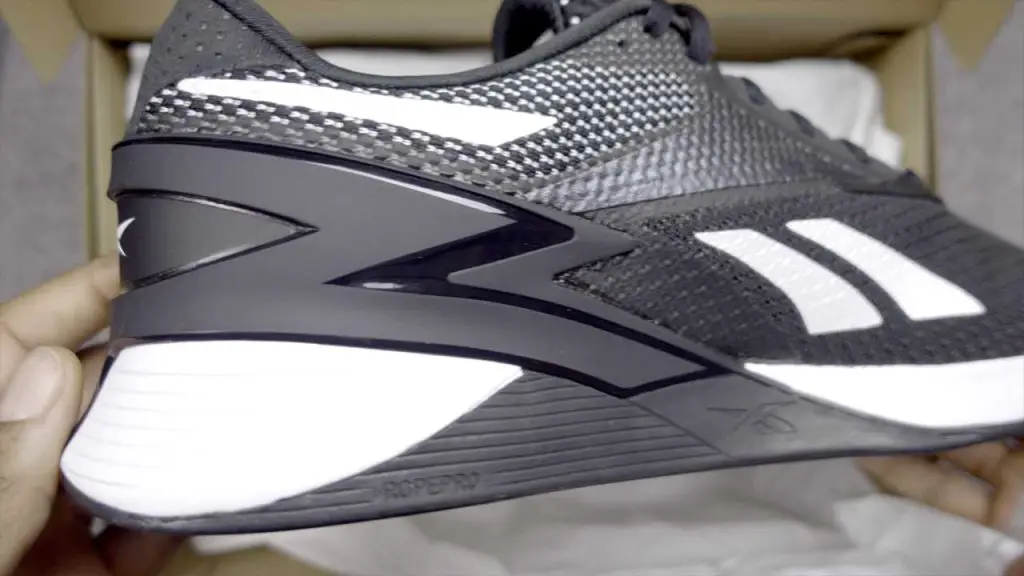 Reebok has implemented a new technology called the 'Lift and Run Chassis'. This is basically a technology that sits in the sole of the shoe and makes the shoe softer and more cushioned for running and activities that require slamming of the feet but at the same time, this technology makes the shoe feel harder and more rigid for moves like squats and deadlifts, so the idea is that you're getting a shoe that has a lot more versatility.
3. Floatride Energy Sole
The Reebok Nano X3 have a 'Floatride' energy sole, this is a soft foam in the sole that just adds to the overall comfort when it comes to running in the shoe. 
In comparison to all of this, the NOBULL Trainer doesn't have any such technologies in the shoe, it literally is a basic very minimalist shoe. So do be aware of this. 
The NOBULL trainer offers a 4mm heel-to-toe drop while the Reebok Nano X3 offer 7mm. They are both covered in a breathable fabric which maintains a good level of strength and durability. 
You are still getting a shoe with a more flat and rigid sole that will perform well for squats and deadlifts, but for running and more high-intensity workouts you're not getting the same level of cushioning as you would in a shoe like the Nano X3.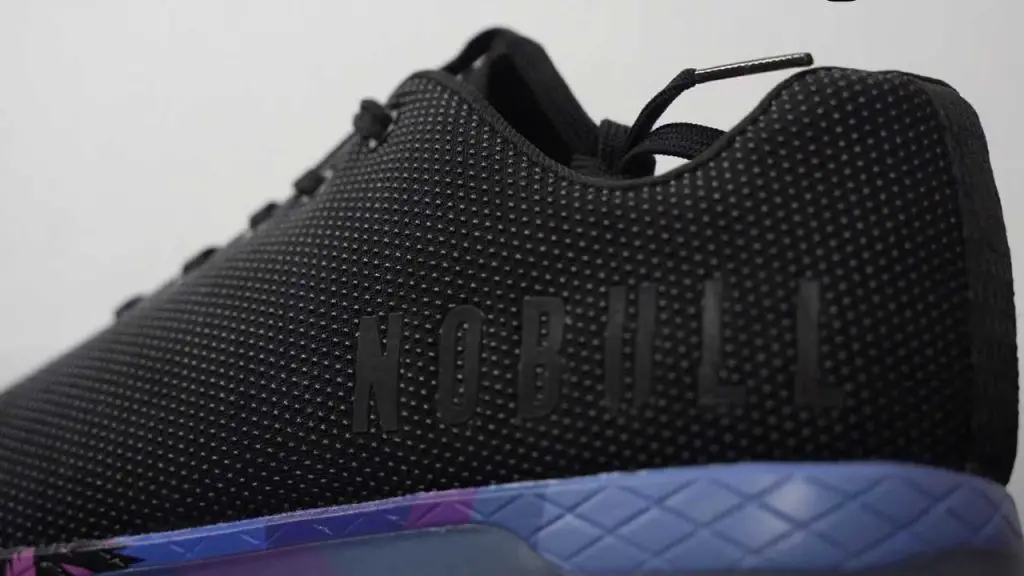 Their latest release, the Nano X3 is worth looking at here.
***UPDATE***
Check this out…
I recently reviewed the very latest Reebok Nano X3 –
Visual Differences & Similarities
First, let's talk about the visual differences and similarities.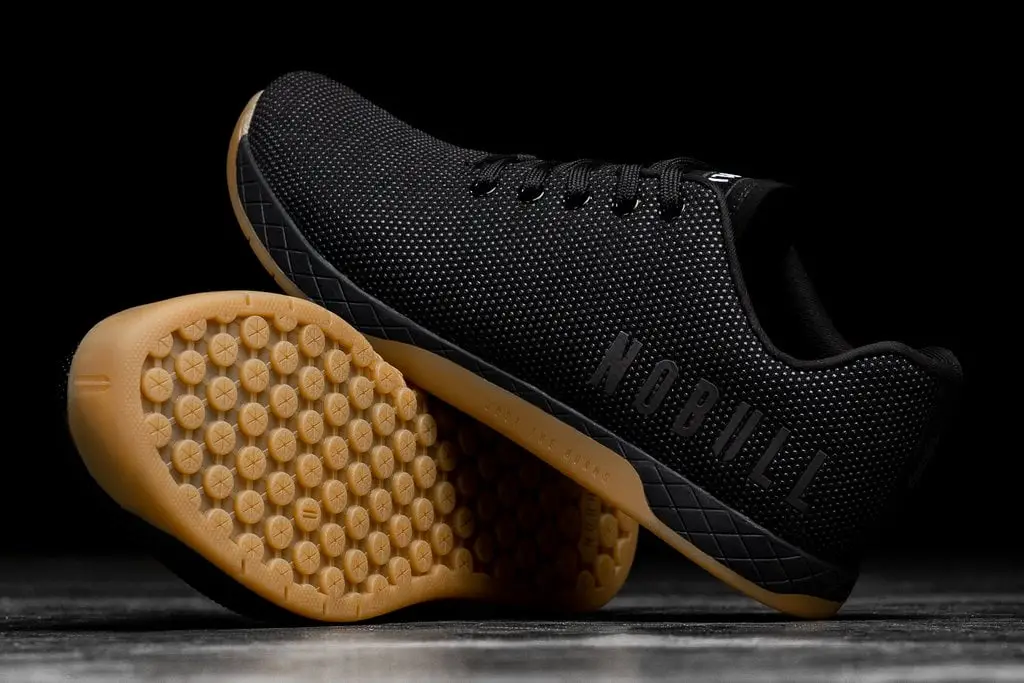 Both shoes are made in much the same way and are approachable for just about every style. They are available in a variety of colors and styles, for both men and women. 
If you look at both shoes from above, you will notice the Reebok Nano X3 is a touch wider in the toe area. They look roomier from above, but how does this equate to comfort?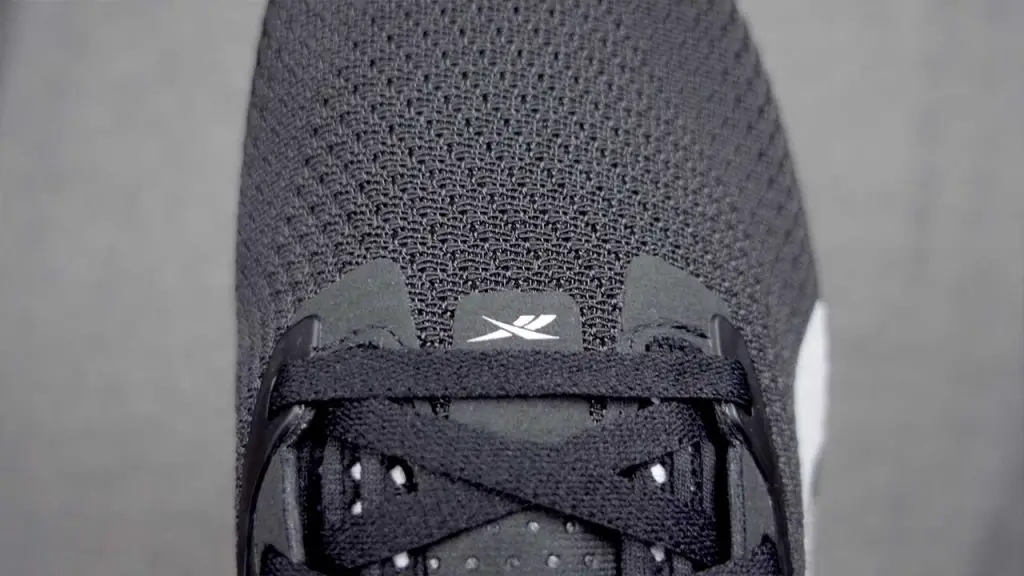 Differences in Comfort
If you are looking for a supportive running shoe, the Reebok Nano X3 offers much better shock protection and overall comfort than the NOBULL shoe due to the addition of the Reebok 'Lift and Run Chassis'. The Reebok Nano X3 is ahead of the NOBULL trainer in this area. However, if you just need a shoe for lifting and not running then this isn't an issue.
As stated above, there is more room in the toe box of the Reebok Nano X3. If you have large toes and like a little more wiggle room, the NOBULL shoes come up short in this area. 
NOBULL trainers are lighter, which is preferable for many. Although they are lighter, the fabric on the NOBULL shoe is a little thicker. Some find this less comfortable, and some see it as a sign of more durability.
Are NOBULL Trainers a Contender Against the Reebok Nano X3?
I would consider looking at the Reebok Nano X3 as a contender for the best all-rounder.
NOBULL shoes can hold their own as a lifting shoe but it fails in comparison to the Reebok for running. If you're someone who runs a lot, then you should consider the Reebok Nano X3.
The Reebok Nano X3 does everything and does it very well.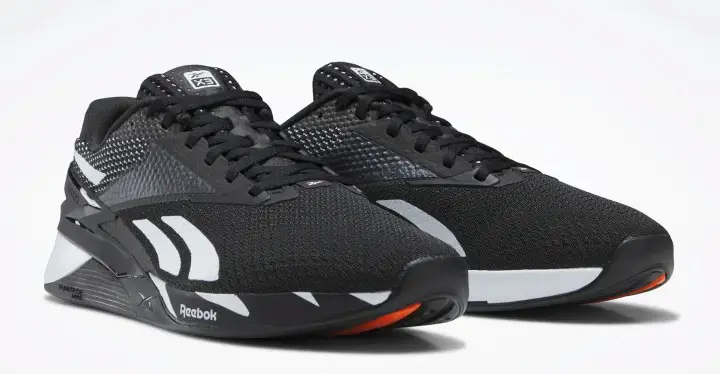 "The Reebok Nano X3s do a lot of things really well and are a very worthy consideration."
The Good and the Bad About NOBULL Shoes? Customer Reviews.
You need to know what makes a trainer good and what parts of it suck, to decide if the good outweighs the bad and you want to buy. 
I've gone through some of the common complaints in the reviews of NOBULL trainers.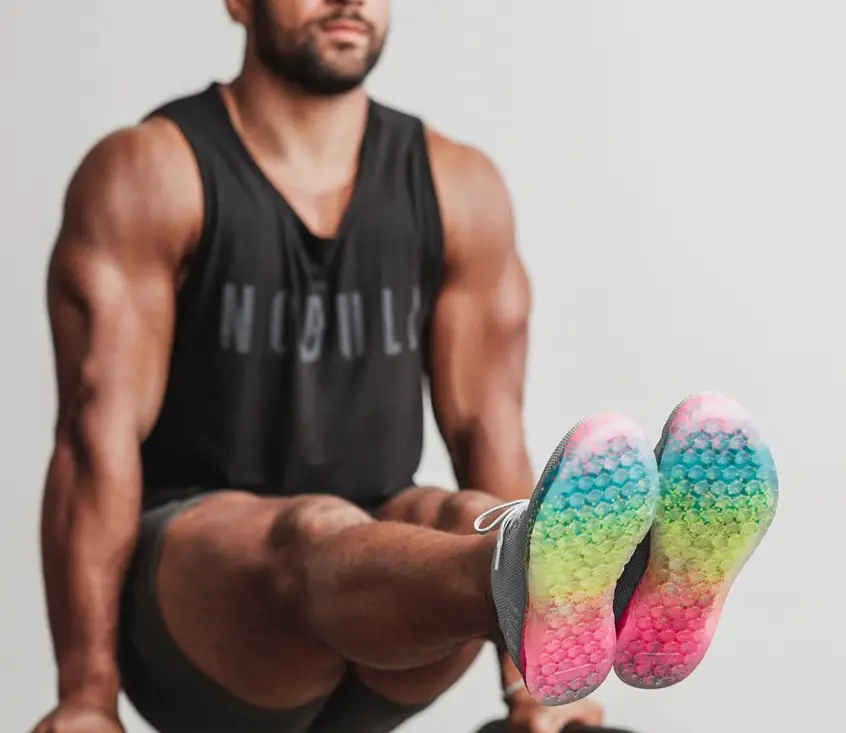 One of the biggest problems with these shoes is not being able to try them on first.
Not being able to walk into a store and try them on frustrates some customers.
"Purchasing from their website is great, but it does not allow you to feel the shoe and walk around in it before buying, could have saved me hassle."

Malcolm D
Some people have said had they been able to try NOBULL shoes on first, they would not have purchased them at all. 
Some feel they are more hype than substance.
"I love the design of these but these are not shoes that are gonna make you jump higher or run faster, only use them for squats and deadlifts really, be wary of those telling you otherwise!"

BeckyDoesTriathlon
She's correct. It's important to know what activities you intend to do in NOBULL trainers before you go ahead and buy them. They are more suited to these sorts of activities and are not the best shoes for running.  
None of the above makes NOBULL shoes suck as a whole, but they are important to consider.
"Love these shoes but the colour I want is never in stock, been trying to get the color I want for more than a month now"
A common frustration of not being able to get the colour you want!
I had wanted to buy a pair of NOBULL trainers for a while now and once my Metcon Frees got worn out I got these and I've really been impressed so far. They're very light and comfortable, good for any gym workout, and they're great looking; I can even wear them to the office. They're definitely not perfect; I would not recommend them for running anything other than sprints, and the high tops are not easy to get on and off since the upper fabric is inflexible. However, they allow me to wear my work shoes to the gym over lunch, which is exactly what I wanted, so I think I made a good choice. Would definitely recommend as long as you don't expect to run in them often.

MarkM19
---
"Love these shoes but the colour I want is never in stock, been trying to get the color I want for more than a month now"
What Are the Pros and Cons of Nobull Trainers?
The perforated upper design means NOBULL shoes are truly lightweight.
The mesh fabric of these shoes allows them to breathe, making you feel more comfortable during workouts. 
With the one-piece construction, you will find these shoes are less likely to break apart and become damaged. 
The carbon lateral guard plate on the sides of the shoes helps to ensure the sidewalls do not become prematurely damaged.
NOBULL shoes are highly flexible, making them ideal for everyday wear or CrossFit training.
 NOBULL shoes are fairly inexpensive when you compare them to bigger names. 
The lugged pattern on the sole of the shoe offers a strong no-slip grip.
NOBULL shoes are really easy to clean.
NOBULL shoes are not very accommodating to wider feet.
'True-to-size' issues. 
Certain types of workouts put a lot of strain on the seams of the shoe and can lead to splitting. Make sure you choose the right size
Although this article does mention some of these, it never hurts to reiterate. This guide cuts through the bull, no pun intended and ensures you know what NOBULL shoes are really about. 
Most people have found the pros outweigh the cons. Keep in mind that no trainer is going to please every person because everyone and their feet are different. 
Conclusion: Should I Buy NOBULL Trainers?
You have a lot of options for workout trainers such as Metcons, Nano X3, and even Converse Chuck Taylors.
While NOBULL has only been around for a short time, they offer something unique.
NOBULL offers a shoe that is comfortable and stylish. A couple of things to note such as not having wider fit options and not being able to see the shoe in your hand before buying as these are only sold online only could be a big problem for some.
They may not be every person's cup of tea, and people will always question whether these shoes are more style over substance, but they still remain a solid option.