ListedFit is reader-supported. When you buy through links on our site, we may earn a small commission.
This article is a transcript of the Nike Metcon 8 Review – Better Than the 7? and More video found on our YouTube channel. Be sure to check it out and subscribe too!
The Metcon 8s are finally here and I managed to get my hands on a pair. Are the Metcon 8s better than the 7s? And what are they actually like to workout in? 
Before I start this video – I have to tell you that I bought these shoes with my own money, no third party has asked me to do this review.
So I've gotten my hands on the new Nike Metcon 8-  If you're a subscriber to this channel or you watched my last video on the Nike Metcons you'll probably know there were a few things I was hopeful that Nike would change with the new shoe, so I was really excited to see what if anything has been changed with this model and of course what they're like to wear and use.
I've literally avoided all videos and opinions of other people talking about this shoe, so my experience wasn't tainted or influenced in any way!
Table of Contents
My Main Concerns When Doing This Review:
Comfort and support – how do they feel to wear and how secure and supported do my feet feel when I'm working out.
What is the construction like? – not forgetting the rope grip, does it feel more grippy than the rope grip on the Metcon 7s?
React foam. Are we getting a harder shoe with less compression, or is it going to be more towards the soft side compared to the Metcon 7?
Let's get down to it.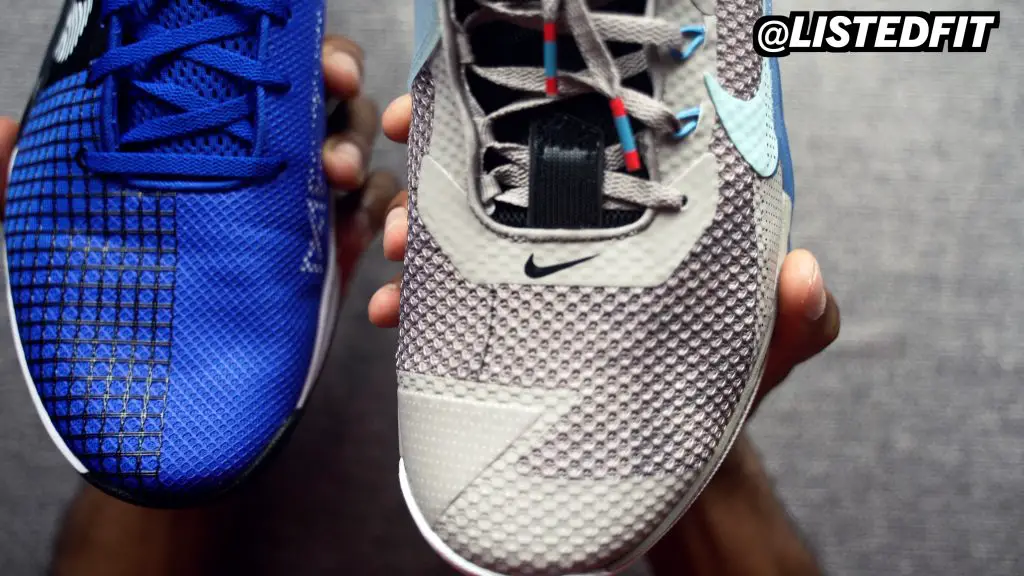 Let's address the elephant in the room. This shoe looks and feels exactly like the previous model. 
Everything looks the same, the sole, the treads and the materials compared to the Metcon 7 all look the same apart from a few details in the construction of the upper with the Metcon 7 being a little bit more intricately put together.
It looks like there's only been a slight change in the material design. 
Obviously with the new shoe you've got a grid pattern here on the lateral side of the toe box and then obviously METCON written on the medial side. But nothing major has changed.
The material on the upper of the 8s does look a little bit more leathery and feels a little tougher to the touch than the 7s but the difference is really minimal. 
In terms of design, I actually think the Metcon 7s look better.
I personally like the details in the upper more than I do the details in the upper of the Metcon 8s, which is something I didn't expect. 
I checked the hardness of the sole using my durometer just in case I had missed anything comparing these two shoes. And yeah, the hardness in the sole is exactly the same on both the Metcon 7 and the Metcon 8.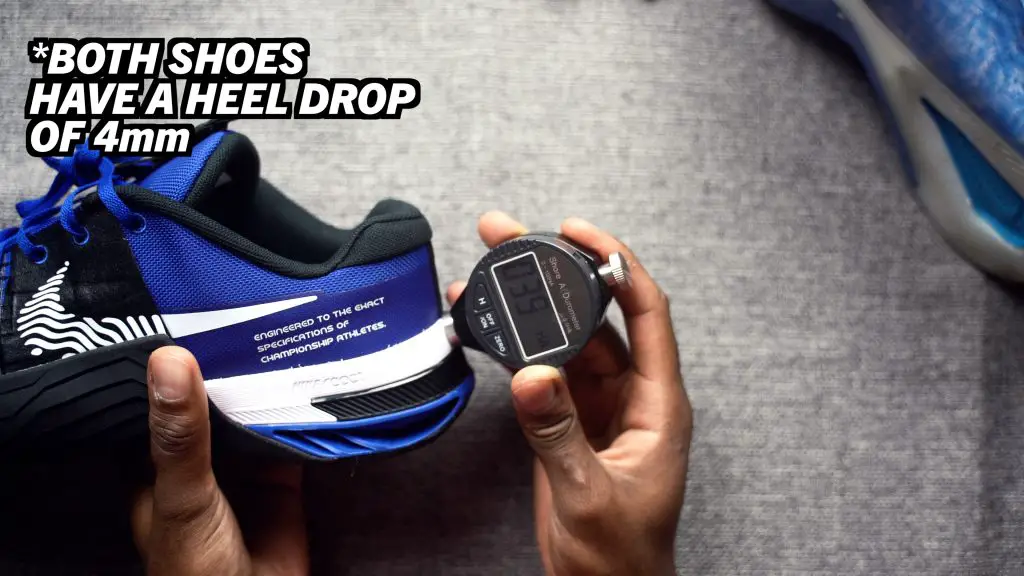 if you already have the Metcon 7s and you're questioning if you should upgrade to the 8s,  you're not really going to be missing out on much.  
So after my first workout with the Metcon 8,  I'm gonna go through some of my thoughts.
Metcon 8 Comfort- The First Moment You Put Them On…
From the first moment I put them on, I noticed that the soles definitely felt a little bit softer than sole on the Metcon 7, I'm not sure why, the insole is pretty much the same on both shoes and as mentioned before, the hardness on the foam came up as the same also. 
My initial assumption was that the React foam on the Metcon 8 is a lot softer because the difference having worn both shoes is noticeable, every step feels a lot more cushioned. There's a touch more flexibility there, but just minimal.
So the softness is probably the first thing you will notice if you're coming from an older Metcon, if you have the Metcon 7, you probably won't feel any difference..
These are an improvement in how they feel on foot, but a small one.. 
I found the flexibility of the sole compared to the Metcon 7 felt a tiny bit different too, but again, a very small difference, I felt I could flex my toes really well and there wasn't as much rigidity in the outsole than the Metcon 7. 
This is me being extra sensitive. The difference isn't night and day at all.
Once I started to workout in them, it was pretty much the same.
For jumping moves and running moves the softness of the sole really comes through. I felt very comfortable and supported during plyometric box jumps. Jumping and landing felt good too and I cannot complain at all about the Metcon 8s performance during those moves.
Sled pushing, the grip was excellent. I can't really fault the grip, the flexion of the outsole, again really impressive. No feeling of rigidity. I think the difference in the toe flexion aspect of this shoe may have been engineered slightly differently because I can feel a slight difference. 
The Metcon 8 Rope Grip…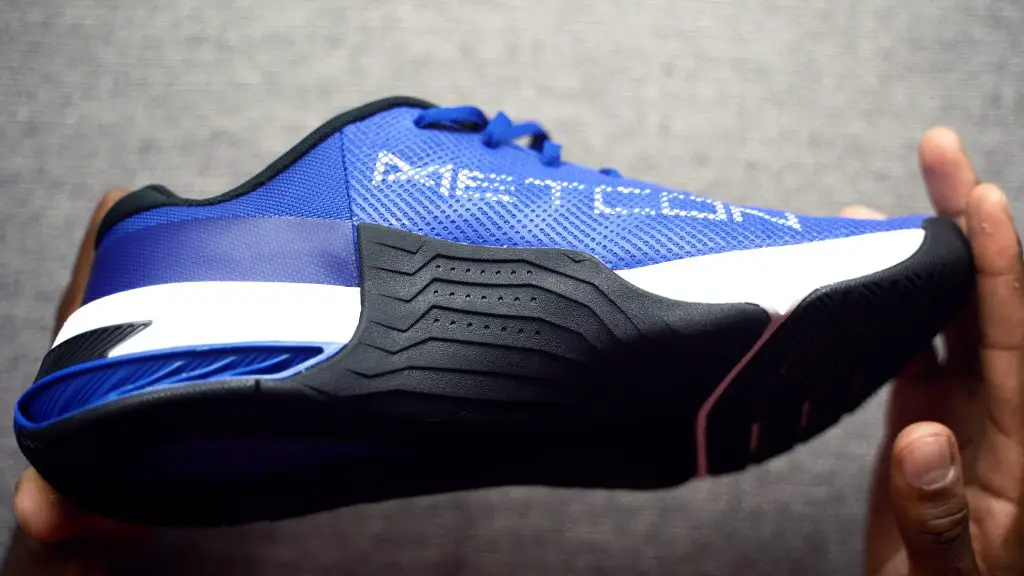 Sadly, the rope grip hasn't improved from the 7 at all, it's pretty much the same rope grip. It didn't make much of a difference.
Metcon 8 – Key Takeaways
The improvement in comfort was definitely a big factor for me. Being able to wear these for literally hours makes them a shoe I would recommend, even to people who have no intention of stepping in a gym! 
In fact, I would probably choose to wear these if I was going on holiday and needed a comfortable shoe to walk around all day doing sightseeing in.
The overall shoe feels lighter to wear, that could be a result in the shoe just feeling more comfortable and hugging my foot more closely. With the shoe feeling lighter on my feet, my balance was a little better when making rapid and sharp movements during my workout. Such as these moves where I jump from one plyometric box to the other, I felt more confident leaping than I did in the Metcon 7s.  
Are the Nike Metcon 8s Good for Squats and Deadlifts?
When it comes to squats and deadlifts, I need a shoe with minimal amounts of compression and squidyness. For example, when you lift the bar when doing a deadlift, any compression that your shoe has counteracts the effort you put in to a degree. 
This is why I was a little disappointed in the Metcon 8. If you watch my previous video on the Metcon 8 where I discussed all of the changes I hoped to see with this new model, I was interested to see if Nike would go more towards a harder shoe much like previous versions of the Metcon, or whether they would go further down the route of softness. And it seems that they've gone for the latter. 
If your workout is squat heavy, I would recommend you consider a shoe for squats and deadlifts only. Something flat with no compression. Cons are a very common choice as you probably know already. 
It doesn't make sense to do those moves in soft shoes, and these Metcon 8s to me are soft shoes, just like their predecessors were.
Is the Softness of the Metcons a Dealbreaker?
The issue comes if you are looking to buy them for heavy squats and or heavy deadlifts. If your intention is to squat and deadlift big numbers every week, maybe not now but to build towards lifting heavy, I would consider going for a different shoe altogether.
I feel previous Metcons like the Metcon 4 are actually decent for deadlifts and squats with the sole being so hard, flat and rigid,  I actually still have mine and do wear them from time to time. I feel like the Metcon has changed a lot since then and these are probably not as suited to those moves.

These are very much more targeted to the Crossfit/circuit training space and in my view work really well there, so as you probably know, these would be moves requiring a little more springiness in the foot and faster movements. Like burpees, jumping lunges, jump rope, plyo box jumps etc. 
The Nike website does actually say that these are good shoes for weightlifting which is fine, but I personally don't think that they are good for all types of weightlifting.
Maybe it's time we move on and accept the fact that the Metcon has grown up, and it's just not the shoe we used to know.
---
Are Nike Metcon 8 True to Size? Do Nike Metcons Run Small?
I would say the Nike Metcon 8 do run true to size, however, they have more of a close fit that a lot of fitness shoes have today, and some people find that this feels a little tighter, especially if you're wearing thicker. 
Iome people do choose to go half a size up, but when doing this review, I chose my regular size and they fit me just fine.n this case, it may be advisable to go up half a size. 
People with wider feet buying the Metcon 8 may choose to go up half a size for bit of extra width, but these are not advertised as wide fitting shoes.
Again, as with any shoes, it's always smart to try them on before you buy them.
---
Common Comparison – Metcon 8 Vs Reebok Nano X2
Many people will want to know how the Metcon 8s stack up against other popular shoes in this space such as the Reebok nano X2 which I actually recently reviewed.
The X2s are a solid option and are comfortable but having worn both I would say the Metcon beats the X2 just slightly in the overall comfort department. For me an overall pick will always come down to comfort. The Metcon 8 hugged my foot better than the Nano X2s did and I would always favor a shoe that I feel I could wear for hours on end without feeling discomfort. 
However, the 'Ropepro' feature on the Nano X2 in my opinion works a lot better than the smoother, less grippy rope feature on the Metcons 8. So if you do a lot of rope training, you might find the Reebok Nano X2s a better option.
But both shoes are solid options for circuit training and neither is miles ahead of the other one in my opinion.
Is the Nike Metcon 8 Worth It?
I think the Metcon 8s are a good pick. However, if you already own the Metcon 7 you are definitely not missing much at all. 
I will honestly say I was slightly disappointed they were much different to the 7s at all. Just a slight difference in comfort but nothing that would blow your socks off.
Buying the Metcon 8 – My Top Tip
My tip when it comes to the Metcon 8 is, if you can find any Metcon 7 in your size for a cut price, then by all means grab them. Because they're so similar, you really won't be missing much.
Nike Metcon 8 – My Rating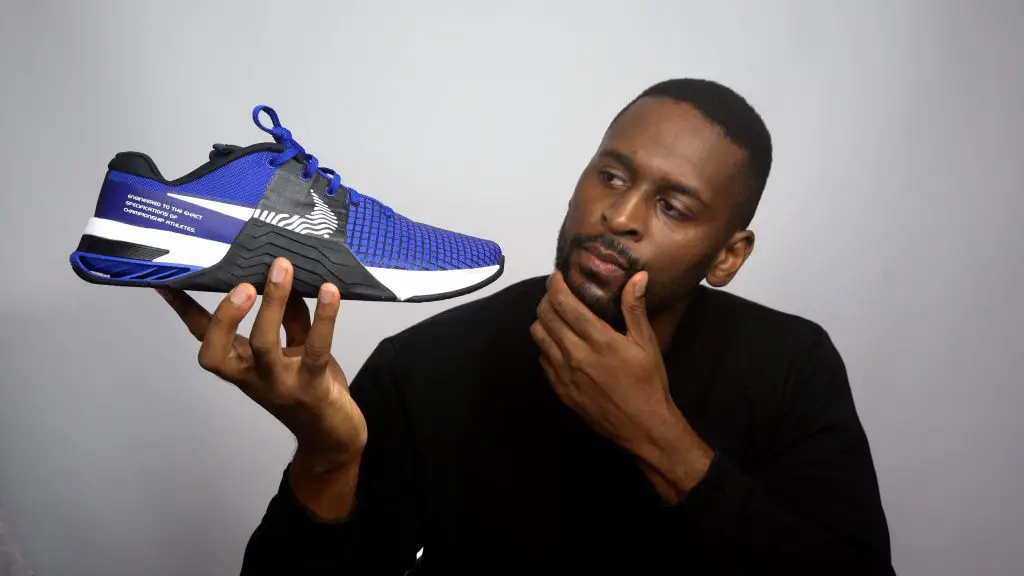 Nike Metcon 8 – My Verdict
My rating for the Nike Metcon 8 is a solid 3.5 out of 5.
I was ready and willing to give the Metcon 8 a higher rating had they changed more features and addressed some of the concerns many users had. I feel like they're so close to being the perfect fitness shoe though, I guess we'll have to wait a little longer!
Very comfortable.
Feel lighter.
Do their job very well.
Not a lot has changed from the 7.
"I think the Metcon 8s are a good pick. However, if you already own the Metcon 7, you are definitely not missing much at all."
Are you gonna go for the Metcon 8? Let me know in the comments below.
With that being said, thank you for watching and I'll see you on the next one.