ListedFit is reader-supported. When you buy through links on our site, we may earn a small commission.
Nike has been producing its Dri-FIT line of clothing since the 1990s, every time I pick up a Nike shirt or a pair of pants in the sports shop I see the little 'Dri-Fit' logo on the tag, but what exactly is Dri-Fit?
This article will take a closer look at what Dri-Fit is and aim to answer some of the common questions people have about it.
Table of Contents
What is Dri-Fit?
Put simply, Nike Dri-FIT is designed to keep athletes cool and dry during workouts. The fabric is meant to keep sweat away from your body, which eliminates irritation caused by wet clothing.
It stops that icky sweaty clothing sticking to your body effect you may have experienced.
Nike has developed several different versions of this fabric over the years, it's literally on almost everything they produce so you can't miss it.
Their 'Dri-Fit goal' has remained the same over the years: Keeping athletes cool and confident in every situation, and I guess they have a point, personally, I don't feel very cool or confident when my sweaty gym t-shirt is damp with sweat and clinging to my chest!
The idea is to allow athletes to train harder for longer periods of time without having to worry about their clothes getting heavy or uncomfortable.
What Is Dri-Fit Made Of?
The material of Dri-FIT has its origins in microfiber – a fabric with finer threads than other fabrics, so it is lighter and more breathable. It goes through the same production process as regular polyester except for one key difference: the threads must be smaller!
Polyester is made from by-products of petroleum, rather than plants or animals. Textile sciences have advanced greatly during the 20th century and are now able to turn plastic into different types of fabric.
You may wonder how something that is made out of plastic can feel comfortable and cool during a workout.
To be honest, some polyester garments might feel sticky or hot to the touch when you are in these circumstances!
In comparison, Dri-FIT is an innovative synthetic material that has great moisture resistance – unlike natural products like cotton.
Nike Dri-Fit Benefits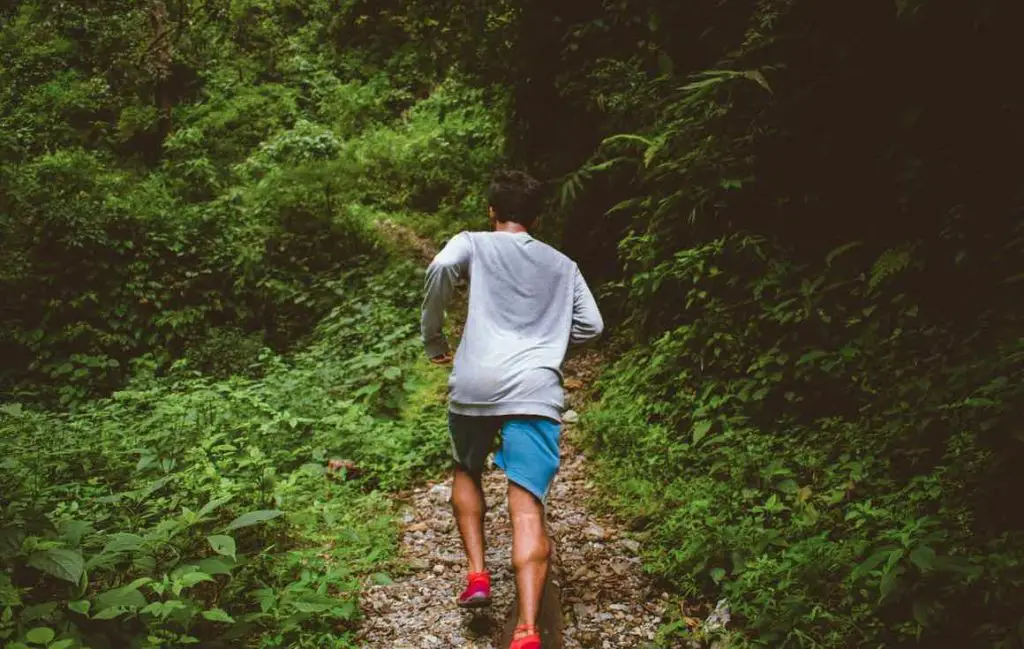 Nike's Dri-Fit clothing has been designed to be 3 things lightweight, absorb sweat, and allow air to flow freely through the fabric.
Some Dri-Fit items, usually shorts, also include a built-in mesh liner that wicks moisture away from your skin so you stay cool and dry.
Dri-FIT clothes include "body mapping." This means that they have mesh panels in key places to promote airflow.
The Dri Fit range isn't just about keeping sweet away from the skin, they work on providing the best fit possible so that it doesn't bunch up or restrict movement.
This is why many athletes and sports teams have turned to Nike.
But What About the Price?
The drawback is that Nike gear isn't usually cheap, making many people wonder if it's worth the cost.
Browsing on sites like Amazon, you see lots and lots of sellers offering sportswear advertised as 'sweat wicking' and you may decide to give them a try.
Dri Fit uses a blend of fibers rather than the assumption of Dri-Fit being just 100% polyester all the time. There are differences.
There are versions of Dri-Fit which contain a blend of materials including cottons and elastane to help the garment fit the athlete in a specific way to aid performance.
The way these materials are constructed is worth noting in comparison to cheaper brands also. In many cases the consturuction of the fabric and weavign methods used in production plays a bigger role in the effectivemness than the percentage or the fabric included in a garment..
Dri Fit vs Cheaper Brands – What to Look For
Although cheaper brands do label their sports clothes as sweat-wicking fabric, which may be true, there is more to be considered.
Even though the cheaper no-name brands do claim to offer the same benefits of sweat-wicking, they sometimes do not have the same material quality, for example, Nike includes mesh panels in strategic positions of a garment that the user might experience more heat or sweat like the armpits or crotch areas whereas a cheaper garment wouldn't be produced with that sort of research taken and implemented.
The cheaper garment also may not maintain its shape after a few wears and washes also, so do a little investigating and definitely hold the item in your hand and on before you buy.
Look deeper into the description of the item you are buying whether it's from Nike or a no-name brand.
Pay extra attention to the sizing charts. Some items made on other continents don't conform to the same sizing standards that you might be used to, for instance a size large might conform to a size small.
Frequently Asked Questions about Nike Dri-FIT
Is Nike Dri-Fit Good for Hot Weather?
The Nike Dri-FIT line of clothing is designed to help regulate body temperatures. This is accomplished by using lightweight fabric with mesh ventilation panels, so the wearer can remain cool and dry during hot weather.
Nike uses a special knitting process that allows air to flow through the fabric, which then evaporates sweat from the body. As a result, the user has increased comfort while wearing Dri-Fit clothes on hot days.
If I'm going on holiday to somewhere hot, I will most definitely make sure my t shirts are moisture wicking or dri-fit. I'm someone who sweats a lot and it makes so much difference to not have to worry about your clothes sticking to you when youre in a much hotter climate than your body is used to.
Does Dri-Fit Make You Sweat More?
It's actually more the opposite. You're more ventilated.
It helps your sweat evaporate more quickly. This allows you to stay cooler and drier during your workout—and that means less risk of overheating or irritation.
This technology is actually pretty simple: fabric fibers are made up of tiny holes that allow water to pass through them.
This means the fabric is essentially like a sponge, with billions of tiny pores capable of absorbing moisture from your skin to be distributed across the fabric's surface area for evaporation.
The concept behind Dry-Fit is that the more body heat you produce, the more water your body releases in the form of sweat. And since Dri-Fit clothing absorbs that sweat, it should feel wetter than regular clothing. In reality, however, many people find it feels dry because the fabric moves moisture away from the skin so quickly and effectively.
Does Nike Dri Fit Shrink?
Nike Dri Fit clothing won't shrink if you follow the proper cleaning and care recommendations. Some Dri-Fit items do contain a blend of polyester with other materials such as cotton which means you will have to take steps to prevent shrinkage.
Dont wash on hot – When exposed to heat, cotton will shrink and shrink fast. To avoid this, only wash these garments on a cold wash and hang them to air dry.
Quick Tip: Wash your Dri-Fit clothing inside out in a cold wash and lay it as flat as possible to dry. This will ensure the material doesnt lose it's shape and your clothing stays looking newer for longer.
Does Dri-Fit Keep You Warm?
Dri-Fit is a lightweight, water-resistant fabric that's designed to pull moisture away from your skin and provide a comfortable, breathable experience. This means you'll stay dry and cool in most weather conditions warm or cold.
In fact, you could wear Dri Fit in a snowstorm without feeling cold or wet. In addition, Nike's Dri Fit material is soft and stretchy, meaning it can fit comfortably under clothes without bunching up or sticking to you uncomfortably.
Dri-Fit fabric wicks away moisture from your skin, leaving you feeling dryer. It also helps prevent odors from developing by absorbing sweat and trapping it against the fabric.
Dri-FIT fabrics come in a variety of styles for different climates, so you can find one that suits your needs whether you're playing sports or just spending time outdoors on a hot summer day.
Conclusion
Dri-Fit clothing is probably one of Nike's most well-known technologies. Other brands have similar sweat-wicking technologies in their clothing such as Puma DryCELL and Adidas with Climacool.
My advice if you are looking for high-quality sweat-wicking clothing would be to explore the offering of a well-known brand mainly because their products will be a result of testing based on what works best for athletic performance. And make sure you care for your clothing in the right way so that it lasts long and you get the most use out of it possible.
What is your favorite type of clothing to wear when you workout? Drop a comment below and let us know!