ListedFit is reader-supported. When you buy through links on our site, we may earn a small commission.
Are Adjustable Dumbbells Worth It? As we know, dumbbell workouts are highly effective at increasing strength and muscle mass for your whole body. Unfortunately, space limitations often prevent people from storing multiple dumbbell weights at home for their various workout needs. 
A great solution for those with a lack of space is an adjustable dumbbell. It's a single dumbbell that offers weight adjustments in increments that vary according to the model. 
The most common type of adjustable dumbbells is the plate-loaded type. With this type, you simply open the lock, add plates, and then secure the lock. 
Another popular type of adjustable dumbbell is the spinlock type. This type of dumbbell requires you to spin the lock and adjust the plates as needed. 
Some adjustable dumbbells work with a locking base. You simply move the slide adjuster in either direction, to increase or decrease the weight. Most of these move in increments of ten pounds. Once you have selected your desired weight, you simply push the lock back in place and start lifting. 
Table of Contents
Are Adjustable Dumbbells Worth It?
The higher cost of adjustable dumbbells initially shocks many people. They can be pricey. I paid about $600 for my set. Despite the cost, I would purchase them again.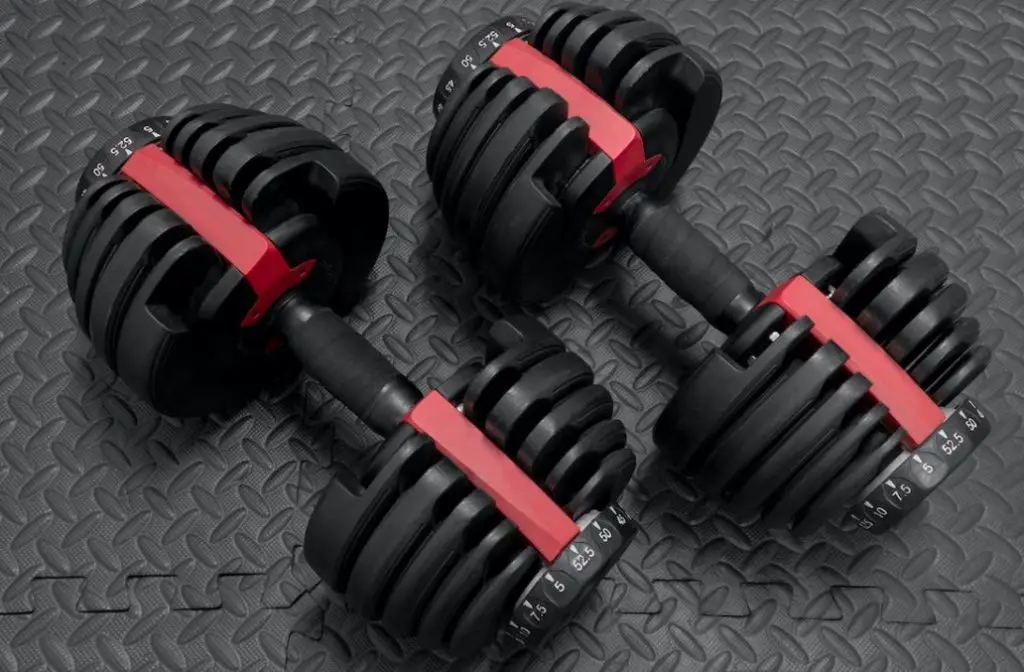 If you like to work out at home and do not fancy giving a gym all your money, having adjustable dumbbells is going to be well worth the cost. If you add a pull-up bar and a weight bench, you can get a full-body workout at the fraction of the cost of a gym membership. 
One reason I find adjustable weights to be so valuable is that I do not have a lot of space. If you have a large room or basement to devote to your workout equipment, you may not need adjustable weights. 
But I have found I cannot live without them. I would probably use them even if I was not low on space because they are so convenient. I can change the weight in seconds and do not need to disrupt the flow of my workout to search for another dumbbell. 
Are Adjustable Dumbbells Safe?
Another thing to think about when considering the question of are adjustable dumbbells worth it is the possible downsides. Adjustable dumbbells can be dangerous if they break.
Adjustable dumbbells are safe to use if they are used properly and carefully. By shopping for quality equipment at reputable dealers, you will be able to find a set of weights that works well for you—and is safe to use.
Look For Quality Brands When Shopping for Adjustable Dumbbells
The best way to prevent injury from a falling dumbbell is to only buy high-quality adjustable dumbbells. Look for brands that have a good reputation for producing equipment that is both safe and reliable.
You can also ask your local gym or health club which brands they recommend. Most likely, the staff at your gym regularly use adjustable dumbbells similar to those you may purchase for home use.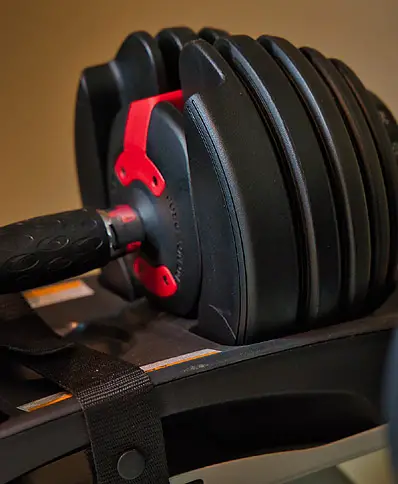 Adjustable Dumbbell Safety Tips
When shopping for adjustable dumbbells, keep a few things in mind that may help prevent injury to you or others.
·          Adjustable dumbbells should have a protective cap made of non-breakable material, such as rubber, to cover the end of the post. This will stop it from becoming hazardous if it comes loose during use.
·          The weights themselves should have rubber-coated surfaces, in order to prevent them from chipping or breaking.
·          The dumbbells should be able to hold at least 50 pounds when filled fully. This will allow you to safely add weight when you are ready for a more challenging workout.
·          Make sure all bolts are securely fastened.
·          If you decide to buy a used set from somewhere like eBay, Don't use adjustable dumbbells that have been repaired with any kind of adhesive, which can reduce the amount of weight they will hold.
Who Makes the Best Adjustable Dumbbells?
Many companies are getting into the adjustable dumbbell game. With so many choices, you may find it difficult to choose the best. While there are a lot of good brands out there, the following are my top three picks. 
Bowflex
Although these are more expensive than many dumbbell sets on the market, this Bowflex set are pretty well put together. This bundle comes with two dumbbells and a storage stand. The stand also offers a media rack for your workouts. The Teflon grip holds your smartphone or tablet in place while you work out. These dumbbells adjust from 5 to 52 pounds. Up to the first 25 pounds, you can adjust the dumbbells in 2.5-pound increments. 
NordicTrack
NordicTrack is another solid name in the adjustable dumbbell market. With this set, you can adjust each dumbbell from 10 to 55 pounds. You have the option of moving up in 2.5-to-5-pound increments. Each dumbbell comes with its own storage tray, and you simply slide the weight selection lever until you land on your desired weight. Once it is locked in place, you are ready to lift. 
Core Fitness
Core Fitness also offers an adjustable dumbbell set. Each dumbbell in the Core Fitness set adjusts from 5 to 50 pounds. What I like best about this dumbbell set is you can adjust the weight with one hand. Simply put it on its base and twist the handle. The weight automatically adjusts and you are ready to lift. The textured soft-grip handles are ideal for safe lifting. 
No matter which adjustable dumbbell set you choose, there are some things you should look for before buying. Consider the following, for the best purchase. 
Ease of adjustability is essential for adjustable dumbbells. You do not want a dumbbell that is difficult to adjust and will interrupt the flow of your workout. The sets above are all easy to adjust. 
Make sure the set will offer the minimums and maximums you need for working out. Most sets range from 5 to 50 pounds, but some sets can go up as high as 90-100. It never hurts to consider your workout needs in the future as well.
It is also important to make sure you choose a set that has secure plates that will not slide out of place. Most sets have storage options that hold each plate in place securely. 
Finally, you should also choose an adjustable dumbbell set that will store away with little effort. Since one of the primary reasons for purchasing these sets is for space-saving, it is important to choose one that is compact, for easy storage. 
Besides saving space, one of the biggest advantages of adjustable dumbbells is the money you save. Some of these sets replace 30 dumbbells.
You can imagine how much money that would cost if you were trying to build a home gym. With adjustable dumbbells, you pay much less when considering how many dumbbells they replace. 
Adjustable Dumbbells vs Fixed Dumbbells
Many people prefer fixed dumbbells over adjustable ones, but some drawbacks may make you change your mind about purchasing an adjustable set. 
Durability
One of the biggest drawbacks of adjustable dumbbells is durability. Fixed dumbbells are made of solid materials that are less likely to become damaged. Adjustable dumbbells have some more fragile components. Choose wisely when purchasing a set, to ensure it will be durable and last as long as possible. 
Limited to One User
Another drawback of adjustable dumbbells is only one person can work out at a time. If you have multiple fixed dumbbells, more than one person can work out and share them. This is not a problem if you work out alone. 
Adjustable Dumbbells Pros and Cons?
I've given you a lot of information on adjustable dumbbells, to help you decide if they are for you. You need to weigh the good and the bad of any purchase consideration. While adjustable dumbbells are perfect for me, they may not work well with your situation. The following provides some pros and cons that will help you make an informed decision. 
Pros:
Adjustable dumbbells take up much less space when you compare them to multiple sets of dumbbells. You can store them in a closet or even slide them under your bed. 
Although they are more expensive than a single fixed dumbbell, they actually save you money. If you had to purchase 30 dumbbells of various weights, it would be much more expensive than a single adjustable set. 
Another advantage of adjustable dumbbells, is they are easy to adjust. Most of them can be adjusted with one hand, so you do not have to interrupt your workout routine. 
Having access to a set of adjustable dumbbells offers much more flexibility in your workouts. With this single set, you can perform a variety of exercises, making your home gym more versatile. 
Cons:
Some adjustable dumbbells can seem flimsy and unstable because they are made from inferior materials. It is important to read the reviews carefully and research as much as possible before buying. 
Many of these sets have plastic and rubber components that can cause them to be less durable. With some cheaper brands, people have reported the weights coming loose during a workout, which could be dangerous. 
To overcome the cons, it is important to choose an adjustable dumbbell set that is made by a reputable brand and offers the best quality in materials. You should take great care in learning all you can about your options before making a choice. The more you know, the better informed you will be when shopping for an adjustable dumbbell. 
Conclusion
If you are thinking about building a home gym as I did and are tired of paying for a gym membership you might seriously consider purchasing an adjustable dumbbell set. 
If you are on the fence about purchasing adjustable dumbbells and still wondering are adjustable dumbbells worth it, if you can, try before you buy. Some gyms have these available, some stores might have them on display or you might have a friend who would let you try them out in a workout. 
So are adjustable dumbbells worth it? An adjustable dumbbell set can replace up to thirty weights, so it goes without saying, this can be a game-changer. Together with a pull-up bar and weight bench, you will be pretty much covered for a wide range of exercises. 
Do check out the brands above and see which one will offer you the best benefits. 
Happy lifting!