ListedFit is reader-supported. When you buy through links on our site, we may earn a small commission.
Skechers are shoes that are loved or hated, depending on the person. Whether you love wearing them or cannot stand the thought, learning more about the brand and what it offers will help you understand why each side of the aisle feels the way they do about this iconic shoe. 
Skechers USA Inc. founded in 1992 is a company that has since grown to become the third largest athletic shoe brand in the world. Robert Greenberg, the founder of LA Gear created Skechers. 
Over the years, the company has seen its share of controversies, which we will get into detail later. For now, it is important to examine the shoe line and understand what it offers and where it fails. 
I am here to answer the question of 'Are Skechers bad for your feet?'. I will not just tell you my opinion, but I am going to give you the facts and allow you to judge for yourself. 
Do Podiatrists Recommend Skechers?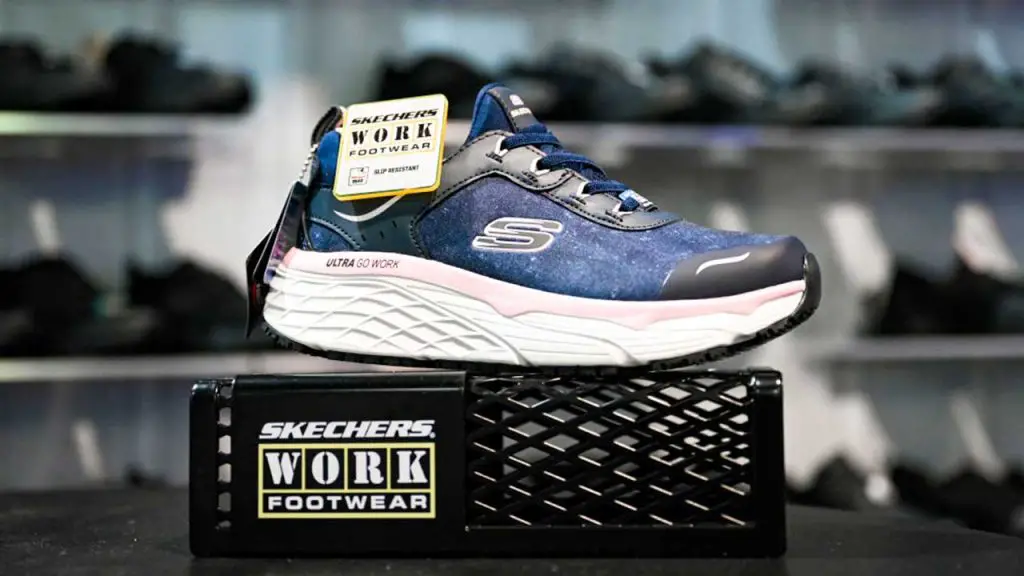 The first place we need to start at when considering an answer to 'are Skechers bad for your feet?' Is to ask 'do podiatrists recommend Skechers?'.
Many podiatrists do not recommend Skechers for various reasons. As I was researching this topic, I became shocked by the number of complaints about Skechers. 
Some have reported suffering increased foot and lower leg pain after wearing these shoes. Podiatrists have treated patients who have developed ligament, muscle, and tendon strains after wearing Skechers for extended periods. 
One problem many doctors have with Skechers is the lack of support. Although those people with no biomechanically-related foot and lower leg conditions may wear Skechers without problem, those with these conditions should approach this shoe line with caution. 
The following are some reasons many podiatrists don't recommend Skechers. 
There is minimal heel stability, which will not prevent excessive roll-ins from occurring. 
With a lack of stability in the midsole, those with a tendency to overpronate will find no support to keep their feet stable. 
The mesh upper does not allow for foot adjustment, which prevents foot security. 
The following are some of the complaints heard by podiatrists regarding Skechers. 
Pain in the balls of the feet
Sore arches
Knee pain
Unstable ankles
Sore heels
So when it comes to the question of 'what do podiatrists say about Skechers?' While foot doctors are not entirely against the Skechers shoe line, they do recommend using the following precautions. 
Some Skechers should never be worn for athletics or running.
Some of the Skechers line should not be worn all day every day. 
Some Skechers should not be worn with orthotics.
Are Skechers Bad for Plantar Fasciitis?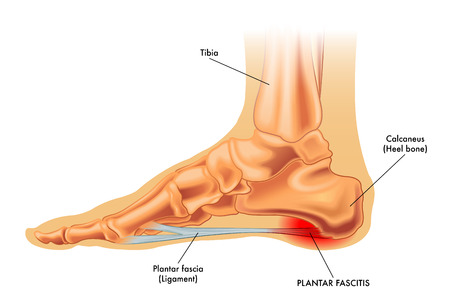 Inflammation in the broad tendon that runs from the heel to the toes causes plantar fasciitis. This condition can cause stabbing pain near the heel area, making it difficult or even impossible to walk during a flare up. 
One of the common reasons for plantar fasciitis is a lack of arch in the foot. Fallen arches cause increased pressure on the tendon, which can lead to pain. 
Because Skechers have memory foam and no significant support, these are not the shoes for plantar fasciitis sufferers. Without sturdy support in the arch areas, wearers will find their feet tend to slap against the pavement instead of springing. Not only are Skechers not recommended for conditions like plantar fasciitis, but they have also caused it, in some cases. 
Skechers' Shape-Ups have been linked to many injuries and even lawsuits. Some wearers have discovered Shape-Ups caused their plantar fasciitis. 
Orthotics are essential for treating the pain of plantar fasciitis because they improve the mechanics of the foot. Unfortunately, as stated above, Skechers do not work well with orthotics. There simply isn't enough support in the midsole to work with an orthotic effectively. 
Are Memory Foam Shoes Good for Plantar Fasciitis?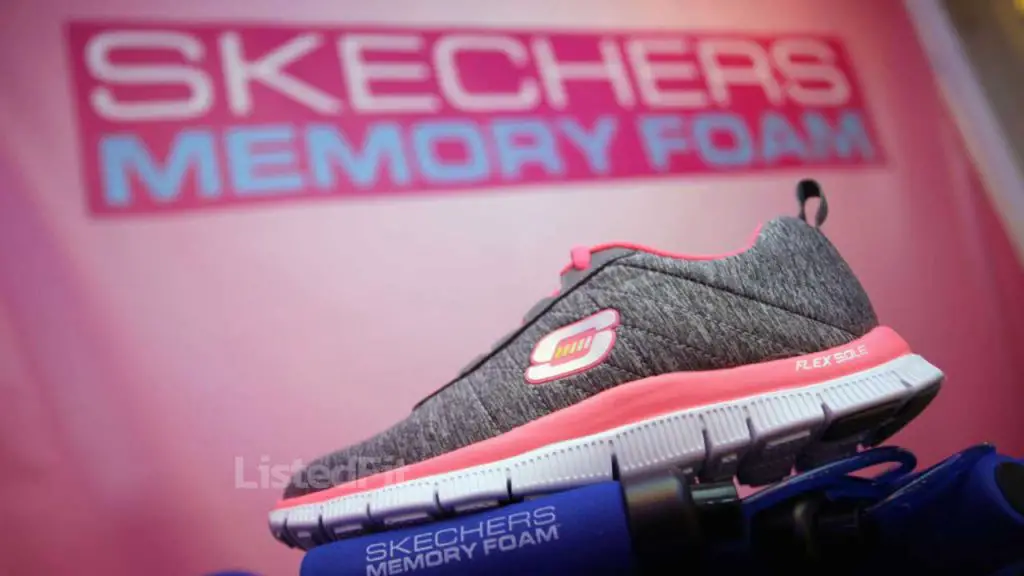 When your feet are in pain, you want comfort right away. You hear a company claiming their shoe feels like walking on a cloud, and you are sold! 
While memory foam seems like a good idea, is it helpful for people suffering from plantar fasciitis? The answer may surprise you. 
For the question of 'are memory foam shoes good for plantar fasciitis?' If you have perfect foot anatomy and form, a memory foam insole may be ideal. If you are like most people and do not have proper foot form, memory foam could become damaging and make any foot conditions worse. 
Memory foam conforms to any object that exerts pressure on it. So, if your foot is out of proper form, the memory foam could actually keep it in the wrong position without you realizing it. 
If you have plantar fasciitis or other foot conditions, avoid wearing Skechers. These shoes are not intended for comprehensive support and could cause increased foot pain. 
Besides the lack of support, avoid memory foam in any shoe if you have a foot condition like plantar fasciitis. Although it seems counterproductive, plantar fasciitis sufferers need a firm insole to ensure their arches do not collapse and place undue pressure on the plantar fascia. 
Why Are Skechers Hated?
Until you research the question above, you may not be aware of the level of hatred towards Skechers. They are just shoes, but you would think they were something truly menacing. 
People hate these shoes for many reasons. One of the most resounding reasons is the lack of style. Many sneakerheads agree Skechers has copied many other shoe lines and are highly unoriginal. Their iconic design has actually made them hated because it is not versatile. Most people think if you've seen one Sketcher, you've seen them all!
Another reason Skechers are such a hated shoe is the materials. Many consumers are not happy with the brand because they claim Skechers uses cheap materials to construct their shoes. I've found this to be true. Skechers just do not wear and last like Nike, Adidas, and other brands. The following are just a few of the comments I've read online about Skechers. 
"They make no attempt at creative designs."
"They are kinda a rip-off of other shoes, including their new 'sketch knit'"
"They are super cheap and ugly."
"They were allegedly lying about the benefits of their Shape-Ups."
"When it comes to Nikes or Skechers, there is no contest!"
"Their customer service is deplorable!"
"The shoe seam failed after several wears."
"These shoes gave me blisters on top of blisters."
"These shoes developed a hole in the bottom in under two months."
"I wore them for one week and now the sole is coming off."
As you can see, many people dislike this brand, and some people even hate Skechers. Once Skechers seemed to rise in popularity, they suddenly became an iconic symbol of poor quality. Kids were getting picked on at school for wearing them, and nobody wanted to be seen in the gym wearing a pair. 
Why Are Skechers So Expensive?
Many people wonder why Skechers are so expensive, given the fact they make them from cheap materials. The basic premise of their expense is based on the advanced memory foam insole. 
Apparently, the added comfort offered by the memory foam comes at a price. The company claims their blend of memory foam costs them more because they use alloys of memory foam.
Skechers are terribly expensive compared to their reputation. With so many haters, you would think the shoe manufacturer would lower the price, but this is not so. Instead, the price seems to be rising. 
We all know there are incredible mark-ups with shoe prices. A pair of Skechers might cost around $15 to make, but the company sells them for around $70 in the store. 
The prices remain comparable to other shoes in the Skechers' class, but for many people, they are still too pricey. The company keeps its premise that its shoes are more expensive because of the high-quality materials they use in shoe construction. I will let you be the judge whether you believe them. 
Love Or Hate Them-Skechers Appear Here to Stay
Are Skechers bad for your feet? Evidently, there are still plenty of people who love wearing their Skechers. As I mentioned before, the company is the third sneaker company in the world. Skechers made 6.285 billion USD in 2021, so they must be doing something right. 
The company has seemed to produce better shoe quality over the last few years. Proponents of this shoe line claim Skechers are now on par with Nike or Adidas, but I have yet to see a shoe that matches their quality. Whether you like them or can't stand to look at them, Skechers don't seem to be going anywhere !