ListedFit is reader-supported. When you buy through links on our site, we may earn a small commission.
Asics are one of the leading manufacturers of running shoes. The name stands for "anima sana in corpore sano," which is Latin for "a sound mind in a sound body." This motto reflects their philosophy to design excellent footwear to facilitate healthy exercise and promote well-being. In 1949, Dr. Yoshihiko Hatano founded the company with this aim in mind. From the beginning, Asics has always focused on quality and performance to provide their customers with an excellent running experience.
Table of Contents
Are Asics True to Size, or Do They Run Small?
                I see this question asked on many running forums and blogs. The answer is hard to pin down because it depends on the model of the shoe and Asics running shoes, in particular, come in many different sizing options as we know them for being very comfortable once you get the size just right.
Sometimes you can go up half a size (or even an entire size) and sometimes you can stay with your normal shoe size. It depends on whether the shoe is straight or curved, and what type of arch it has.
                Straight shoes (neutral-stance) should fit like any normal shoe. If you're wearing running shoes, take out your insoles, put your foot in the shoe with them removed, and see how it feels. The best way to test this is by standing up and walking around. Most people will feel a slight pressure across the arches of their feet with each step, and some may feel it in their ankles. If you don't notice either of these things, you shouldn't need to go up or down in size.
                A curved shoe (stability/motion-control shoe) should fit like any normal shoe if it has an average arch but may feel small if it has a high arch. If you have a high arch, you'll want to go up at least half a size. This is because your foot will slide forward in the shoe when you walk or run, placing extra pressure over the balls of your feet.
                If a shoe is curved and has a very high arch, you may want to go up a full size. This is because in this type of shoe, your foot will slide forward even more when walking or running, which can cause pain depending on how much free play the upper has.
This type of shoe is usually used for people who need extra support because they have fallen arches or flat feet.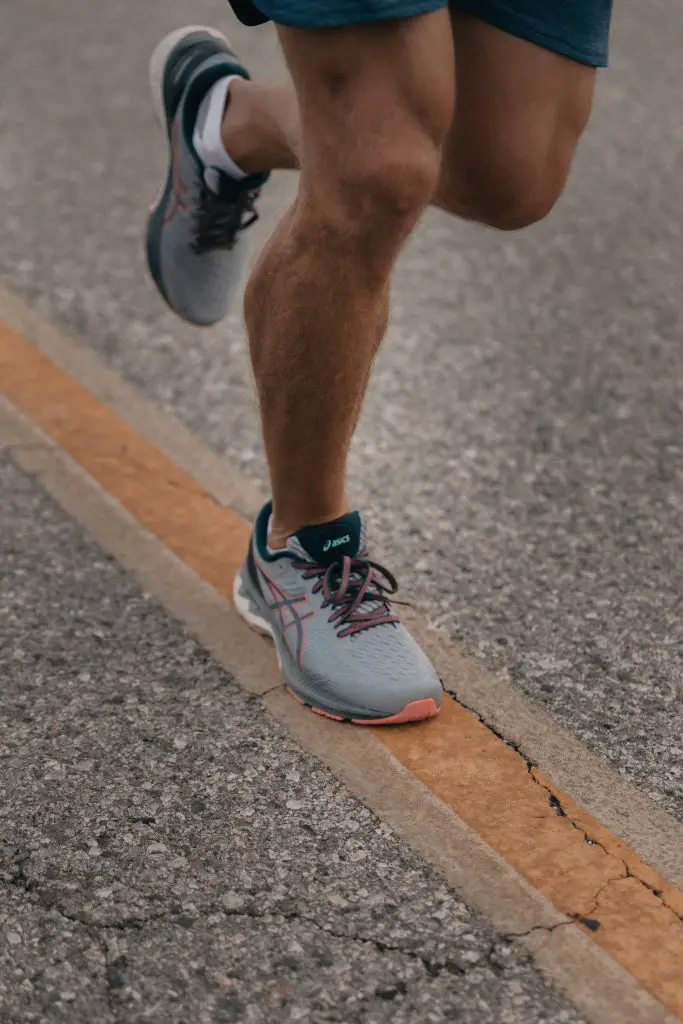 If you want to be sure, it's never a bad idea to try shoes on at a place like Finish Line or Foot Locker before buying them. Most athletic shoe stores will let you wear shoes out after you buy them, but it's obviously much better to make sure you're wearing the right size before actually running in them.
                If your feet hurt or feel weird when you try shoes on, don't ignore the feeling! They may not be exactly what you need for your stride and gait.
What If You're Ordering Asics Shoes Online?
If you're ordering Asics shoes online and don't know what size to order, the best thing to do would be one of two things
Order two pairs in the sizes you think would work and try them both for the best fit and then return the one that doesn't fit you as well. Don't wear them outside for a run, don't wear them outside, just try them on indoors on a clean floor. If you wear them outside you may not be able to return them. I normally check Amazon.com for the shoes I want to buy, mainly because they have same-day or next-day delivery on some shoes, and their customer service and returns policy is usually really good.
The second thing you could do would be to go to a local sports store that sells Asics shoes. They may not have the exact model of the shoe you intend to buy online, but they may have something close. Try that size on in the store and make a mental note of what size works best for you. You may even be able to call the store on the telephone and check if they have Asics shoes in store before you make the trip. The store clerks also will probably be able to advise you on sizing as they probably have many customers come in with similar issues.
That's pretty much the only way to find out.
What Asics you should buy?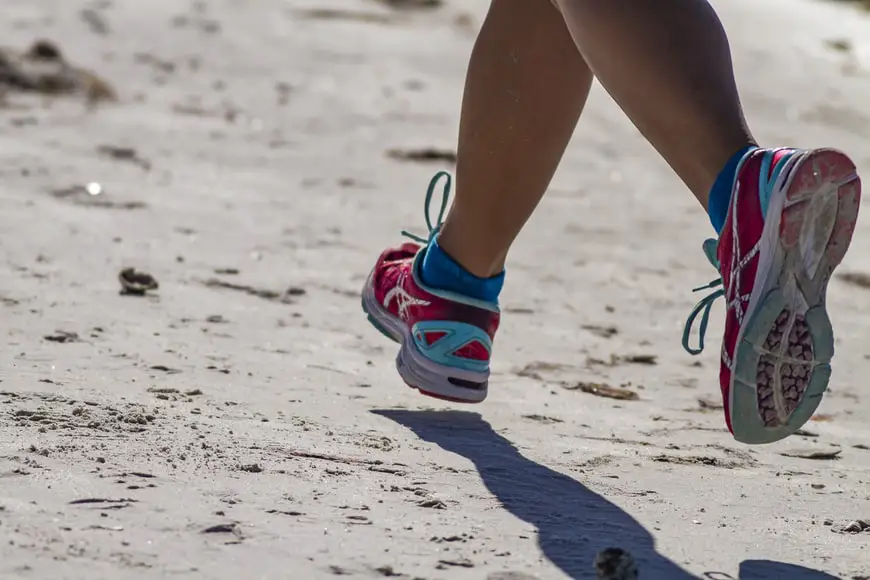 Running Shoes: If you're just looking for a good entry-level pair of running shoes, go with the GEL-Foundation or Gel Resolution. The GEL-Foundation is more flexible and will work well for longer distances, while the Gel Resolution has extra cushioning that's great for training sessions or races.
For people looking for a bit more support from their running shoes, the Kayano would be a good choice. This shoe offers maximum arch support, making it perfect for those who suffer from shin splints or plantar fasciitis.
Barefoot Running Shoes: The best barefoot running shoes on offer are the Asics DS Trainer. These shoes are highly flexible and help you develop your foot-eye coordination, balancing out the weakness that barefoot running can cause in your feet.
What to Look for in an Athletic Shoe?
When it comes to buying an athletic shoe, what you're looking for is a comfortable fit with good cushioning and plenty of padding. Some people like shoes that offer lots of arch support, but this also varies depending on your personal preference. If you want something light and fast, go for shoes made from mesh or synthetic leathers which tend to be more breathable than natural leathers. Consider what kind of climate you live or will be running in too – warm weather will require lighter materials while colder climates may need something thicker and more insulating.
Some runners prefer shoes without laces, but for beginners just starting out, it's usually easier to get a good fit with laces. Loose-fitting running shoes that don't quite fit right can lead to blisters and even injury if you run in them.
How Do Asics Fit Compared to Nike?
The whole Nike brand tends to run narrower than Asics, so people with wide feet may find it hard to find comfortable Nike running shoes.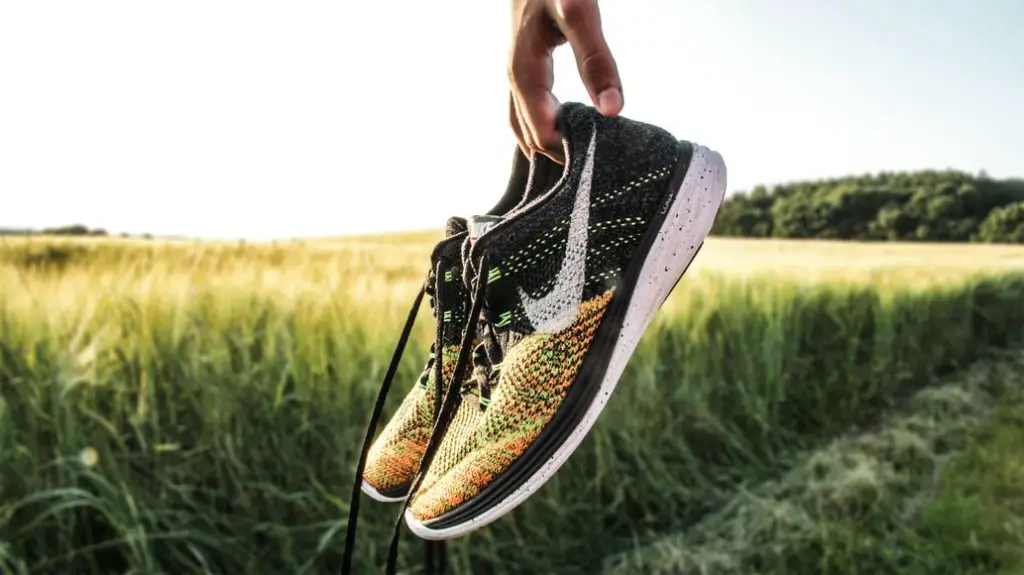 Brands like Asics tend to have more fit options and cater more for those who may have wider feet.
Asics typically runs true-to-size for most models, but if you do find a pair of shoes that run a bit bigger or smaller there is usually an available 1/2 size which would make things easier for fitting problems. When it comes to running shoes, Asics generally has a good amount of arch support and cushioning for heel strikers, but can also suit those that strike their feet flat on the ground.
Nike shoes tend to have rounded "toe boxes", which means they don't really match the shape of your toes and could cause discomfort especially if you wear thin socks or none at all.
If you're looking for a pair of running shoes with a wider fit without compromising too much on grip and impact protection, consider Asics runners as opposed to Nike's.
Asics shoes are Japanese, so they fit differently than American brands like Nike.
Nike shoes have a wider toe box than Asics, so if you have wide feet Nike may be a better option. However, some people can get shin splints or other injuries from Nike shoes because they are more flexible and don't provide enough stability for them to run in. In fact, there is no one perfect shoe on the market for everyone. No two runners will experience the same benefits from wearing the same pair of running shoes
The length of a running shoe should of course correspond most comfortably with your foot size – your toes can touch the end but not go over it when you stand upright and your heel should fit nicely into the back of the shoe without any extra space at all.
***
How Do Asics Fit Compared to Adidas?
When it comes to Asics vs Adidas, the two leading athletic brands are constantly vying for dominance in the market. Different shoes are specifically designed for specific aspects of running.
The main difference between Asics and Adidas when it comes to running is that they each have a different concept about how well your shoes should fit your feet. According to the American Podiatric Medical Association, "a good fit, whether it's for a hiking boot or a dress shoe, can mean the difference between an injury-free experience or one riddled with blisters and chafing".
A good place to start is comparing the two kinds of fit that they offer. Adidas sports shoes focus on a snug fit which makes them suitable for runners who want a tighter feeling around the toe area. This is especially helpful if you have a low arched foot because it helps keep your foot from slipping inside your shoe during wear. Once you break them in, however, they begin to expand more throughout the day which can lead to discomfort as your feet tire throughout the evening hours.
On the other hand, Asics running shoes are built with comfort as their first priority. Their shoes are designed to be a little looser in the toe area which allows for your feet to expand naturally as you run. The downside is that they can slip if you don't tie them tight enough.
The differences between Asics and Adidas shoes don't stop there, however. In fact, one of the biggest distinctions comes from their unique use of material. Asics uses a special substance called GEL that is known for cushioning whereas Adidas uses an EVA foam that closely mimics the natural padding of your foot. With this, you can expect better shock absorption and temperature regulation from Asics running shoes. On the other hand, Adidas runners focus on stability and balance which helps keep your foot in place by preventing it from sliding or rotating. Asics and Adidas running shoes both excel at different things, so the choice comes down to YOUR preference: comfort or stability?
            If you still can't decide which type of shoe is best for you, take a look at your current athletic routine. If you spend most of your day standing for work, an Asics running shoe may be the best choice because it will help you stay comfortable and supported. On the other hand, if you're constantly on your feet and need a little more help than just comfort, Adidas might be better suited toward your active lifestyle.
***
How Do Asics Fit Compared to Brooks?
Asics and Brooks are both known for their high-quality shoes that focus on a lot of important factors when making a great pair of running shoes.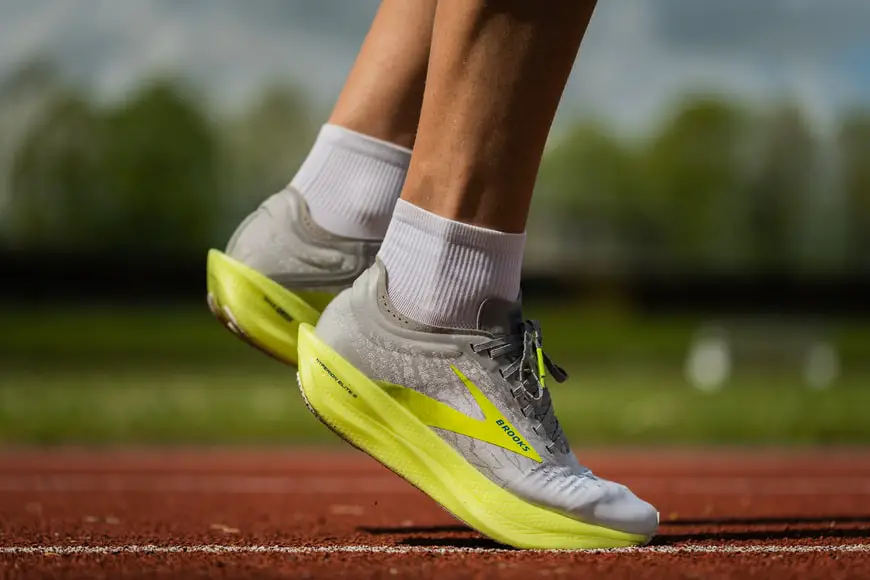 So the question is, how do these two compare in terms of comfort and size?
Both companies offer multiple styles to choose from in order to accommodate different runners' preferences depending on their activity.
For daily activities, are Asics true to size compared to Brooks?
The answer is yes, they are. However, if you are new to running or have not tried on either of these shoes before, it's always advisable to go with your usual shoe size instead of the suggested one just in case it does not fit your preference after all.
It is crucial to feel comfortable in your running shoes, not only for the sake of comfort but also because it plays a big role in your performance as well.
If you are seeking good running shoes, Asics and Brooks are both good brands to go for.
Conclusion – Are Asics True To Size?
To sum up: Comfort is where Asics excel.
Asics are true to size, but not every foot is the same.
The official Asics guide says that most people should order their regular shoe size when buying Asics, but some runners have found they need a half-size larger than normal after trying on their new shoes in shops . A few customers have reported having trouble with sizing in general in reviews on Amazon, including one who said that the sizes are different to their other brand shoes.
However, most other customers say that they're pleased with their Asics running shoes and find them true to size.
Have you bought Asics before? How did you find the sizing? What kind of shoes do you usually wear? Let us know in the comments below.
Are Asics True To Size? Thinking of Buying Asics? Read This First