ListedFit is reader-supported. When you buy through links on our site, we may earn a small commission.
Whether or not Lululemon leggings are worth the price is a common question that people ask when researching workout leggings. The simple answer to this question is…it depends! There are reasons why Lululemon is a good choice and reasons why it isn't, but only you can really know which decision fits best with your lifestyle.
In this article, I will share my own experience of using Lululemon sportswear and point you as best I can to the leggings that best suit your activity or needs. 
So read on below as I explore the question of 'Are Lululemon Leggings Worth It?' and give more insight into what Lululemon offers overall.
Table of Contents
Who Are Lululemon?
Lululemon is a brand that makes various types of athletic wear, including clothing for yoga.
I'd say they are most well known for yoga clothing, but the brand has branched out into many other areas. Lululemon also makes tops, jackets, shorts, sports bras, and even water bottles. 
 There are over 120 stores across the United States, Canada, Australia, and Hong Kong. Many celebrities are known to wear the brand's leggings when they work out or go jogging, including Gisele Bundchen, Kate Hudson, Sarah Michelle Gellar, and Jennifer Aniston. Lululemon clothing has also been worn by athletes such as Ray Rice and Lindsey Vonn.
Are Lululemon Leggings Worth it? My Experience
Way back when I bought my first ever pair of Lululemon leggings the first thing I learnt is that Lululemon are more pricey, and it's important to consider whether or not you really want to spend the money.
At the time I bought my first Lululemons, I had already owned a pair of Nike leggings, but within a few months of wearing them I did notice small imperfections starting to appear, such as the material starting to pill and become thinner in the knee and inner thigh area. My experience with these Nike leggings is why I chose to try Lululemon.
My oldest pair of Lulu leggings I have had for about 4 years and to be honest they' still in pretty good condition.
See my pictures below: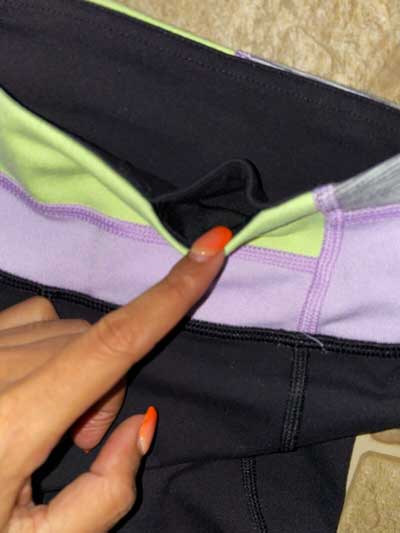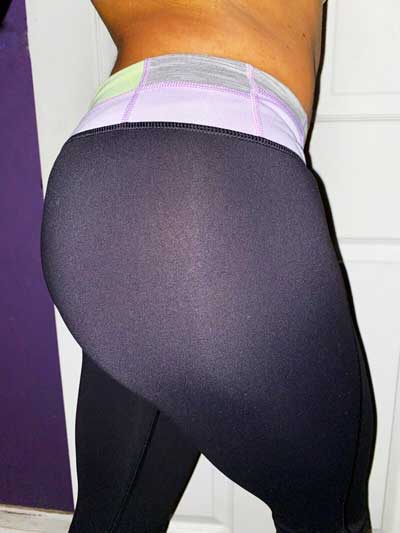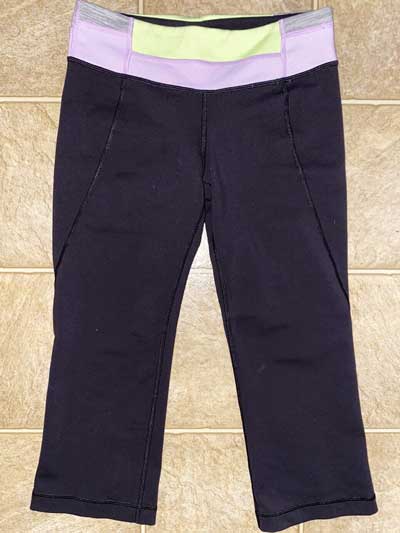 In my opinion, whether or not Lululemon leggings are worth it ultimately depends on what you plan on your activities.
A Lot of their leggings are made with the activity of the user in mind, for instance, if you're someone who sweats a lot when you workout some of their leggings have sweat wicking and moisture control in the material that doesn't make you feel like you are wearing wet clothes. This is what I really like about them.
There are also leggings from Lululemon that have different levels of elasticity, so for example, if you do squats, you can make a fair call on which pair of leggings are going to be more stretchy in the right areas and be less likely to develop tears in the material.
I do run on the treadmill a lot and I also do squats when I can, I can say that my Lulu leggings that I've had for 4 years the material on them (especially in the inner thigh area) is still in a very good condition.
Another way to look at "worth it" is to compare a Lululemon pair of leggings to other brand offerings that are designed to be used for similar activities and have similar pricing points.
Whether or not Lululemon clothes are worth buying depends on your individual needs, but overall in my experience, they do offer good products for what you pay.
Are Lululemon Leggings Good for Workouts?
Many people ask, 'are Lululemon leggings good for workouts?' From my experience, yes they are. I've worked out in Lulus for more than four years and I would honestly say they are now my 'go to' brand for workout leggings.
You have to make sure that you choose the right pair for the type of activity you do and also, get the right fit otherwise you're just not going to get the best out of them. 
My Recommendations of Lululemon Leggings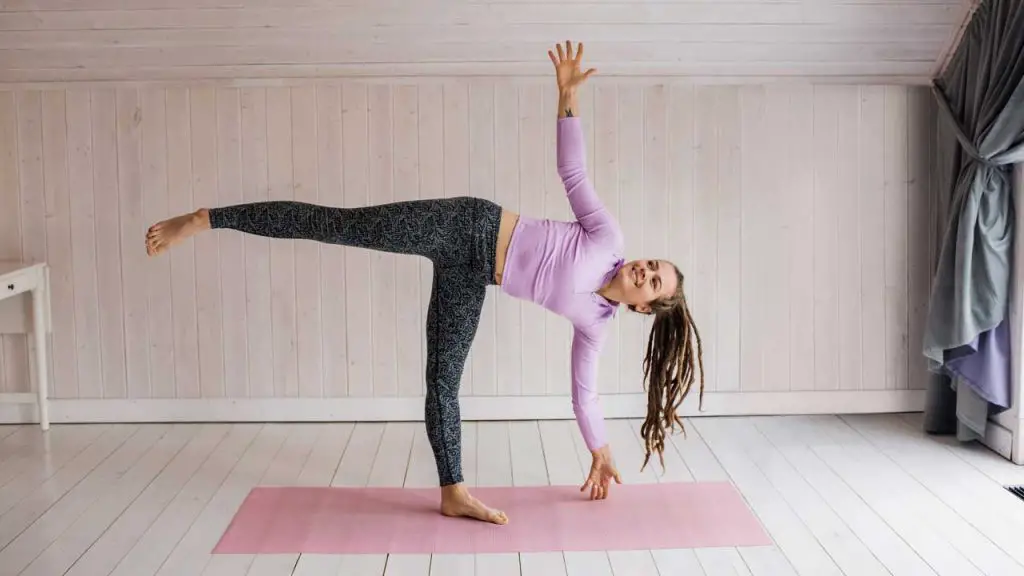 Whatever your needs may be, I have researched some of the most common requirements people consider purchasing Lululemons for and recommended the best Lululemon leggings for your needs. Hopefully you find this useful!
Which Lululemon Leggings Are Best for Everyday Wear?
For everyday wear, the best leggings are the Align SHR Pant (SHR being short for super high rise)- Why? Because they are made from 81% Nylon, 19% Lycra elastane which makes the leggings stretchy and suitable for everyday wear.
The Align SHR Pant is fitted without being too tight around the waist or hips, so can be worn easily under long tops as well as workout wear. They have a high-rise that does not have excessive seams, making them comfortable for longer periods of time due to the elastic band at the base. 
They are also made of stretchy fabric that moves with you during physical activity; giving you an impact-free style!
Which Lululemon Leggings Are Best for Crossfit?
I would have to recommend the Wunder Train Leggings range for those who are wanting to participate in CrossFit or any type of workout including HIIT (high-intensity interval training). Basically, any workout that would involve fast movement.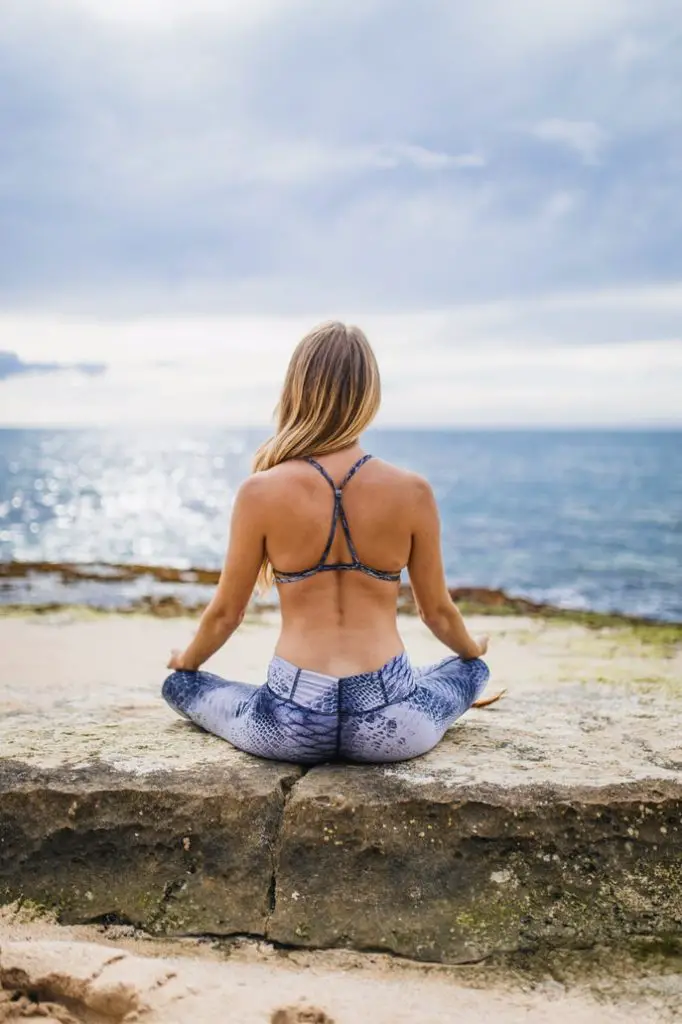 There are a few available in the range, the Wunder Train leggings are made from 77% Nylon, 23% Lycra elastane, and therefore feel more stretchy. 
They work really well in the gym environment when it comes to comfort but in my view, they are also great for everyday wear, as a personal preference I just like the feeling they give me.
They have a high-rise with no exposed seams which is very comfortable for long periods of time due to the elastic band at the base. I personally really like the colors of the leggings being brighter, so they will match my tops! They also have a wide waistband that sits comfortably around the hips but has compression panels that help make you feel supported by your abdominal wall.
What Are the Best Lululemon Leggings for Spin Class?
While Lululemon pants are great for a wide range of activities, the Align Crop Yoga leggings are the best choice for spin class. I know they are labelled as 'yoga' leggings but I just find that they work exceptionally well for spin class.
They are made from lightweight fabric and allow great freedom of movement while it helps to maximize overall comfort while working through a workout.
Using these leggings will also help make spin class a much better experience without the chaffing from loose-fitting clothes. Lycra is added and it is made with the Nulu four-way stretch and sweat-wicking fabric for maximum comfort while working out.
Which Lululemon Leggings Have the Most Compression?
The Swift Speed High-Rise Tight 28 tights fit well and provide a pretty good compression feeling. They have two-way stretch and give a more close fit. If you are in-between sizes, I would recommend going with the bigger size so you have a little wiggle room.
The material is high quality and can be worn during outdoor activities or even worn for everyday wear. It has a fit-and-flare action, which makes it suitable for wear under longer tops as well as workout wear.
The Swift Speed High-Rise Tight is made up of 69% Nylon, 31% Lycra elastane which gives a tighter feel. These leggings offer a great fit without being too tight around the waist or hips.
In addition, these do not have excessive seams, which can make you feel uncomfortable over time.
They also do not contain any irritating chemicals such as phosphates and are hypoallergenic for sensitive skin types that more often than not have problems with most basics due to the chemicals used in manufacture.
I would highly recommend hand-washing these only and washing on a delicate cycle in cold water, or they may pill and shrink quite quickly.
Which Lululemon Leggings Are the Thickest?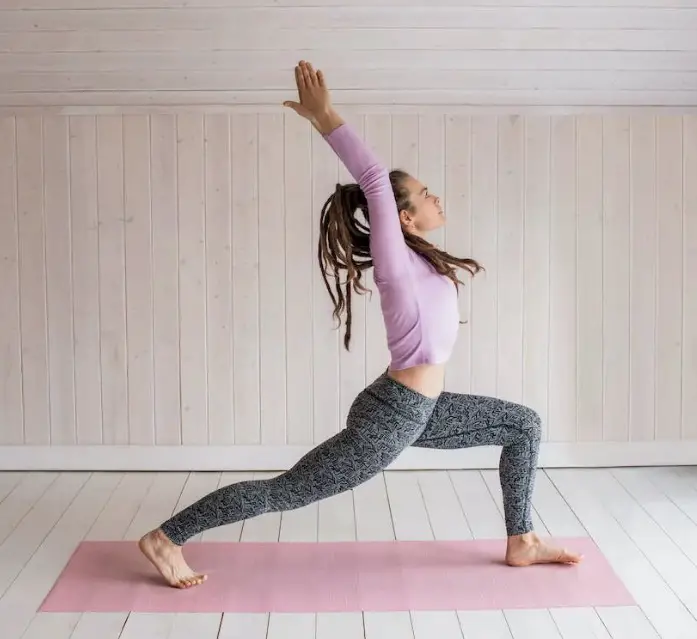 Any leggings made with the Lululemon 'Luon' fabric will be of noticeable thickness, so check the material description before you decide. I'd highly recommend checking out the Wunder Under HR Tight 28″.
These tights are designed for yoga and training so they aren't recommended for more rigorous movements or workouts, but if the thickness of the material is your need then these are the ones to check out.
Which Lululemon Fabric Doesn't Pill?
It's such a pain when pilling happens! Especially when you spend a little extra on sportswear and you expect it to have a long life, but after a few months, it's already pilling.
Most definitely in my experience when it comes to which Lululemon fabric doesn't pill, I would say the Lululemon leggings that are made with the 'Luxtreme' fabric will be less prone to pilling. I have recommended them previously in this article but the Wunders and the Swifts are the ones I would recommend you to check out if you are looking for leggings that don't pill.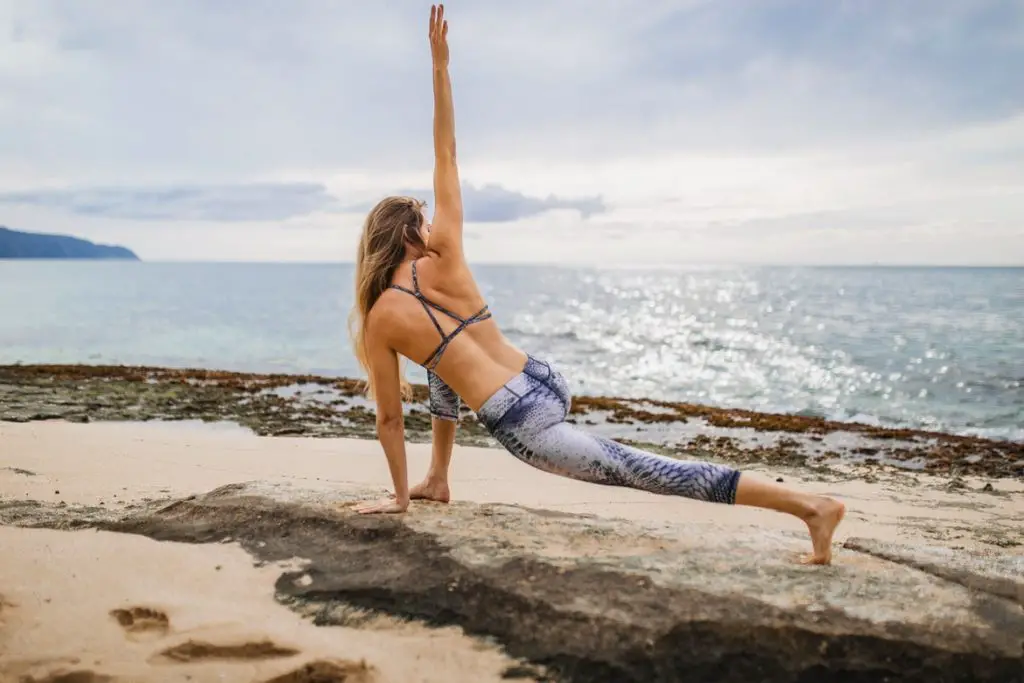 Which Lululemon Leggings Are the Softest?
I find that most of Lululemon leggings are made to give a closer, warmer, sweat-wicking, or stretchy feel, softness isn't really something that is emphasized in their leggings range. 
However, the materials used in their fleece leggings are very soft to the touch. I would recommend checking them out if you are looking for a softer pair of leggings. 
The Lululemon fleece range of leggings are designed for running outdoors so they should not only be soft to the touch but should keep you warmer in colder climates as well.
Which Lululemon Leggings Are Sweatproof?
Most Lululemon leggings are made from very durable sweat-wicking fabric, Nulux, that dries very fast to keep you dry. There are many different styles of leggings available, made from the same type of sweat-wicking fabric; again, the Align High-Rise range stands out.
It is a great feeling to know that you don't need to have that heavy and uncomfortable feeling of wet clothes while working out. These leggings are great even for those who sweat heavily while working out to keep them dry all the time.
The Swift Speed High-Rise Tight leggings are also one of the most popular ones if you are looking for one that is sweatproof. These leggings are designed for running, and the non-stop stretch allows for smooth and strong strides.
If you are interested in knowing more about this fabric technology, read more about it here.
Which Lululemon Leggings Make Your Bum Look Bigger?
According to the experts, the high-rise type is the best type of Lululemon leggings to use to make your bum look bigger. One that stands out above the rest is the Lululemon align high-rise leggings available in three different lengths.
They also have that high-hugging feature that fits snugly around the waist, the bum, and the thighs. It is made from very lightweight materials woven with lycra to provide some stretch and keep its shape.
The sweat-wicking fabric it is made of provides a four-way stretch, while it is so lightweight that it feels like you are wearing nothing. These leggings are available in many colors, so you can choose one that fits your mood for the day.
What is even greater is that these leggings will make you look good and feel better about yourself.
Common Lululemon Leggings FAQs
Do Lululemon Leggings Fit True-to-Size?
This is a common question that pops up when people start doing research about buying lululemon clothing.
The short answer is yes, they do fit true to size… but there's more to this story than just that simple answer. You see, some styles definitely run bigger or smaller than others depending on the fabric blend and cut off the legging (and sometimes even depending on color). Keep reading to learn more information about sizing lululemon leggings in general.
How to Know Your Size in Lululemon Leggings?
According to the chart provided by Lululemon, their leggings are true size, but some users say they may run a bit large. This means that you can order these leggings in your size and will, most of the time, have a decent fit.
They come in three different lengths, which include from just above the ankle and down to hug the feet.
How to Determine Whether the Leggings Fit Right
To ensure your Lululemon leggings are the right size, do the following to determine whether they are comfortable and fit right.
Try the pants on in the best light conditions you can find
Find a large and clear mirror for the best view
Squat like a frog and go down as low as you can
Now, look very closely at your bum in the mirror
If you can see the white tag or anything else through it, the pants are too tight
Select one size larger and try it on again 
Don't worry about the length; they will alter the length for you
Lululemon leggings are available in sizes from 2 to 14 and also in the plus size range.
The best thing to do is visit the Lululemon size chart to make sure you get the best size for you.
Can I Squat in Lululemon Leggings?
Many Lululemon leggings wearers including myself say that they fit like a second skin and are 'lightweight but very strong', which allows you to squat easily, making them squat-proof. These leggings give enough support and provide proper coverage so you can use them for a wide range of activities.
These activities include anything from weightlifting to yoga. But the question many ask is what Lululemon leggings are squat-proof? I would say that the Lululemon Align II are a perfect choice for all squatting activities.
Lululemon Align leggings are a favorite for those athletes who need leggings for squatting and stretching heavy activities without the fear of ripping or the material riding up awkwardly. They stretch very well and provide impressive levels of comfort.
Can I Put My Lululemon Leggings in the Washing Machine?
There are many concerns and questions regarding washing these lightweight and delicate leggings in the washing machine. One of these concerns is: do Lululemon leggings shrink in the wash?
These leggings are made from synthetic materials that are pre-shrunk to make them safe to wash. But this is only under normal circumstances; there are methods to further shrink your Lululemon leggings if you prefer.
To answer the main question, you can put Lululemon leggings in the washing machine without worry that they will shrink. You can also throw them in the dryer if you are in a hurry and don't want to wait for them to dry naturally.
Just keep in mind that if you dry them in the dryer every time you wash them, they might shrink about two percent more. The fact that it is made from synthetic materials resistant to shrinking will help prevent this from happening.
My Conclusion – Are Lululemon Leggings Worth It?
Lululemon is a company that offers quality products at an expensive price. Their leggings, in particular, are known to offer great material and durability with the trade-off of paying more than other brands like Nike or Reebok. 
The short answer is that Lululemon leggings are worth it if you need comfortable workout clothes, but not necessarily if your priority is to save money. If you're looking for other similar brands with the same type of quality, there are other brands out there at similar or even cheaper prices. However, these alternatives may not be as durable or effective as Lululemon. Ultimately, the decision comes down to what you're willing to spend and how much use you'll get out of them.