ListedFit is reader-supported. When you buy through links on our site, we may earn a small commission.
Are Hoka Shoes Worth It? It's no great secret that running shoes aren't always the most aesthetically pleasing footwear, but most athletes are usually willing to sacrifice looks for performance.
Hoka running shoes, however, have had more than their fair share of disses when it comes to their visual appeal. In fact, in a 2013 headline, Outdoor Magazine called them clown shoes. (Really, it's true.) Oof.
Let's get it out of the way right now: Hoka running shoes are big. Chunky, even.
They're like the fat tire bikes of the running shoe world: the soles are enormous, the colors are loud, and they make their presence known, even if you weren't particularly looking for them.
They're not minimalist shoes; if anything, they're maximalist. 
And it's no mystery who makes them, as the letters H-O-K-A is literally written large on the side of every single shoe.
They may be one of the latest "it" shoes in terms of overall comfort, but there is nothing subtle about them.
Table of Contents
What Are The Best Hokas For…
Use our list below to help you find what Hoka shoes are best for you depending on what sort of activities you do:
Best Hokas for Everyday Training
Best Hokas for Cushioning
Best Hokas for Distance Running
Best Hokas for Speed
Best Hokas for Trail Running
Best Hokas for Overpronators
Who are Hoka?
Hoka, or to use the company's full name, Hoka One One, was founded in France in 2009 by two former Salomon employees.
Since 2013, the company has been owned by California-based Deckers Brands, which is also the parent company of Uggs, Sanuk, and Teva.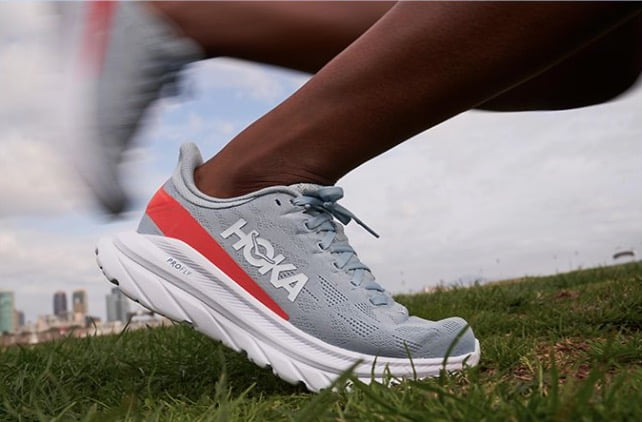 You may be tempted to say it One-One, like the number, but Hoka One One is pronounced "hoka onay onay." It's a Mâori phrase that means "now it's time to fly" — indeed, quite a promise from a humble shoe.
The first models of Hokas were initially popular among ultramarathoners and trail runners, which makes sense: those fat soles offer great cushioning on long runs and great protection from jagged and uneven terrain.
Now, of course, Hokas are adored by serious runners, casual runners, and even non-athletes who just want to wear comfortable shoes and not deal with lower body aches at the end of each day.
Are Hoka Shoes Good For Running?
It's probably human nature to want to rank things, and running shoes are no exception.
If you're going to run, you want the best. Are Hokas a contender for best running shoe? Well, maybe.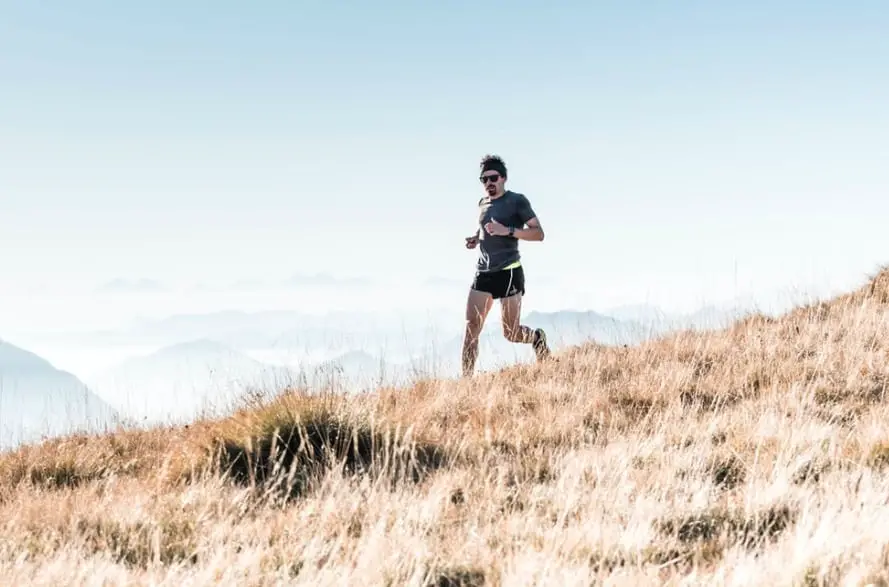 You'll find lots of hyperbolic reviews and videos that claim Hokas are the best running shoe ever, and for some people, that's true.
It's important to remember, though, that there really is no best running shoe – there's just a best running shoe for you.
If you're the type of runner who wants the maximum amount of cushioning and support in your footwear, then Hokas might be exactly what you're looking for.
They are surprisingly lightweight for such a physically large sneaker; they won't weight you down, so that's a big plus, since a common complaint about larger running shoes is that they're on the heavy side.
The foam used for the sole isn't especially dense, and the upper is a durable knit, keeping the overall weight to a minimum.
Hokas also boast a rocker sole, which can help provide good energy return on a run and can also prevent you from slapping your foot down as you go.
The soles on most Hokes are also noticeably thinner at the toe, which can help with push-off.
They're not as extreme as some other types of rocker sole shoes, and Hokas definitely look more like athletic shoes and less like orthopaedic footwear.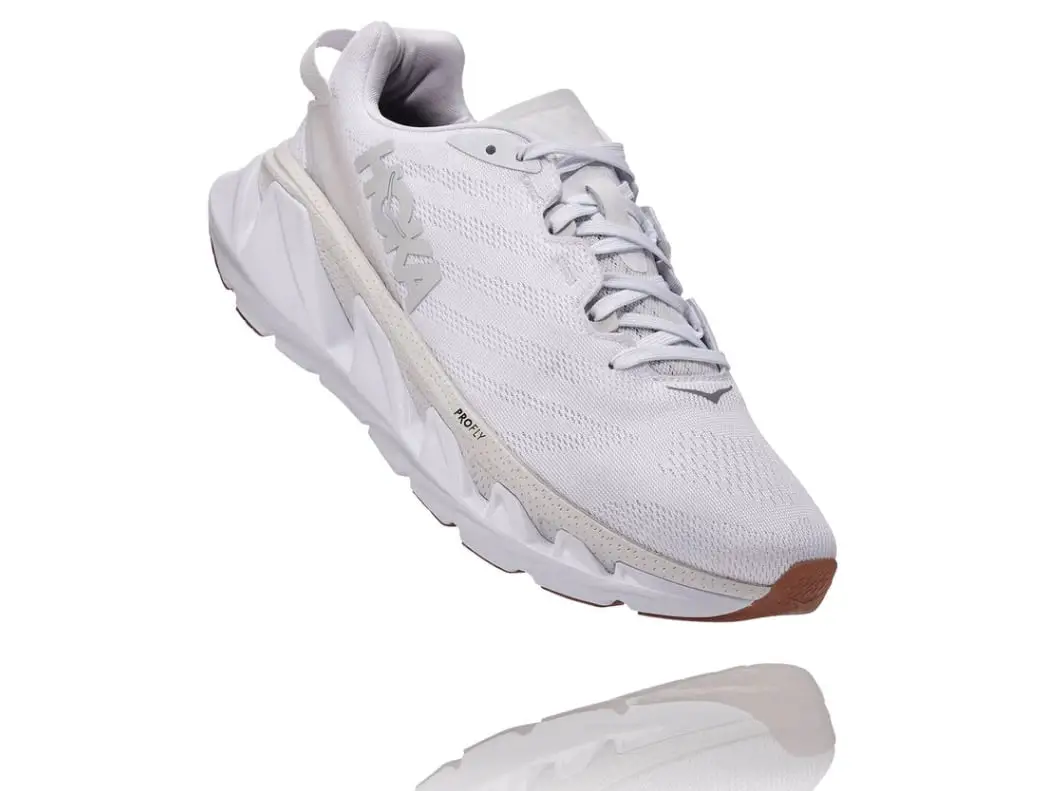 The big appeal of Hokas is the cushioning they provide, especially in the midsole. Most models use dual density foam, which means the heel is softer for a more cloud-like sensation but firmer in the front to help you move forward easier.
They're easy on the feet, but they're also easy on your knees and hips, as the immense amount of cushioning dampens the impact of your foot on the ground, minimizing the overall impact on your other lower body joints.
Ultimately, Hokas are ridiculously comfortable, and that's why they've become so popular over the past decade.
However, you definitely have to want this type of bulky shoe. If you're used to something a little more minimalist on your feet when you're getting your miles in, Hokas will feel like a lot.
However, if you feel like you need the cushioning and don't mind the size, then Hokas might be the best running shoe for you.
What Are the Different Types of Hoka Shoes?
Hoka makes several dozen different models, so it can be confusing to know which one is right for you.
A full run-down can be found on their website, but here are some of the more popular options.
First is the Bondi, which is the shoe people usually mean when they call Hokas "clown shoes." It's giant, with an insane amount of cushioning on its marshmallow of an impact-absorbing sole.
It may look a little funny (or a lot funny), but it's a fan favorite for good reason.
The Bondi is an especially ideal shoe if you're getting back into running after an injury, since it's so protective, and runners and non-runners alike appreciate how the Bondi is easy on their joints without being heavy on their feet.
In fact, it's popular among nurses and other people who work on their feet all day. 
The Clifton and Clifton Edge are perfect for running and not quite as clunky as the Bondi. Both offer ample cushioning and are lightweight, though the Edge has a somewhat wider sole.
This may slow you down slightly, so if you're trying to PR, it may not be the shoe to wear, but that wide sole offers great stability on all kinds of surfaces.
An even lighter and more streamlined version of the Clifton is the Rincon.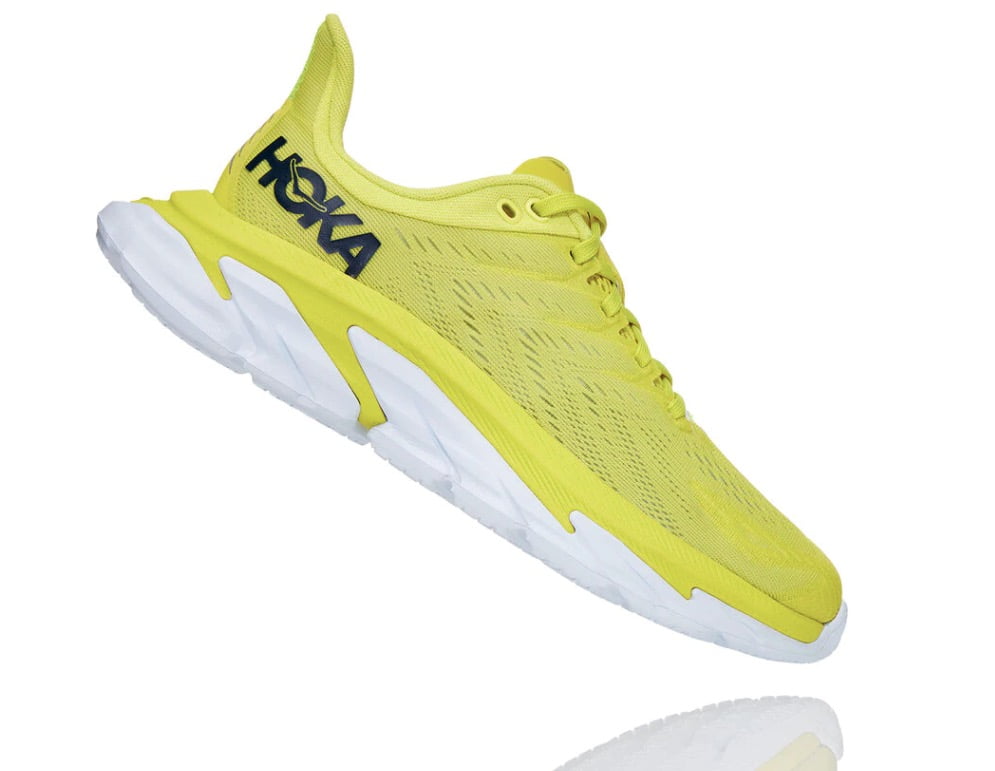 Hoka's Mach is a good everyday shoe because it's a bit stiffer. You can run in them, but they're not as padded and cushy as the Bondi and Clifton models.
Their Speedgoat is a trail model that offers a wider sole for more stability and a highly reinforced durable upper.
Then there are the more high-end racing shoes. The Carbon X offers a slimmer upper but a longer sole to keep you a little more stable. The Rocket X takes it one step further with responsiveness and cushioning, while the Elevon is a bit stiffer than the other models for full support.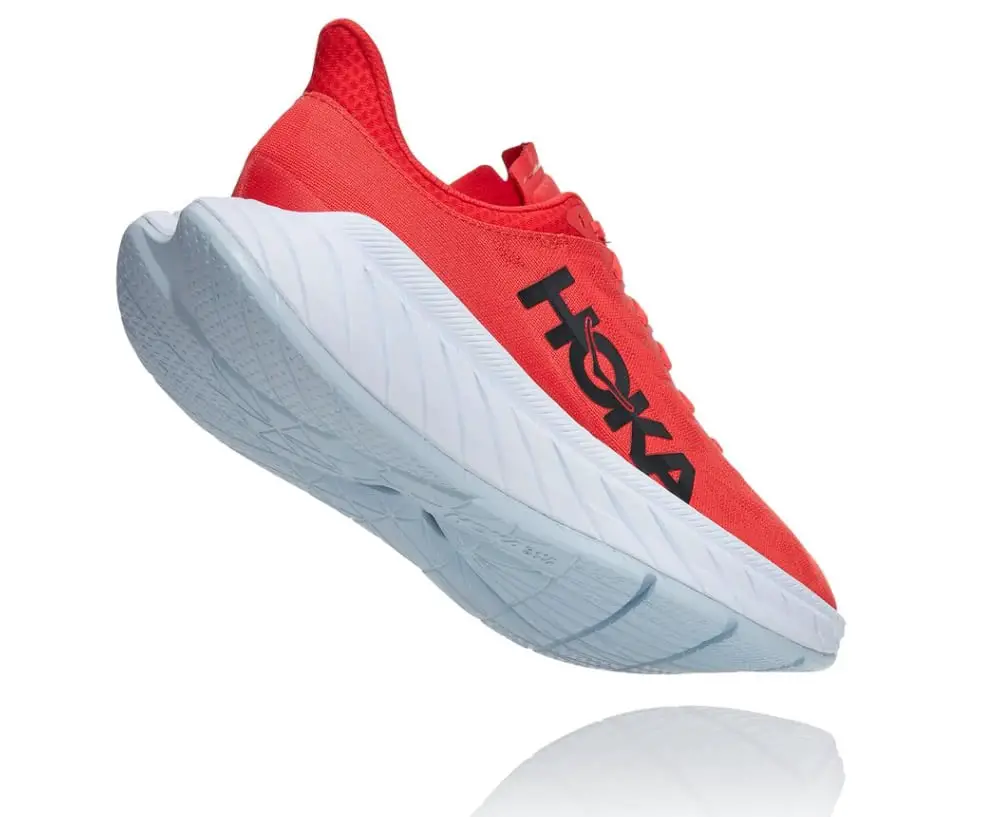 And then there's the TenNine, presumably named for the start of a countdown at the end of which you'll blast off.
This model has a cartoonishly long sole that juts out on the back end; if the Bondi looks like clown shoes, the TenNine looks like backwards clown shoes.
Hoka website even has a warning that these are designed specifically for running, and that your balance and dexterity may be off if you wear them for anything else. It even instructs customers to not "wear these on the stairs or while driving." Yikes!
Are Hoka Shoes Good For Flat Feet?
In short, yes — the generous cushioning in Hokas supports flat feet and can help prevent associated lower body aches.
A Runner's World shoe roundup from early 2021 noted that Hokas had an ideal balance of cushioning and firmness to keep low or collapsed arches feeling supported.
This is particularly the case with the Gaviota and Arahi models, the latter of which is firmer in the midsole to add extra support.
Do Hoka Shoes Have Good Arch Support?
Cushioning and support can prevent high arches from feeling sore after a workout, and Hoka shoes have those two things in spades.
It can be a real challenge for distance runners with high arches to find shoes that are comfortable deep into a long run, but Hokas have been winning over more and more athletes.
Look at the footwear of choice in a marathon these days, and you'll see a lot of runners going with Hokas, especially the Cliftons, which strike the right balance of firm support and soft cushioning for the long haul.
Are Hoka Shoes Good For Plantar Fasciitis?
The features that make Hokas good for high arches are the same ones that make Hokas a good choice for anyone suffering from plantar fasciitis pain.
If you're a runner who suffers from plantar fasciitis, or if you're on your feet all day, you want a shoe with good cushioning and adequate arch support to minimize soreness.
Since Hoka One One shoes offer some of the best cushioning in the field, you'd do well to give them a shot. 
One of the more widely recommended models to manage planter fasciitis is the Bondi, the so-called clown shoe, because of its noticeable impact protection.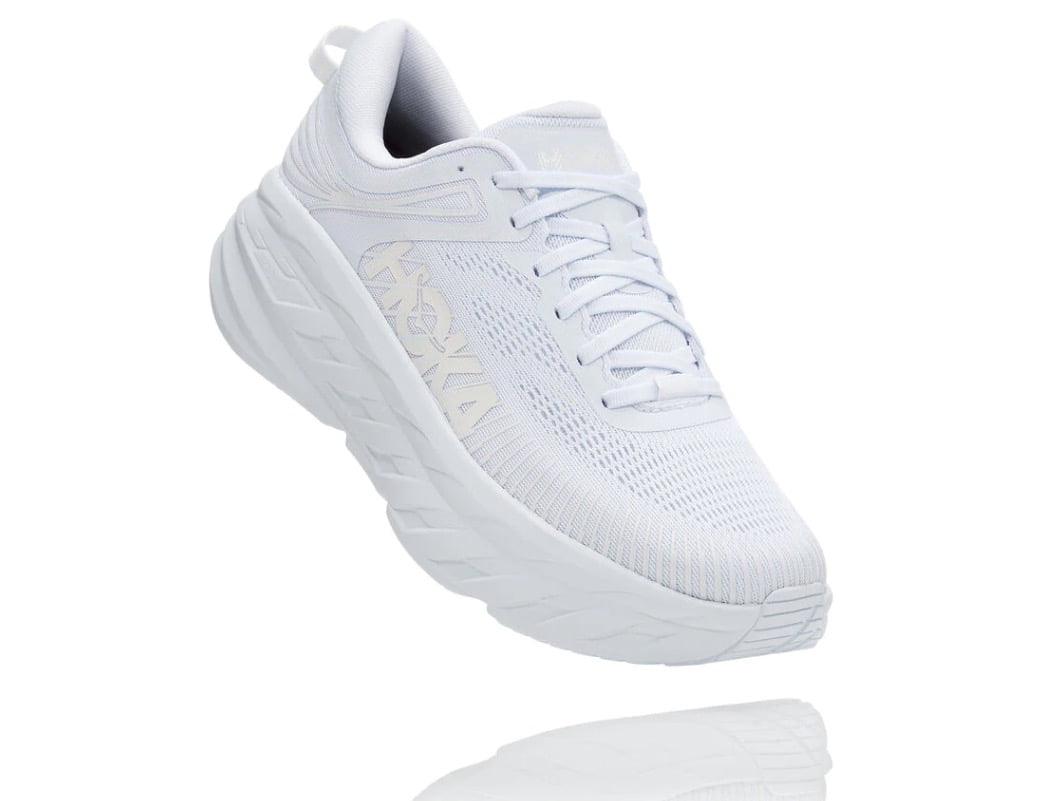 The thick sole is also firmer, which can help support your feet and reduce plantar fasciitis symptoms. Do they look a little odd? Sure. Do they look odder than other maximum-support sneakers? No way.
Are Hoka Shoes Good For Wide Feet?
Lots of running shoes are on the narrow side, which reduces the options for runners with wider feet.
Hokas, however, don't run narrow, and almost all models have a nice wide toe box.
Most models come in wide widths, and a few are even available in extra wide, meaning there's a proper fit for just about everyone.
Conclusion – Are Hoka Shoes Worth It?
Hokas are comparable in price to other high-end running shoes, with prices ranging from around $100 for shoes in last season's colors to over $250 for the latest models of the TenNines.
They're definitely an investment in your health and in your comfort, so in that (very large) sense, they are worth it.
Running shoes do last a while, typically at least 300 miles and sometimes up to 500 miles.
Hokas may need to be replaced on the lower end of that range, though, as the cushioning can wear out and leave you vulnerable to injury.
Stary paying attention to your Hokas and your feet before you hit that 300 mile mark.
If you're striking the ground hard, you may need to replace them then, but if you have a lighter strike, you could potentially get another 100 or so miles out of them.