ListedFit is reader-supported. When you buy through links on our site, we may earn a small commission.
Are you looking for workouts to strengthen your back, shoulders, and core? First-class pull-up bars are significant assets for exercises and strength training. So if you want to invest in a good, high-quality pull-up bar to intensify your drills, we scoured the internet and evaluated some of the best doorway gyms available.
Pull-up bars are a great starting point to upgrade your home gym setup. They are convenient and inexpensive alternatives to other forms of exercise equipment. Before delving into the best doorway gyms you can purchase, let's first have an overview of what they are.
Table of Contents
What Is a Doorway Pull-up Bar?
Doorway pull-up bars are strength training equipment intended to build up your upper body strength and tone your back muscles.
These bars add to the length of a regular door frame, creating a wider passageway. They are ideal if you don't have room for a wall-mounted system since they're straightforward to install and are generally considered low-cost alternatives.
Things to Think About When Choosing a Doorway Pull-up Bar
These are some factors to keep in mind when looking for a pull-up bar that can give you the most out of your money and ensure a fun, safe, and effective workout: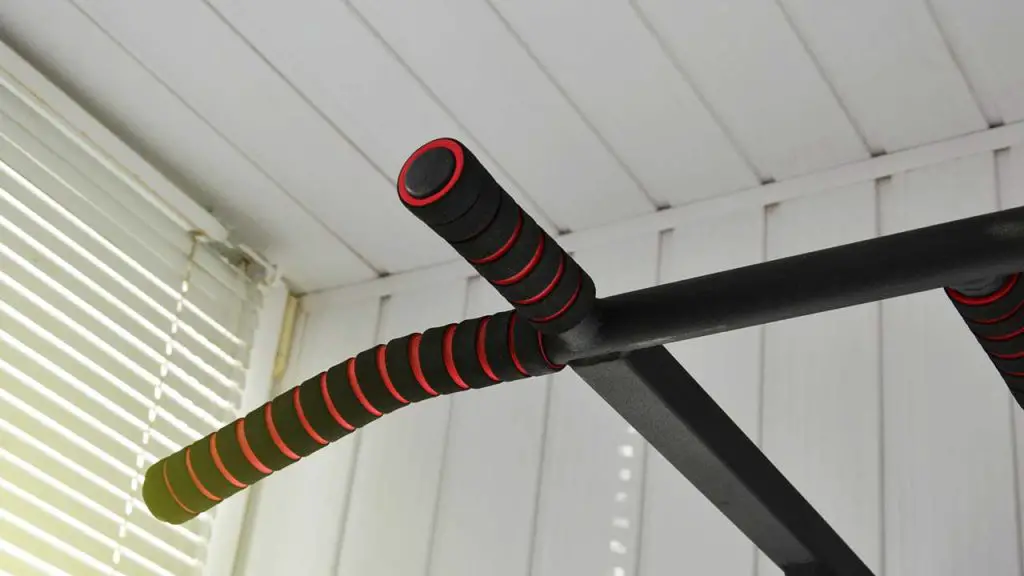 1. Measure the Dimensions
Taking accurate measurements before purchasing is crucial to avoiding uneven grips and further adjustments. Measure the openings and surrounding wall space precisely.
Remember to account for the additional length of the bar's grips, mainly if they protrude past the side frames of the doorway. Additionally, think about any nearby obstructions, such as furniture.
2. Assess your Living Conditions
Do you own your home, or do you rent? Before installing anything in your dwelling, you need to have the authorization to drill into the walls or attach mounts before you buy a mounted pull-up bar.
3. Determine your Floor Area
Space is a serious issue when it comes to working out at home. However, a tight space shouldn't prevent you from doing your drills to keep your fitness in check. If you have limited floor area, a doorframe bars would be very practical.
4. Weight Capacity
We cannot stress this enough, make sure you know the weight capacity or the doorway bar before you use it. Every bar should have this detailed before you buy, if not, walk away.
You don't want to be working out on the bar and for it to suddenly break or gradually bend under your weight, So make sure you find out the weight capacity before you buy.
The Best Doorway Gyms – Our 2 Top Picks:
Now we know what makes a doorway pull-up bar a good pick or not, here are some of our well-thought-out recommendations. We've tried and tested these out to make your life easier. 
We immediately took a liking to this pull-up bar because of its multi grip-ability.
It just goes further and allows you to do more than any of the other doorway bars we tested do.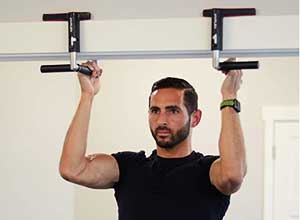 Another option at the top of our list is the Jayflex Cross Grips bar.
Made of stainless steel, 2.32kg/5.1lb, and comes in two color choices. 

Read our insights below on why we think this is a great buy.
Let's examine the specifications more thoroughly:
The design prioritizes comfort. The angled ends are engineered to reduce stress on the wrist so your pull up form isn't compromised at all. There is also a foam grip that is easier on the hands, but you can easily remove it if it isnt to your liking.
The bar grip is subdivided into four smaller ones, coupled with the angled grip ends. This allows greater flexibility and a wider variety of grip options, as well as a shoulder-width grip as well as a tight grasp to work different muscle groups.
You can do an even broader range of exercises when you add the included suspension straps.
The folding design makes it an excellent space saver. You dont need to keep it assembled or attached to the door frame, you can easily fold it up and put it away after every workout.
This is a very important feature, this bar has silicone door bumpers that can save your door frames from dents and scratches.
It can be used on virtually any door, including angled ones. Doors with a width ranging from 21.65 inches to 36.33 inches and a depth of 8.27 inches.
A very important thing to take note of with any pull-up bar you intend to use regularly is the weight capacity. This bar has a weight capacity of has a 200kg or 440lb.
The Jayflex boasts an innovative crossgrip design, replacing the typical doorway pull-up bar. They are installed above the doorframe as two individual pieces to provide two additional sets of handles for a wider variety of exercises. You can perform chin-ups, pull-ups, and many more activities on the floor.
From box to door frame took less than 30 seconds. Very easy to set up. We didn't need to use instructions. No screws, tools or assembly work required which is always welcome.
Light Weight and Portability
The small size make them good for travel too. Each one weighs about 1.9 pounds and can be folded in half. When they're laid flat, they're held together by an elastic strap that wraps around both of them. These could easily go in a hand luggage bag and be used in your hotel room.
Final Thoughts
There are many doorframe pull up bars on the market which makes choosing one tricky. Our advice would be, just make sure you do your due diligence and make sure the one you buy meets your needs.