ListedFit is reader-supported. When you buy through links on our site, we may earn a small commission.
I've found a door frame chin up bar that won't put my security deposit in Jeopardy.
I've always been a bit apprehensive about doing doorway chin-ups at home. You have to make sure it's secure which means having a certain level of trust in the product and your ability to assemble it correctly…
**Note** No third-party has paid me to do this review. The pull up bar I am reviewing is the UK version of this product which I bought with my own money.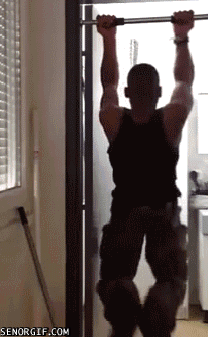 My First Chin Up Bar
The first chin-up bar I ever had at home wasn't an actual chin-up bar, I used to do chin-ups from the tiny one and a half-inch ledge of the door frame.
Inevitably one day the ledge broke off in my hand and I landed on my ass feeling somewhat dazed and confused a lot like the guy in the gif to the right probably felt.
The broken door frame had to be replaced, meaning waving goodbye to my security deposit.
Safety First!
If you are looking at stepping up your chin-up/pull-up game then good for you, as you probably already know calisthenic exercises are all kinds of awesome for strengthening your body.
Very important though, is that you make sure that the bar can hold your weight adequately, each bar when you read the product description should tell you clearly what the maximum load is – if it doesn't have this information, steer clear, as it may be a product of lower build quality that could be unsafe to use.
The Powerbar 2 Pull Up Bar
There is a bar that I recently took a gamble on and has actually pleasantly surprised me. It's called The Powerbar 2 and it's made by a little-known company called Innovation Fitness.
The reason I considered it a gamble is because it doesn't look like any of the pull-up bars I've used in the past.
Why is this The Best Door Frame Chin Up Bar?
This Powerbar 2 door frame chin up bar fits a larger number of door frames and most importantly, doesn't leave any marks on the door itself.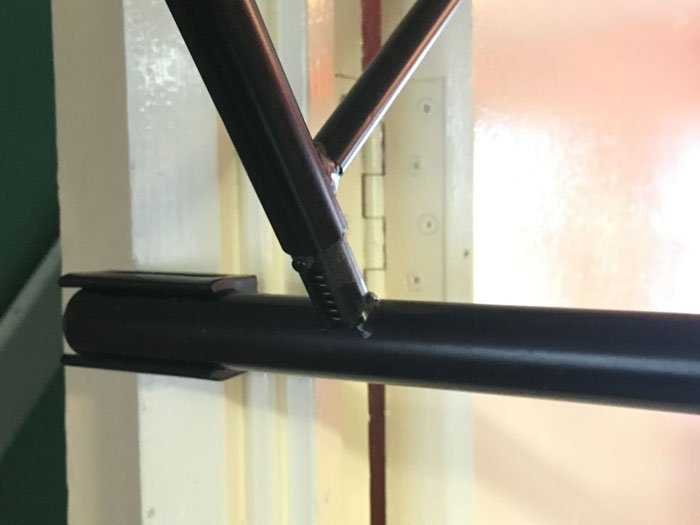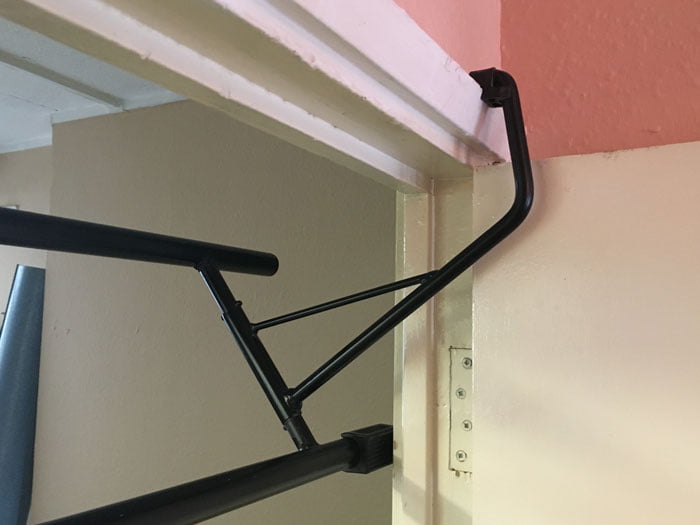 Problem Solved?
Some door frame chin up bars just don't manage the load properly and so with repeated use they actually end up contorting and damaging doors and frames and in some cases breaking when you are half-way through a rep.
Powerbar 2 also supports more bodyweight than any of the others on the market and requires no assembly.
It supports up to 280 pounds (20 stone) but can support up to 30 stone (unofficially).
Another thing with this door frame chin up bar is that it doesn't need to be assembled. Open the box, unfold it and attach it to your doorframe, when you've ended your workout just lift it off, fold it and put it to one side. Simple.
For me the Powerbar 2 is definitely an unsung hero in the home fitness equipment area, I'm surprised that it's only available online.
Since initially making this review, I noticed more door frame chin-up bars that have the same design as the Powerbar 2.
The Powerbar 2 doesn't seem to be available in the US, but I have found the equivalent called The Iron Age Bar which is available in the US and pretty much the same product – Both are on the links below.
[lasso type="grid" category="door-frame-chin-up" ref="" link_id="713″]